There once was a time when only the most rugged-looking sport-utility vehicles could head off-road, but technological sophistication has opened up the trails to a longer list of crossovers.  That being said, not every crossover SUV is well-suited to leaving the pavement behind in order to ford streams or even drive across a grassy field at anything more than a crawl.
We've put together a list of 10 crossovers and SUVs and taken a closer look at just how off-road appropriate each model really is in order to help prevent you from getting stuck the next time you feel a hankering to explore what nature has to offer.
01. 2012 Subaru Outback
Off-Road Grade: Entry-Level
The 2012 Subaru Outback is named after the Australian wilderness and when it was first introduced it was frequently advertised as bounding over the dunes, deserts and hills that make up that region's fabled territory.  The Subaru Outback is no longer portrayed with such a rough and rugged image by the brand's PR agency but the wagon still delivers a reasonable amount of off-road capability - think rutted roads and occasional field work - thanks to its 8.7 inches of ground clearance, a full-time all-wheel drive system and protective body cladding that keeps scratches and rock chips from taking too much of a toll on the vehicle's paint job.  Stick with the Outback's optional 256 horsepower, 3.6-liter six-cylinder engine (also good for 247 lb-ft of torque) to make sure that you have enough grunt to carry you through the mud.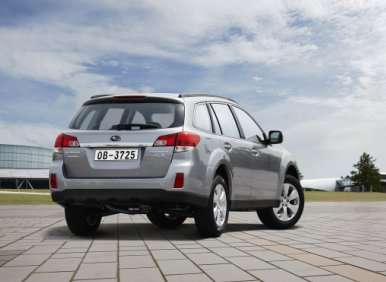 02. 2012 Honda CR-V
Off-Road Grade: Pavement-bound
The 2012 Honda CR-V represents a class of crossover vehicles that are more concerned with getting the family home safely in the face of rainy or snowy roads than in boldly going where no SUV has gone before.  The Honda CR-V is a great minivan alternative, especially for those with more limited driveway space, but its available all-wheel drive system is designed to kick in when the front wheels start to slip, not climb a 30 percent grade.  The CR-V's 2.4-liter, four-cylinder engine offers up 185 horsepower and delivers a healthy 31-mpg on the highway, making it a very efficient hauler.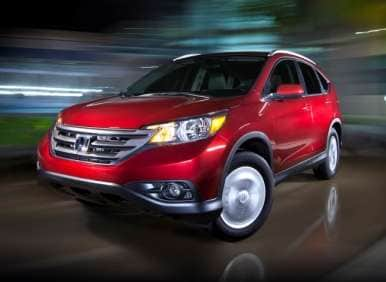 03. 2012 Jeep Compass
Off-Road Grade: Moderate
The 2012 Jeep Compass straddles the line between boulevard cruiser and borderline rock crawler thanks to Jeep's decision to offer the Freedom Drive II Off-Road Group of features with the vehicle.  When so equipped, the compact Jeep Compass gains knobby tires, hill descent control and hill start assist, skid plates and a low-range four-wheel drive system, all of which dramatically improve the crossover's abilities off the beaten path.  The Off-Road Group is matched with a 2.4-liter, four-cylinder engine that provides 172 horsepower and 165 lb-ft of torque, and transmission choices include a five-speed manual and a continuously-variable automatic unit.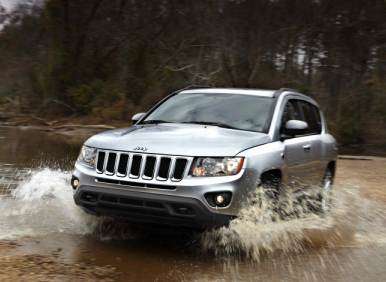 04. 2012 GMC Acadia
Off-Road Grade: Entry-Level
The 2012 GMC Acadia is clearly designed to haul as many people (up to eight passengers) and associated luggage (as much as 117 cubic feet in total) as possible.  The big unibody crossover also comes with appreciable ground clearance, however, and optional all-wheel drive gives it more than just deep snow capability - it can also tackle gravel trails and sandy surfaces with relative ease.  Just make sure you don't try to make it across a beach at low tide and end up sinking the heavy SUV deep into the muck - the GMC Acadia's 3.6-liter V-6 churns out 288 horses and 270 lb-ft of twist, but power isn't always the best answer for getting out of a sticky situation.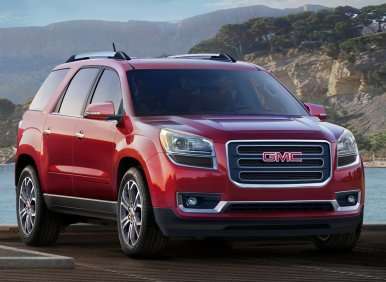 05. 2012 Subaru Forester
Off-Road Grade: Entry-Level
The 2012 Subaru Forester is the sometimes-overlooked member of the Japanese brand's crossover family when it comes to all-terrain capability.  The Subaru Forester boasts a similarly tall ride height when compared to the Outback wrapped in a boxier package that gives it more of an SUV feel than the wagon with which it shares some of its mechanicals.  All-wheel drive is standard with the Forester, and there are few light crossovers that are better at bounding across bumpy fields or digging their way across a gravel-strewn pasture than this mid-size vehicle.  The top of the line Forester is outfitted with a 2.5-liter, turbocharged four-cylinder motor that offers up 224 horsepower and 226 lb-ft of torque, managed by a four-speed automatic transmission.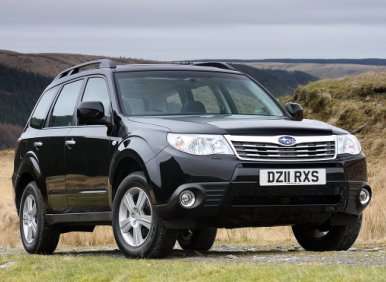 06. 2012 Mazda CX-7
Off-Road Grade: Pavement bound.
The 2012 Mazda CX-7 was never intended to offer anything other than foul weather stability, a hefty amount of utility (five passenger seating alongside 59 cubic feet of cargo space) as well as one of the more rewarding-to-drive chassis designs on the crossover market.  The mid-size Mazda CX-7 has no pretensions towards off-road glory, and while it can be had with all-wheel drive that feature is better served corralling the available turbocharged 2.3-liter, four-cylinder engine's 244 horsepower and 258 lb-ft of torque.  A six-speed automatic transmission handles the shifting duties for the CX-7.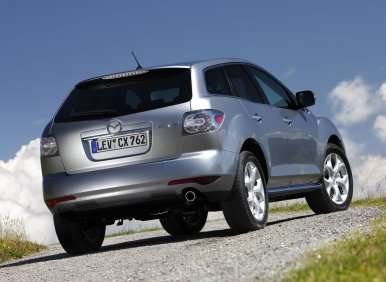 07. 2012 Lincoln Navigator L
Off-Road Grade: Entry-Level
The 2012 Lincoln Navigator L's off-road grade might surprise those who are familiar with the fact that this full-frame SUV is based on the same bones as the Ford Expedition.  The Lincoln Navigator L's extended passenger compartment, large overhangs and comfort-tuned suspension system, however, disqualify it from more intense trail duties as it simply isn't designed to absorb the kind of punishment that dedicated hobbyists might choose to put it through.  The Navigator L does come with a four-wheel drive system, a solid rear axle and a 310 horsepower, 5.4-liter V-8 engine - each of which are points in its favor when it comes time to clear the occasional downed branch in the road or move through a few inches of standing water.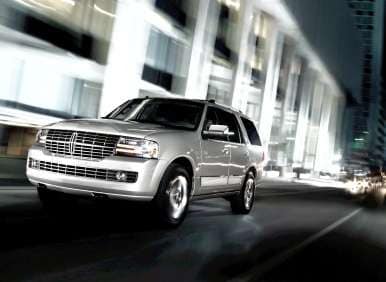 08. 2012 Land Rover LR2
Off-Road Grade: Moderate
The 2012 Land Rover LR2 is an affordable luxury SUV that bridges the gap between street and stream.  The Land Rover LR2 is armed with a formidable number of electronic driver's aides that are aimed at providing a helping hand off-road, including the vehicle's Terrain Response system that provides specific settings for the full-time all-wheel drive system (including Grass, Snow, Mud and Sand).  Terrain Response helps moderate throttle response and traction control appropriately, making it very hard to arrest the forward momentum of the LR2 across a wide range of different surfaces.  The Land Rover also enjoys 230 horsepower and 234 lb-ft of torque from its 3.2-liter, six-cylinder engine, and a six-speed automatic transmission is standard.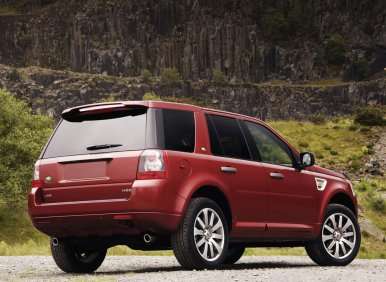 09. 2012 Chevrolet Tahoe
Off-Road Grade: Bring It On
The 2012 Chevrolet Tahoe borrows its full-frame design from the automaker's Silverado pickup truck, which gives the vehicle the kind of strength it needs to engage in frame-bending rock-climbing antics.  The Chevrolet Tahoe can also be ordered with the Z71 Off-Road package of features which adds stiffer springs and shock absorbers, skid plates, mud-friendly tires and a few other touches to help assist the vehicle's optional low-range four-wheel drive system conquer anything that gets thrown its way.  A 5.3-liter V-8 engine provides adequate motivation for the SUV, putting out 320 horsepower and 335 lb-ft of torque through a six-speed auto tranny.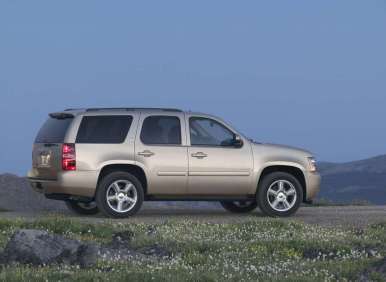 10. 2012 Infiniti FX
Off-Road Grade: Pavement Bound
The 2012 Infiniti FX is another example of a crossover vehicle that has been bred with the concrete jungle in mind.  The Infiniti FX is a sports car masquerading as an SUV, as its platform is closely related to that which underpins the G35 coupe and sedan.  The FX does come with available all-wheel drive (standard on the range-topping FX50), but ground clearance is oriented more towards pushing through snow drifts than rolling over trenches.  The FX50 model features a seven-speed automatic transmission paired with a 390 horsepower, 5.0-liter V-8 that can also be relied on to produce 369 lb-ft of torque.