Supercharged V8 Serves up 650 hp, 650 lb.-ft. of Torque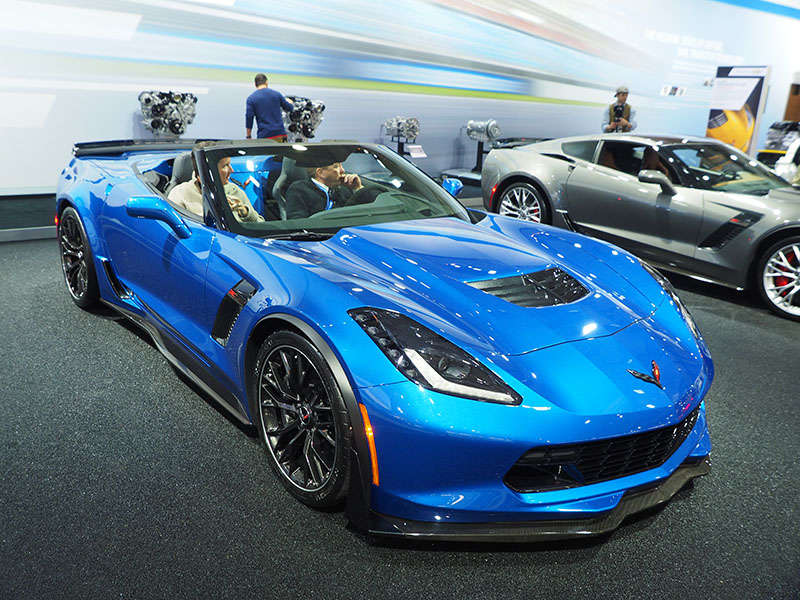 The Bowtie brand seems to have been lowballing the output estimates for its high-performance 2015 Chevy Corvette Z06: Although Chevrolet originally expected to squeeze about 625 horses and 635 lb.-ft. of torque from the car's supercharged 6.2-liter LT4 V8, the powerplant has been certified by the Society of Automotive Engineers (SAE) to deliver 650 hp and a 650 lb.-ft. of torque.
Those benchmarks represent jumps of 120 hp and 180 lb.-ft. of torque over the previous-generation car and enable the 2015 Chevy Corvette Z06 to claim the title of most powerful production car ever sold by GM. Of course, what's more important is how the new Z06 stacks up against its supercar competition, and Chevy is happy to relate that it provides 28 percent more torque than a Ferrari F12 Berlinetta, with peak twisting power available 2,400 rpm lower in the power band. Now, it's true that the Ferrari offers more horsepower than the 2015 Chevy Corvette Z06, but the latter's closest rival, the Porsche 911 Turbo S, doesn't; it's down 90 hp and 134 lb.-ft. of torque compared to the Bowtie's best performer.
The party line from Steve Kiefer, vice president, GM Powertrain Engineering: "The LT4 small block sets a new benchmark for power and torque at GM. The engine also puts the new Corvette Z06 on par with the most powerful supercars offered in America, while delivering performance with impeccable manners that make it suitable for daily driving."
With that engine mated to either a standard seven-speed manual transmission or an eight-speed, paddle-shifting automatic, the 2015 Chevy Corvette Z06 is slated to reach dealerships during the fourth quarter of this year.