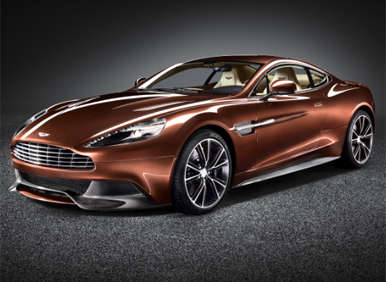 Next year, Aston Martin will celebrate its 100th year in business, and it is kicking off the centennial celebration with its all-new AM 310 Vanquish, likely to be known simply as the Aston Martin Vanquish. Pictures and details for Aston Martin's next supercar have been the subject of many recent rumors, but the British automaker finally unveiled official information for its upcoming DBS successor having last used the Vanquish name back in 2007. Hand-built at the automaker's headquarters in Gaydon, England, the new Aston Martin Vanquish will go on sale early next year with a starting price of $279,995 instantly becoming one of the fastest and best-looking vehicles that Aston Martin has ever produced.
"AM 310 Vanquish is the ultimate expression of Aston Martin design ethos, engineering innovation and technical ability," said Dr. Ulrich Bez, Aston Martin Chief Executive Officer. " It offers luxurious, continent-crossing capability and pure driving excitement without compromise."
On the performance side of things, the 3,613-pound Aston Martin AM 310 Vanquish is powered by a similar 6.0-liter V-12 found in the current DBS. The big difference is that this engine's output has been significantly increased up to 565 horsepower and 457 lb-ft of torque (an increase of 55 hp and 37 lb-ft of torque). This engine will be paired to a rear-mounted, six-speed Touchtronic automatic using a carbon fiber drive shaft, and, according to an Aston Martin press release, the new Vanquish should be able to accelerate from zero to 60 miles per hour in under four seconds with the car having a top speed of 183 mph. The new Aston Martin Vanquish will continue to ride on the same VH platform as all other current Aston Martin models, but it should have far superior cornering abilities thanks to an improvement in torsional rigidity by 25 percent. For improved performance, the Vanquish will come with six-piston front brake calipers, four-piston rear calipers, Launch Control and Dynamic Stability Control with Track Mode.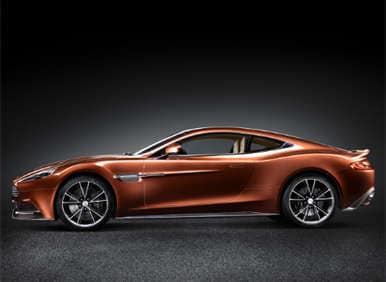 The new Aston Martin AM 310 Vanquish was displayed in "concept" form as the Project AM 310 last month at the Concorso d'Eleganza Villa d'Este in Italy, and it takes some obviously styling direction from the ultra-limited Aston Martin One-77. While the overall look doesn't stray that much from the Aston Martin styling we've coming to know and love over the years, the Aston Martin Vanquish is easily distinguishable. Up front, a more aggressive fascia features a racecar-like carbon fiber front splitter gives a more stylish look than the DBS, while the long, LED-trimmed headlights, vented hood and signature Aston Martin grille are all still there. Moving back on the new Vanquish's design, the relation to the One-77 is more apparent with vented fenders creating a pronounced crease in the doors and the wide rear fenders lead back to narrow, C-shaped taillights. One of the most unique elements on the new Vanquish is the integrated "Aero Duct" rear spoiler that improves both styling and overall downforce. Initially, the Vanquish will only be offered in a coupe body style, but we expect a Vanquish Volante convertible to join the mix within a year or two of this car's launch.
Compared to the current Aston Martin DBS, the all-new Vanquish is about the same length riding on an identical wheelbase, but it is about a half taller with an overall width that was stretched by more than six inches.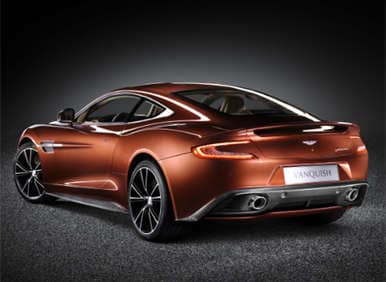 Inside, the Aston Martin AM 310 Vanquish will come standard with a two-passenger seating configuration and an optional 2+2 layout. A revised center stack still houses the glass-tipped "ignition key," but all of the buttons and controls now have a more attractive look with a flowing design. The Garmin-based flip-up navigation system will likely continue to be the lone blotch on an otherwise flawless cabin, but Aston Martin made sure to upgrade the rest of the cabin tech including a 15-speaker, 1000-watt Bang & Olufsen audio system, Bluetooth audio streaming and even Wi-Fi capabilities. The wider stance of the Vanquish should surely help improve passenger comfort from the restyled bucket seats, but Aston Martin made a point to boast about the larger trunk which has grown by 60 percent of the DBS to allow for about 13 cubic feet of cargo volume.
"The new AM 310 Vanquish mixes beautiful design with impressive technology such as the superb new infotainment system," added Bez. "This is the latest incarnation of everything we know, informed and developed from One-77. It is the ultimate Super Grand Tourer."
official images courtesy of Aston Martin