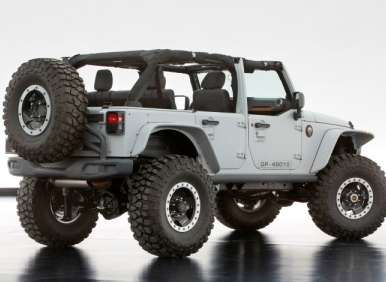 Along with its more serious side, Easter is well-known for bringing out some sweet treats to help celebrate the coming of spring—like the six new concept vehicles that are about to debut at the 47th annual Easter Jeep Safari. Held each year in the wilds of Moab, Utah, the event brings together Jeep enthusiasts from around the world for eight days of off-road excitement, highlighted by the introduction of the latest Jeep concept vehicles. And for 2013, the new crew will be featuring a fresh range of Mopar goodies that owners can use to bring a dash of custom cool to their own Jeeps.
"We created our new Jeep Performance Parts portfolio for extreme off-road Jeep fanatics," said Pietro Gorlier, president and CEO of Mopar, Chrysler Group LLC's service, parts and customer-care brand. "Jeep owners who are passionate about customization, performance and personalization will have a long menu of Jeep Performance Parts from which to choose."
And for Safari visitors, they'll be able to see those upgrades in action on vehicles like:
Jeep Grand Cherokee Trailhawk
Jeep Wrangler Mopar Recon
Jeep Wrangler Stitch
Jeep Sand Trooper II
Jeep Wrangler Flattop
Jeep Wrangler Slim
The (Easter) party line from Mike Manley, president and CEO of the Jeep brand: "Off-road enthusiasts will be pleasantly surprised by the range of Jeep models we're bringing to this year's Easter Jeep Safari. We go to this extremely popular event in Moab each year to showcase the latest production vehicles from Jeep, as well as a host of new customization and personalization ideas. In doing so, we connect with and receive a tremendous amount of feedback from our most loyal customers."
2013 Easter Jeep Safari: Jeep Grand Cherokee Trailhawk
Proving the brand's flagship can handle the stormiest of seas, the Jeep Grand Cherokee Trailhawk sits on top of huge 35-inch Mickey Thompson off-road tires that are so big that designers had to create custom wheel openings for them. On the other hand, they make the perfect complement to the Trailhawk's custom hood and front and rear fascias, all of which are based on the same pieces from the Grand Cherokee SRT8. Also tailored specifically for the Trailhawk are its front and rear skid plates, dual rear tow hooks, and Mopar rock rails—and its exclusive exterior color, too.
The non-metallic blood-orange shade provides a vibrant look to the Jeep and is matched by a matte-black roof—with unique roof rails—as well as a black grille.
The finishing touch? A robust 3.0-liter EcoDiesel engine that can pour out 420 stump-pulling lb.-ft. of torque and a highly effective 240 hp. And Jeep enthusiasts should remember that, although the Trailhawk may not be showing up at dealerships any time soon, that engine will. It will be offered in the production version of the 2014 Jeep Grand Cherokee, where it will deliver projected EPA marks of 22 mpg city/30 mpg highway, combined with a best-in-class driving range (+730 miles) and max tow rating (7,400 lbs.).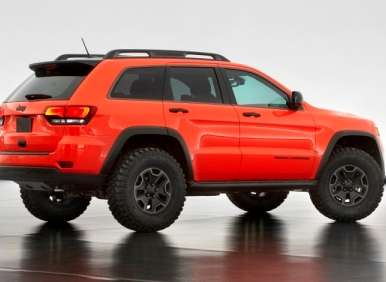 2013 Easter Jeep Safari: Jeep Wrangler Mopar Recon
The Jeep team must have been doing some reconnaissance of its own—at the brand's powertrain department—to put together this concept. After all, the Jeep Wrangler Mopar Recon is kitted out with a 6.4-liter HEMI V8 crate engine that's packed with 470 horses. In the Wrangler Recon, that HEMI is then mated to a five-speed automatic transmission, which routes power to Dana 60 front and rear axles with 4.10 gearing. Said axles leverage a prototype long-arm lift kit that adds 4.5 inches of ground clearance, and the additional height comes on top of the rise in altitude created by the vehicle's 39-inch off-road tires.
Speaking of which, that rubber is then wrapped around forged eight-lug beadlock wheels from the Jeep Performance Parts prototype lab.
Other Mopar upgrades include:
Unique half-door and window kits
Modified "Stinger" bumpers
A Warn winch and trail-side winch kit
Flat fenders for even more clearance
Rock rails
LED headlamps
A canvas soft top
Tail lamp guards
Mopar slush mats
Black door-sill guards
A lockable under-floor storage box
Custom seating upholstered in fabric made from blankets and camo material from the U.S. Navy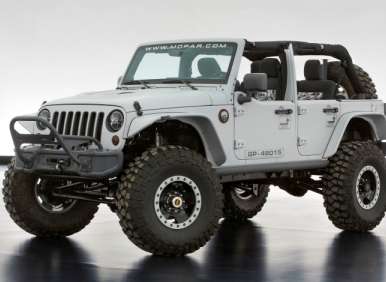 2013 Easter Jeep Safari: Jeep Wrangler Stitch
Cooked up as an evolution of the Wrangler Pork Chop concept from 2011, the Jeep Wrangler Stitch was designed to provide heavy-duty off-road performance in a particularly lightweight package: The Stitch is more than 750 lbs. lighter than the lightest production Wrangler, thanks to a comprehensive weight-reduction program that eliminated the vehicle's doors and "unneeded" body pieces, deployed a carbon-fiber hood, installed a chrome-moly roll cage, and even used aluminum for components like its lower control arms, floor pan and fuel tank. Engineers also chopped the vehicle's windshield by two inches, further reducing weight but also refining the Stitch's style.
As a result of its lowered curb weight, the Wrangler Stitch now boasts the same kind of power-to-weight ratio as the Grand Cherokee SRT8. But it also retains the off-road capability of, well, a Jeep Wrangler. Only in this case, that prowess has been enhanced by performance enhancers like 35-inch off-road tires from Mickey Thompson, custom DynaTrac Pro Rock 44 axles (with 4.88 gears and ARB front and rear lockers), and Mopar's cold-air intake and exhaust kit.
Plenty of cabin improvements are on display as well, including the same black leather seats found in the brand new SRT Viper.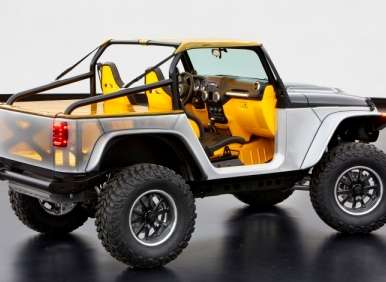 2013 Easter Jeep Safari: Jeep Wrangler Sand Trooper II
After the original helped the Jeep Wrangler achieve acclaim as the "Hottest 4X4 SUV" of the 2012 SEMA Show, the Sand Trooper II debuts with even more dune-dominating capabilities and some serious HEMI motivation—to the tune of 375 hp and 400 lb.-ft. of torque. Working in harmony with a five-speed automatic transmission, the output is distributed to Mopar eight-lug Portal axles that both raise the performance bar and the Jeep itself, and are capped off with forged beadlock wheels and 40-inch off-road rubber.
The mods provide a notably menacing stance for the Jeep Wrangler Sand Trooper II, and its appearance is further customized by Mopar with a satin-black grille, hood lock, front and rear half-door and window kits, a vented hood, LED off-road lights and headlamps, a trailer-tow hitch receiver, a Warn winch, black taillamp guards, and special "Shorty" bumpers specifically designed for off-road use.
Leather seats, Mopar slush mats, black door-sill guards and a Trailside winch kit help distinguish the Sand Trooper's cabin, which also gets a comprehensive lockable gear system with storage boxes located under the seats, below the floor, in the center console and even in the rear cargo hold.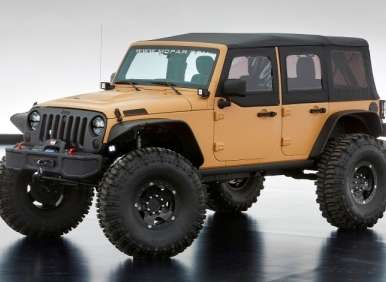 2013 Easter Jeep Safari: Jeep Wrangler Flattop
Although the Jeep Wrangler Flattop does get a host of off-road-oriented goodies—including 37-inch tires, DynaTrac Pro Rock 44 and Dana 60 front and rear axles, King shocks with pneumatic bump stops and more—the focus here was on hitting the trail in style. Which explains the Flattop's distinctive one-piece windowless hard top, custom high-line fender flares, LED light systems, and stunning exterior palette. Jeep designers coated the concept in a metallic sandstone color with accents in two complementary hues: The door and hood hinges, tow hooks, grille slats, and headlamp surrounds all wear a copper tone, while the bumpers, side rails, side mirrors, and hood decal are done in a natural brown.
For an even more striking appearance, designers eliminated the B-pillars from the Jeep Wrangler Flattop, creating large daylight openings that were further accentuated by lowering the vehicle's roof a couple of inches. Of course, there was still plenty of room in the cabin for additional improvements, ranging from upscale Katzkin leather seats to a sophisticated array of copper accents on the Flattop's steering wheel, vent rings and passenger-side grab handles.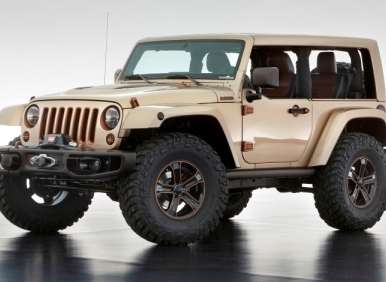 2013 Easter Jeep Safari: Jeep Wrangler Slim
The Jeep Wrangler Slim Concept lives up to its name by paring down its curb weight to squeeze maximum performance from its 3.6-liter Pentastar V6 engine—which also gets a cold-air intake to help send even more power to the Wrangler Slim's anti-spin axles, Rubicon tires, and forged 17-inch beadlock wheels (prototypes from Jeep Performance Parts).
The concept also sports a Rubicon 10th anniversary front bumper and the lightest rear bumper in the Mopar catalog, with further weight savings coming from the brand's lightweight rock rails. On the style front, the Jeep Wrangler Slim enjoys LED headlights, a black hood decal and grille, leather seat covers (also in black), all-weather slush mats from Mopar and—courtesy of a Mopar lift kit—an added two inches of ride height.
Filling out the spec sheet of the Jeep Wrangler Slim are:
A locking gas cap
CB radio
Mopar slush mats
A hard-top headliner
Rock Lobster exterior paint
Full doors