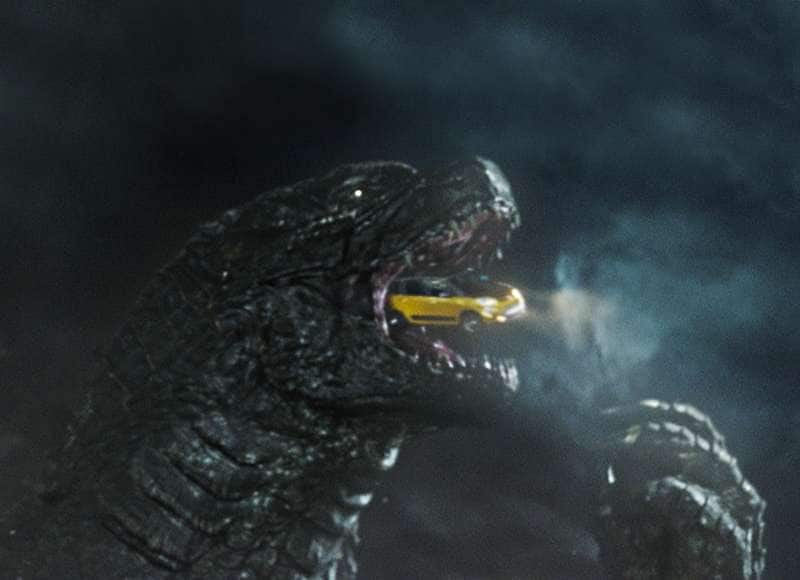 Although the 2014 Fiat 500L is treated rather ignominiously in the spot—essentially playing Godzilla's hairball—it does get top automotive billing in a new TV commercial that also promotes the upcoming film "Godzilla," a reboot of the classic 1950s parable about the horrors of atomic war.
Said Olivier Francois, chief marketing officer for Chrysler Group LLC and Fiat Group Automobiles and head of the Fiat Brand: "As one of the year's most-anticipated films prepares to hit movie screens, we want to think big like the Fiat 500L, and what's bigger than 'Godzilla.' There's no escaping that whether appetites run for a sporty Fiat 500C, the small-but-wicked Abarth or the four-door Fiat 500L, there is a FIAT for every taste."
Be that as it may, the 30-second commercial features visual effects by the same company that created the new Godzilla (Moving Pictures Company) and is currently being shown both on television and, in an extended 45-second "Director's Cut," at www.FiatUSA.com. As for the plot, the film follows a crowded 2014 Fiat 500L as it tries to escape the hungry monster, who, Fiat informs us, seems to be craving Italian. Needless to say, Godzilla has no trouble popping 500s like they're jelly beans, however—spoiler alert—the 2014 Fiat 500L gets stuck in the lizard's craw and then hacked up like that aformentioned hairball.
It looks like a happy ending for the 500L, as the car leaves the chaos behind while powered by a peppy 1.4-liter turbocharged four-cylinder engine that boasts MultiAir intake technology, makes 160 hp and 184 lb.-ft. of torque, and rings up EPA ratings of up to 25 mpg city/33 mpg highway/28 mpg combined.
The tie-in between Godzilla and the 2014 Fiat 500L also will extend to a pair of online promo contests: Starting May 9, 2014, folks will be able to visit the Fiat Facebook page to enter the "FIAT Godzilla Giveaway," which will offer daily freebies along with a grand prize that includes 10 movies passes, $150 for snacks and a variety of unnamed Godzilla goodies. Additionally, at the end of May, the Fiat brand website will kick off a "San Francisco Showdown" game in which one winner will end up with a three-day vacation for two to the Bay City—the location of the film's final battle.
The new "Godzilla" movie is scheduled to open May 16, 2014, and the 2014 Fiat 500L is on sale now (priced from $19,195).