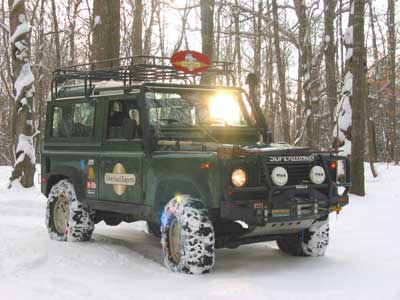 Iceberg Alley, Somewhere South of Goose Bay, Labrador -- Consciousness came slowly, like the clearing of vision through a dense fog. My body was being tossed from side to side, and there was something hard protruding into my rib cage. A dream. Must be a dream, I thought out loud. Scanning the darkness, my eyes came to rest on a small amber light in a wired cage, which cast an eerie glow on a white safety ring bearing a red cross and hanging by a length of yellow rope on a wooden wall. Maneuvering flat onto my back, I dislodged the object, and realized I was on a hard plank bunk, cocooned in a sleeping bag, wearing expedition-weight long underwear and wool socks, and that the thorn in my side was my trusty, personal emergency beacon - my Petzl headlamp. For me, the collected evidence pointed to a four-wheel-drive adventure. But I wasn't in a 4WD vehicle, even though I could make out the sounds of a straining diesel motor -- and the air was scented with its heavy, mechanical-diesel smell. I was aboard the M/V Sir Robert Bond, and clearly there was some kind of engine distress in addition to the choppy seas we were traversing. Slipping on my muddied hiking boots, my Petzl riding atop the brim of a fleece cap with ear flaps and chin straps, I tried to get my land legs under me and lurched for the cabin door.
Page 2: Viking
Using both hands to pull back the metal door to the open deck, I entered the elements. A light rain driven by fierce winds at close to a forty-five degree angle stung my exposed face and whipped my clothing. The bluster cast me at nearly the same angle, as I side stepped forward to the railing to get a better view of this world in the vicinity of the 54th northerly parallel, somewhere off the coast of Labrador. The weather precluded any chance to see stars or the northern lights, as our expedition itinerary had suggested, and I prayed that it didn't preclude the ship's captain and first mate from seeing icebergs in the surrounding sea. Dim lights illuminated the narrow hallway, as I ambulated in a drunken fashion toward the upper deck. My heart was pounding in my chest, and fear prickled my sweaty palms, as I now realized our large, sea-going vessel was being tossed by turbulent waters in a swath of the Atlantic known as Iceberg Alley. Suddenly, out of the salty darkness, came a holler. "Sue, over here," yelled Bruce Elfstrom, over the sounds of the winds and crashing waves. It was no surprise that our trip leader was on deck in the middle of the night and actually enjoying the weather, which was apparent from his broad smile. Of Nordic heritage, Elfstrom is a 4WD expert and owns and operates a company called Overland Experts, and makes a living leading off-road expeditions around the globe. A bit of a modern-day Viking, some of his favorite annual trips are to Iceland and Mongolia, as well as the Copper Canyon in Mexico, and he has a 90-acre 4WD track for training and evaluation that he has set up in southern Connecticut.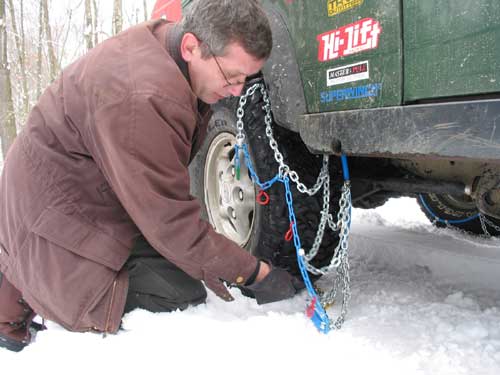 Page 3: BYOV
"We're in a bit of a storm, and the ship's engine is having some problems, Elfstrom explained. "It's beautiful out here, isn't it?" he added. Beautiful, I had to agree. Not that I was enjoying the choppy seas, but, I was in the midst of a yet-another great adventure that used 4WD vehicles as a way to see and learn more about the world. The 14-day-long trip, dubbed OEXBYOVEXPNA (short for Overland Expert's Bring Your Own Vehicle Expeditions-North America), had begun in Quebec and traversed the land of the Inuit through Labrador, tracing the history of the Vikings in Newfoundland. And, along the way was plenty of great four wheeling.Not a poseur or a Sunday afternoon enthusiast, Elfstrom holds instructor level certifications for Land Rovers and all other 4WD vehicles in England, and the US. He trains newbies, as well as other driving experts, but what he really loves is trips just like the one we were on, where the venue included plenty of opportunity to drive on unique and out-of-the-way 4WD trails, learn and perform 'trail fixes' on vehicles, to study history, and even participate in some type of community service project along the way. Earlier that evening, we had driven our vehicles onto the ferry and while a few members of the group performed trail fixes in the belly of the boat, the remainder of us had stood on the ship's deck, waving goodbye to our local guide in Goose Bay, Labrador. The ship motored east northeast, casting off under calm conditions, with the early evening light painting its rouge and tangerine shadows over Lake Melville, and on the rugged and earthy Mealy Mountains, as we passed through the straits by Rigotet and the Hamilton Inlet.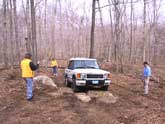 Page 4: Goose Bay
Our random collective of four-wheel-drive enthusiasts was now bonded after a week of travel together-and a more than a few adventures, on the trail and off, which always become the cement that turns a motley collective of people and 4WD rigs into an expedition. Vehicle parts had already been flown in to Goose Bay, and repair performed in a local garage, before we could embark on our southerly journey toward the coast of Newfoundland.While in Goose Bay, the group met with a local expert on the Inuit culture, hearing about the Native peoples of Labrador, visiting a galley and a museum with Inuit artifacts and artwork, and, of course, we spent an afternoon four-wheeling along a technical trail. The evening was topped off with caribou stew and moose burgers. A second day was spent doing a community service project for the local Community Youth Summer Camp. After a rough night's journey on the M/V Sir Robert Bond, we arrived in the picturesque fishing village of Blanc Sablon, Newfoundland, and, after a day of rest and exploring, we boarded the M/V Apollo, for St. Barbe. Motoring on calmer seas, we watched the sun's light turn icebergs an opalescent blue, and delighted in watching whales fish and frolic, on our way to L'Anse aux Meadows, a UNESCO World Heritage Site, and the first Viking settlement in North America. Our tired bodies came to rest in the replica of a Viking long house, sleeping on sheep skins laid atop of wooden planks. Guides tended a fire through the night, cooking venison and bannock bread in a traditional fashion.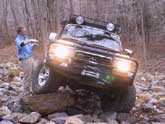 Page 5: Tips
Another day's drive found us in the majestic UNESCO World Heritage Site of Gros Morne Park. Here, local guides took us on a challenging 4WD trail, deep into the mountains of western Newfoundland, where we came to rest for an evening that allowed ample time for technical four wheeling, fly fishing and simply taking in the breathtaking views from our private lodge, located far from the pavement. The OEXBYOVEXPNA adventure came to a close three days later, ferrying from Nova Scotia to Bar Harbor, Maine. None of us would forget learning about the Inuit cultures of Labrador, the Viking history of Newfoundland and, most importantly for us, using 4WD vehicles as a way to explore the world. Prep Tips for Four Wheeling Your vehicle: 1. Get to know your vehicle. Work on it, even if it doesn't need to be worked on, so that you'll know it if it breaks down or needs work in the field. Don't be intimidated! 2. Have at hand (in your vehicle) a set of tools, common parts and an owner's manual-a workshop manual, if you plan to travel far into the backcountry or over really rigorous terrain. 3. Never use a trip to "try out" your new vehicle. Driving Tips: 1. Leave your ego behind. 2. Pay attention to throttle control. Almost always, less throttle is more. 3. Pay attention to the environment. Often whatever is good for the environment is good for your vehicle. (not spinning a wheel, getting off the trail, for instance.) 4. Walk over or through an obstacle first before driving over it. Any obstacle has a worst and best case scenario. Plan ahead and don't go ahead if you can't face the worst case scenario. 5. Make your 4-wheeing a method. The more you practice and make it a method, the more prepared you are for the non-typical things that can happen along the trail or in the backcountry. Be prepared to stay longer and face emergency situations. 6. Impatient, complacent driving is when you let your guard down and can therefore damage your vehicle or hurt someone. Take a break and enjoy the scenery when you are tired or frustrated. .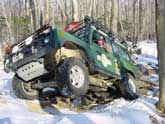 Page 6: FAQs
What is OEX? Overland Experts brings a wealth of experience in vehicle operations, driving instruction and expedition preparation. The company has taken care of vehicles in the field for National Geographic film teams, and trained expedition drivers.What type of expertise does OEX have? The company's own experts are involved in every aspect OEX's operations. They have handled vehicles for field biologists, archaeologists, and trained outdoor enthusiasts, Foreign Service personnel and safari company owners. They lead international film crews to remote parts of the world, and walk through our demanding courses showing new drivers how to avoid mishaps. Trained biologist and founder Bruce Elfstrom heads Overland Experts. Bruce has navigated and taught his way from the Middle East to Southeast Asia at the wheel of a sometimes weathered but always upright 4WD vehicle. Bruce's extensive 4WD instruction experience includes fieldwork in four continents, and hands-on teaching throughout the US. Bruce holds instructor level certifications for Land Rovers and all other 4WD vehicles in England and the US. How do I make the trip? Overland Experts' driving schools ( for all levels of drivers from beginners to expert) are based at our Hadlyme, Connecticut Course. Hadlyme is near the beautiful towns of East Haddam, with its Goodspeed Opera House, and Essex and Old Lyme. The towns are situated near the mouth of the Connecticut River, listed by the Nature Conservancy as one of the Last Great Places for its great natural beauty and open spaces. The region offers quality accommodations, can be reached by road off Route 95, and is served by the new high speed Acela train. The area is rich in history and 25 minutes from Mystic Seaport.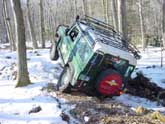 Page 8: Writer's Notes
About Newfoundland and Labrador: 1. Almost one and three quarters times the size of Great Britain, Newfoundland and Labrador would rank fourth in size behind Alaska, Texas and California...if it were one of the United States. 2. Newfoundland is the youngest province in Canada. St. John's is the starting of the longest road in Canada, the 4,860-mile Trans Canada Highway. The highway was started in 1962, and ends in Victoria, B.C. 3. Guarding the entrance of St. Johns is Signal Hill, overlooking the harbor. It was on Signal Hill that inventor Marcomi received the first radio message sent across the Atlantic Ocean. 4. Gander, Newfoundland's airport has been called the "crossroads of the world." 5. Some stores sell "canned" Newfoundland air, which is said to be scented with fish flakes.