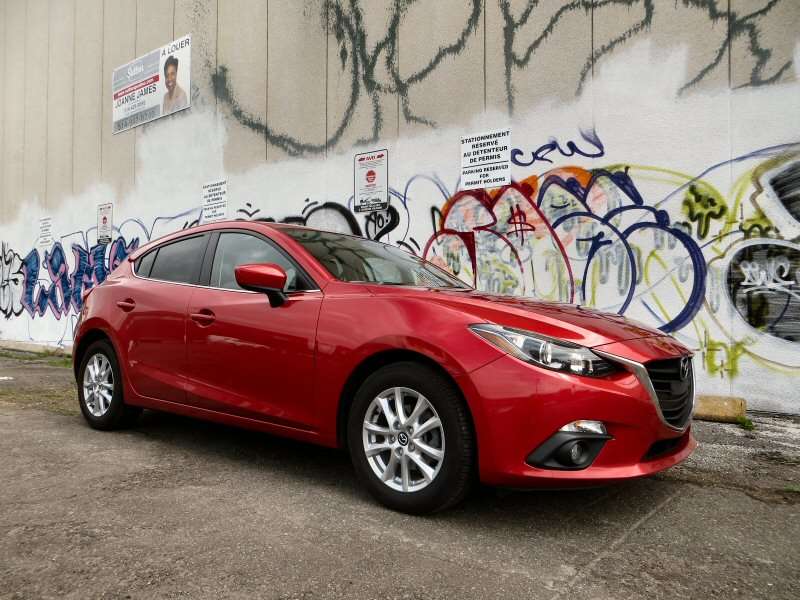 2014 Mazda Mazda3 3i Touring Hatchback ・ Photo by Benjamin Hunting
With the current model starting to find its marketplace mojo—witness a 26.3 percent gain in sales in June—the 2015 Mazda Mazda3 will look to dial up the volume even further with a major value play for the new selling season.
Not only does pricing remain the same for "i" models with the standard 2.0-liter, four-cylinder Skyactiv engine, but MSRPs actually come down for the similarly cylindered "s" versions with the 2.5-liter Skyactiv powerplant, and a number of models see major upgrades in content. Thus, the entry point for the 2015 Mazda3 lineup, the four-door "i SV" trim, is stickered at $16,945 with a six-speed manual transmission or $17,995 with a six-speed automatic; the least-expensive hatchback model, with the higher, "i Sport" trim, opens at $18,945.
As mentioned, those prices are unchanged from the 2014 models, as are the content levels of those models. But the price of the 2015 Mazda Mazda3 sedan also remains unchanged at $18,445 even in its "i Sport" configuration, which adds the Mazda CONNECT infotainment/connectivity system with 7-inch color touchscreen and voice control. The system also becomes standard on the 2015 Mazda Mazda3 "i Touring" editions, with a rearview camera and in both four- and five-door configurations, and with unchanged MSRPs of $19,595 and $20,095, respectively.
Turning to the more powerful "s" range, the big news is the debut of a Skyactiv six-speed manual transmission. Frankly, it's the addition of the less expensive transmission that enables Mazda to keep prices down with these models. The 2015 Mazda Mazda3 "s Touring" five-door, for example, is priced at $24,345 with the manual and $25,395 with the automatic, and those MSRPs contrast with a price of $25,095 for the 2014 version, only offered with the autobox.