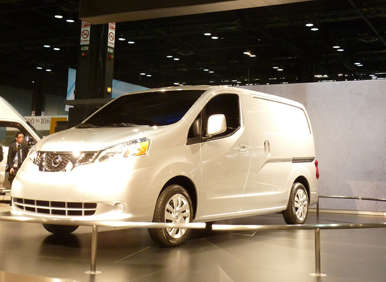 Nissan's latest addition to its commercial vehicle lineup made its North American debut at the 2012 Chicago Auto Show. The all-new 2103 Nissan NV200 Compact Cargo Van joins the full-size Nissan NV Cargo Van that was introduced in the spring of 2011 and the recently-announced, full-size Nissan NV Passenger Van that goes on sale this spring. The stylish new van has a 186.2-inch wheelbase and been crafted with low-load-floor functionality; it is designed to attract compact pickup buyers, looking for small, fuel-efficient vehicles; it powered by a 2.0-liter, 4-cylinder engine matched to a CVT transmission.
"There is an increasing need for a 'right-sized' van that optimizes cargo space while offering the best possible fuel economy and an affordable price – the exact sweet spots of the innovative new Nissan NV200," said Joe Castelli, vice president, Nissan Commercial Vehicles and Fleet. "Businesses today, both large and small, are also looking for vehicles that represent their brands in the best light – smart, innovative, and professional."
The 2013 Nissan NV200 goes on sale in early 2013 at 300 Nissan Commercial Vehicle dealerships nationwide. New to North America, the NV200 compact van is used in more than 40 countries around the world.
Nissan also announced that the new NV200 is the winner of the NYC "Taxi of Tomorrow"; taxi's will come with a 2.0L 4-cylinder powertrain, room for four passengers and luggage, and side curtain airbags for both rows of seats. Priced at approximately $29,000, the taxi's will also have a mobile charging station, with two USB plugs and a 12V electrical outlet, and Nissan claims have 324 possible seat configurations.