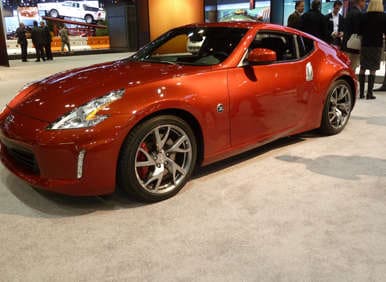 Nissan brought its latest iteration of its renowned Z-car to the 2012 Chicago Auto Show. Although it's been endowed with only minor updates for this model year, this enthusiast's sports car has been on sale since 1969 in Japan, and originally came to the U.S. as the Datsun 240Z; more than 2 million have sold around the globe since.
New are small exterior styling changes to the front and rear, with an updated front fascia-dropped are the controversial "fangs". Also new are lamps and updated 18-inch wheels on the Coupe model -19 inch wheels ride along on Sport Package versions; the Sport Package now has Euro-tuned shock absorbers and red brake calipers. LED daytime running lights illuminate the front end, while the back gets a red reflector between the tailpipes. Two new color options are available: Magna Red and Midnight Blue.
Nissan carries over the Z's 3.7-liter V6 that gets 332 hp.; the high-performance NISMO's 3.7-liter gets 350 hp. Nismo models do not get the exterior changes, but 2103 Nissan Z Nismo versions get a new Bose audio package with two more speakers and subwoofers, unique wheels and high-performance brakes. The rear-drive sports car is available with a seven-speed-automatic or a six-speed manual; Roadster models limit the six-speed to the Touring trim. The 2013 Nissan Z will go on sale in spring.