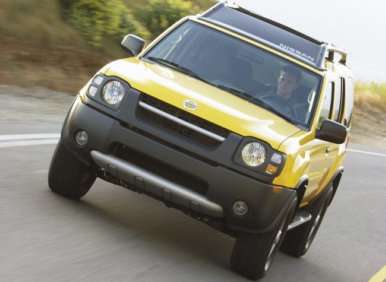 Nissan's most off road capable SUV, the Xterra benefits from body on frame construction and an available four-wheel-drive system. Named for the Xterra off-road triathlon races, a series of competitive sporting events consisting of swimming, mountain biking and trail running—activities Nissan's product planners thought buyers of the rugged SUV would be interested in. Of course, many people just like to look as if they are capable of those activities, and so purchase vehicles like the Xterra just for image.
Whatever your motivation, the Nissan Xterra is more than capable of taking you pretty much anyplace you want to go—and bringing you back again. However, because of its extreme off-road capability, the Xterra can be somewhat lacking on the road. There are a number (well, in fact pretty much all) of the current group of SUV crossover vehicles will outperform the Xterra on the street. They will be more comfortable, they will ride better, and they will generally be more luxuriously equipped. However, once rocks and dirt are folded into the equation, Nissan's Xterra has very few rivals at its price point.
The Xterra entered the Nissan's North American lineup in model year 2000. It was positioned as an alternative to Nissan's Pathfinder, which had been taken more upscale in order to compete with the new breed of luxurious crossover SUVs. However, more than just a de-contented Pathfinder, the Xterra was also designed to go places the Pathfinder never would.
Based on the Nissan Frontier pickup truck, to date, two generations of the rugged Nissan SUV have been offered to the public. The first generation Xterra ran from model year 2000 to 2004. A redesign was undertaken for the 2005 model year, the result of which represents the current version of the Xterra (2012).
Nissan Xterra Used SUV Buyer's Guide: 2000 – 2004
The first generation Nissan Xterra was offered in two trim levels; the base model was known as the XE while the premium model was designated as the SE. Two engines were offered, a 2.4-liter in-line four-cylinder that made 143 horsepower and 154 foot-pounds of torque and a 170-horsepower, 3.3-liter V6 that produced 200 foot-pounds of torque.
Power was transmitted from the engines by way of either a five-speed manual, or a four-speed automatic transmission. There were both rear-wheel drive and shift on the fly four-wheel drive powertrains. The V6 Xterra boasted a 5000-pound towing capacity—when fitted with the automatic transmission.
The Nissan was also capable of seating five passengers, although three adults in the back seat would be intimately acquainted with one another by the time their destination was reached, it was pretty tight.
As we mentioned before, the Nissan Xterra was based on Nissan's Frontier compact pickup truck. As such, many of the Frontier's styling cues were readily evident on the first generation Xterra. They shared the same hood, front fascia, A-pillars, and windshield. Further, the Xterra's front doors were the same as those used on the Nissan Frontier.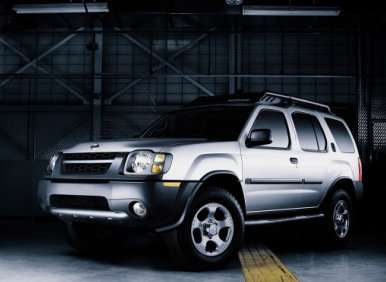 Nissan Xterra Used SUV Buyer's Guide: 2000
Nissan introduced the Xterra to the North American automotive market with the slogan; Everything you need, nothing you don't. With that said, the Xterra was pretty sparsely equipped, compared to other SUVs of its time. However, for the young off-road enthusiasts the vehicle was aimed at, this had the effect of giving them an opportunity to own a highly capable vehicle at a reasonable price of entry.
Standard features on the base rear-drive XE model consisted of; bucket seats, a center console, power brakes, a real window defroster, 15-inch styled steel wheels, ABS at all four wheels, driver and passenger front airbags, cloth upholstery, power steering, air conditioning, intermittent windshield wipers, privacy glass, an AM/FM cassette-based audio system, and skid plates.
Optional features included a camper/towing package, alloy wheels, a tilt steering wheel, a rear window wiper, a roof rack, and an AM/FM/CD-based audio system.
The 2.4-liter four-cylinder engine was offered only with rear-wheel drive and the five-speed manual transmission. If you wanted four-wheel-drive and an XE spec, you had to get the 3.3-liter V6 engine. Doing so got all of the standard features listed above, plus automatic locking hubs and chrome wheels.
Options available for the XE V6 four-wheel-drive Xterra, in addition to those listed above, included fog lights, a keyless entry system, a limited slip differential, a four-speed automatic transmission, alloy wheels, an antitheft alarm system, cruise control, power windows, power door locks, and power exterior mirrors.
Moving up to the Xterra SE rear-drive model made all of the optional features for the XE standard equipment. However, leather steering wheel trim, not available on the XE, was one of the SE's standard features. The rear-drive Xterra SE's options list contained the camping/towing package, a compact disc changer, and the four-speed automatic transmission. All of the above held true for the Xterra SE 4 x 4 as well with the addition of a limited slip differential.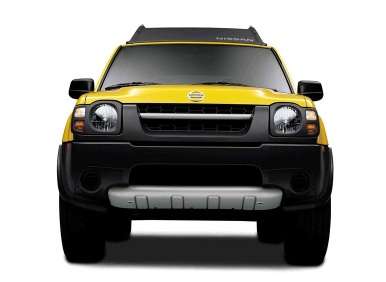 Nissan Xterra Used SUV Buyer's Guide: 2001
For model year 2001, Nissan product planners added titanium interior accents for SE models and a premium audio system with a 100W amplifier and a six-disc in dash CD changer. The unit could be controlled by way of the new steering wheel mounted audio controls.
Nissan Xterra used suv Buyer's Guide: 2002
After only two years on the market, Nissan updated the Xterra considerably. The dashboard and center console were redesigned, a more powerful engine offering was added, and the front-end styling was revised. New options included side curtain airbags and a tire pressure monitoring system.
The audio systems were upgraded, with the previous top system being replaced by a six-speaker 300W Rockford Fosgate setup, which also included an eight-inch subwoofer. For those of you who recall seeing Xterra eight-speaker ads, the reality was the subwoofer used a dual voice coil, so they claimed it as two speakers, making the total count eight.
Leveraging the Xterra's relationship to the Frontier, the compact pickup's supercharged 3.3-liter V-6 was installed in the Xterra. Available in both XE and SE trims, the result produced 210 horsepower and 246 foot-pounds of torque. The supercharged engine was paired with both the four-speed automatic and the five-speed manual transmissions, as well as rear-drive and four-wheel-drive.
Standard equipment for the supercharged Xterra in SE trim was comprised of skid plates, 17-inch alloy wheels with all-terrain tires, a full-size matching spare mounted under the body, variable intermittent windshield wipers, privacy glass, a rear defogger, a rear window wiper, and a tubular powder coated roof rack.
The supercharged Xterra SE's door locks, exterior mirrors, and windows were all power operated. The supercharged Xterra SE also featured cruise control, a front console with storage, front and rear cup holders, front door storage pockets, front seatback storage, power steering, and three 12V power outlets. The leather-wrapped tilt adjustable steering wheel got integrated audio and cruise controls. The model also offered air-conditioning, front reading lights, and a vanity mirror for the passenger.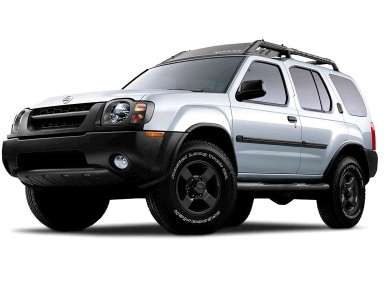 Nissan Xterra Used SUV Buyer's Guide: 2003
Output of the normally aspirated 3.3-liter V6 was bumped to 180 horsepower for 2003. Stability control was introduced as an option, and a 16-inch alloy was designated as the standard wheel for XE V6 models. Another change for the XE V6 was the fitment of tubular step rails as standard equipment.
Other changes for V6 models included the adoption of a driver seat height and lumbar adjustment, a roof headliner net, a luggage side net, and metal ceiling tie-down hooks.
Xterra SE got a rugged leather interior package offered as an option. Tire pressure monitoring and electronic brake force distribution were also new additions to the options list. A new standard feature for the SE Xterra was a heavy-duty alternator in addition to dual 12V power outlets located in the engine compartment.
The supercharged XE models were discontinued for 2003, making the supercharger an SE-only proposition.
Nissan Xterra Used SUV Buyer's have Guide: 2004
Bigger wheels for the Xterra were the big news for model year 2004; 16-inch four-spoke alloys were made standard for XE V6, while 17-inch alloys were made standard for non--supercharged SE models.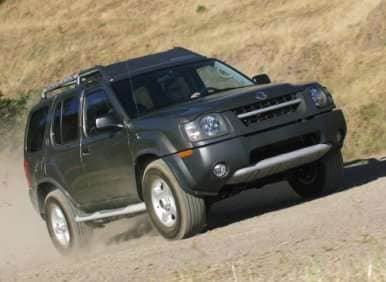 Nissan Xterra Used SUV Buyer's Guide: 2005 – Current (2012)
Nissan debuted an all-new larger Xterra model for 2005. While the overall length of the SUV didn't change, its wheelbase was extended by two inches. This improved the Xterra's ground clearance, as well as its approach and departure angles, making it even more capable off-road.
The four-cylinder engine was dropped and a larger V6 engine with more power was fitted across the board. The 4.0-liter V6 engine made 265 horsepower and 284 foot-pounds of torque. Xterra's transmissions were upgraded too, with a five-speed automatic replacing the four-speed, and a six-speed manual replacing the five-speed.
The revised model was introduced in three trim levels, each available in either four-wheel-drive or rear-wheel drive—as well as with a choice of either manual or automatic transmissions. The base trim level was designated "S", the top-of-the-line version was once again designated "SE", and the middle trim level was designated "Off-Road".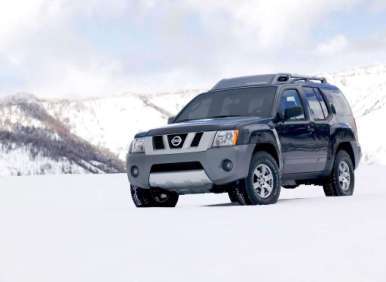 Nissan Xterra Used SUV Buyer's Guide: 2005
The 2005 Nissan Xterra S featured, as standard equipment; skid plates, 16-inch alloy wheels, a full-size matching spare tire mounted under the body on a steel wheel, variable intermittent wipers, privacy glass, a rear defogger, an intermittent rear wiper, and a roof rack. The driver's seat was height adjustable and featured a manually adjustable lumbar support. Cloth was used as upholstery throughout. The rear seat back was capable of split folding, and rear ventilation ducts were included as well.
The front console featured storage, there were cupholders front and rear, the front doors had pockets, and there was an overhead console with storage. Air-conditioning was standard equipment, and the Xterra retained accessory power when the engine was shut off. The power steering system was calibrated for speed proportional effort and used a tilt adjustable wheel. There were 12V power outlets in the front passenger compartment, as well as in the cargo area. Its audio system used six speakers and an AM/FM single-disc CD player head unit.
The four-wheel-drive system featured electronic hi/lo gear selection, and drivers could shift into four-wheel drive on the fly.
Safety and security features included ABS for all four disc brakes, child seat anchors, rear door child safety locks, a rear center three-point belt, front seatbelt pre-tensioners, traction control, electronic brake force distribution, and head restraint whiplash protection systems.
The four-wheel-drive Xterra Off-Road added hill descent control, a rear-locking differential, and a transmission hill holder. To the safety suite of the Xterra S, the Xterra Off-Road added fog lights and a tire pressure monitoring system.
For the 2005 Xterra SE, Nissan's product planners specified 17-inch alloy wheels, with the spare tire mounted on an alloy wheel as well. Tubular running boards were fitted, as were power door locks, power mirrors, and four one-touch power windows. A first aid kit was included, as were audio and cruise controls on the leather wrapped steering wheel. The audio system was a Rockford Fosgate designed nine-speaker 380W AM/FM/six-disc CD player based setup, with speed sensitive volume control, a subwoofer, and the radio data system.
A remote antitheft alarm system was added to the SE safety suite.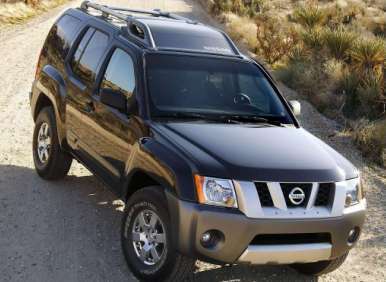 Nissan Xterra Used SUV Buyer's Guide: 2006
An additional trim level was added for 2006, making Xterra's model designations;X, S, Off-Road and SE, all of which are offered in both two- and four-wheel drive. The base X model featured air conditioning, a tilt steering wheel and a CD player. The S added cruise control, power windows, power door locks and power mirrors. The Off-Road model incorporated high-performance gas shocks, off-road tires on alloy wheels and skid plates; four-wheel drive versions also got a locking rear differential, Hill Descent Control and Hill Start Assist. The SE added upgraded interior trim and a 300-watt Rockford Fosgate audio system with nine speakers, MP3 capability and steering wheel-mounted controls.
Nissan Xterra Used SUV Buyer's Guide: 2007
Mudguards were made standard for all four-wheel drive models, a leather-wrapped steering wheel and a sunglass holder were fitted as standard for the 2007 Xterra Off-Road, and body side moldings were made standard for Xterra SE.
Nissan Xterra Used SUV Buyer's Guide: 2008
The trickle-down theory enabled X models to get standard power features, formerly the province of the S Xterra. This included remote keyless entry and cruise control. A Technology Package for the Off-Road Xterra was introduced, featuring Bluetooth, XM Satellite Radio pre-wiring for automatic-transmission equipped models, an auto-dimming rearview mirror, and an upgraded Rockford Fosgate audio system. DVD-based video entertainment systems, and navigation systems finally found their way into Xterra in 2008, as options.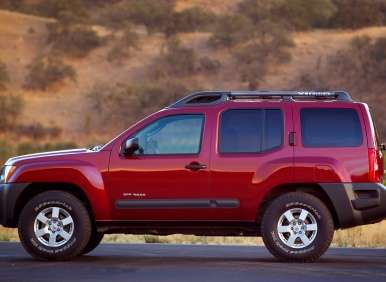 Nissan Xterra Used SUV Buyer's Guide: 2009
The Xterra got a mild facelift for 2009, endowing it with more options and colors, leather on SE models, and roof-mounted lights on Off-Road models. This made the standard equipment for the 2009 Xterra X include 16-inch steel wheels, full power accessories, air-conditioning, cruise control, keyless entry and a six-speaker audio system with a CD player.
To all of that, the S trim level added alloy wheels, tubular step rails, an eight-way adjustable driver seat, a channeled cargo management system, and a rubberized floor for the cargo area to make it easier to clean. The Xterra SE stacked 17-inch alloy wheels, leather upholstery, and an auto-dimming rearview mirror on top of the S offerings.
The Off Road model also included 17-inch alloy wheels, but they were paired with knobby trail tires, Bilstein gas-charged off-road shock absorbers, skid plates, an electronically locking rear differential, and a fold-down passenger seat.
For 2009, Xterra's options were bundled into large packages, rather than being offered à la Carte. As an example, the X Gear package included roof rack crossbars, foglights, a first aid kit, a cargo net, and a gear basket. Nissan also offered a dockable rear entertainment system and a portable Garmin navigation system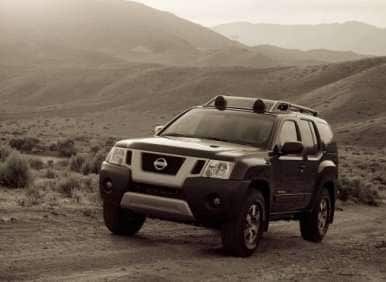 Nissan Xterra Used SUV Buyer's Guide: 2010
Model year 2010 saw each trim line's options get folded in as standard equipment. However, an iPod interface and a dockable rear entertainment system were added to the options list for the SE and Off-Road Xterra models.
Nissan Xterra Used SUV Buyer's Guide: 2011
The SE trim level was discontinued for 2011, and the Off-Road trim level was renamed Pro–4X. This reduced Xterra's offerings to three trim levels, X, S, and Pro–4X.
Having become essentially the top-of-the-line Nissan Xterra, the 2011 Pro-4X was equipped as follows; electronic locking rear differential, hill-start assist, hill-descent control, skid plates, a Pro-4X-specific set of 16-inch alloy wheels, upgraded off-road tires, fog lights, a set of roof-mounted off-road lights, Pro-4X-specific cloth upholstery, and a fold-flat passenger seat.
The model also employed a leather-wrapped steering wheel, white-face gauges, an auto-dimming rearview mirror with a built-in compass, Bluetooth, and a nine-speaker Rockford Fosgate sound system with a six-disc CD changer, auxiliary audio input jack, steering-wheel audio controls, and satellite radio.
To plush it out, the Pro-4X Leather package added leather upholstery and a passenger seat back pocket. However, ordering the Leather package meant foregoing the passenger seat's folding capability.
Nissan Xterra Used SUV Buyer's Guide: Current Model (2012)
Xterra went into 2012 unchanged.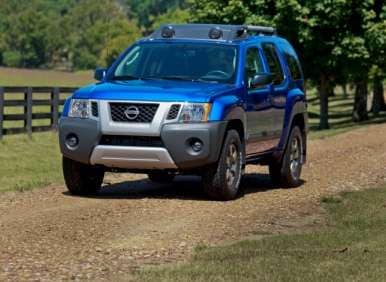 Nissan Xterra Used SUV Buyer's Guide: Summary
There ain't no two ways about it, the Nissan Xterra is first and foremost a purpose built off-road automobile. Designed specifically to perform well in off-road situations, as ruggedly handsome as it is, on the street it drives, well, like a pig.
All of the attributes that make it work so well on dirt—work really well against it on asphalt.
Its steering is numb, its ride is bouncy, and its tires are noisy. Further, the newer models with the 4.0-liter V6 are not exactly paragons of modern fuel efficiency. That said, if camping, hiking, dirt biking, hunting, or any other intense outdoor activity requiring you to go deep back into the woods is your idea of fun, and you're looking for a relatively affordable ride to help you get there, the Nissan Xterra is the one you want.
Choose carefully though, we recommend going 2002 or newer—avoiding the first couple of years of production of the Xterra altogether. Their engines were underpowered and their interiors were not as nice as they could be. If money is an issue, and it usually is, the earlier versions can be had for much less money, but be apprised you'll be getting a lot less Xterra.
Also, if you're looking at an Xterra that was used the way it was designed to be used, there'll be a few dings, dents, bings, and bangs on its undercarriage. You'll want to make sure there are no potentially fatal ones.
Further, make sure you run a vehicle history report against the Xterra's VIN to ensure there are no skeletons hiding in its closet. Similarly, you'll want to make sure you run an Internet search for "Nissan Xterra recalls", to make sure you have a listing of the updates prescribed for your particular model.
Once you have all of that in hand, make sure a trusted professional independent Nissan mechanic subjects the Xterra of your choice to a very thorough pre-purchase inspection.