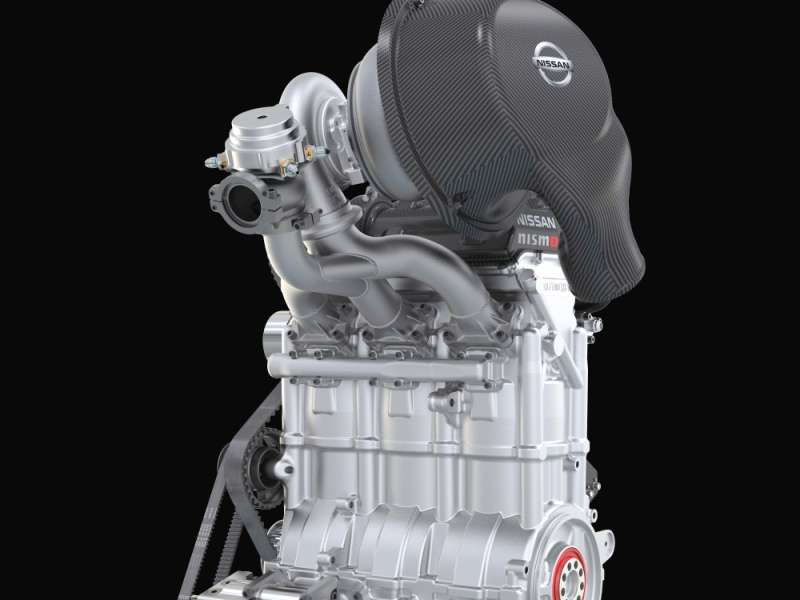 The current automotive trend for putting big horsepower in small packages will continue with a new entry from the Nissan team: As the automaker recently announced, a new 1.5-liter, 3-cylinder engine will be used to extend the range of the Nissan ZEOD RC electric racer, which is expected to take the field at the upcoming 24 Hours of Le Mans endurance race as the "Garage 56" entry for cars showcasing breakthrough technologies. Now, those technologies are highlighted by a powerful electric motor that will propel the ZEOD RC—at racing speeds—for a full lap of the Circuit de la Sarthe (about 8.4 miles) without using any fuel at all.
But while Nissan expects its racers to go electric for one lap every driving stint, the rest of the time motivation will come from that new mighty mite of an engine. There will be plenty of it, too, since engineers managed to squeeze about 400 hp and 280 lb.-ft. of torque from its minimal amount of displacement, courtesy of technologies like direct injection and turbocharging. To put that power into context, the 1.6-liter four-cylinder engine in the 2014 Nissan JUKE NISMO, also with direct injection and a turbo, makes "only" 197 horses and 184 lb.-ft. of torque. (On the other hand, the EV powertrain in the 2014 Nissan LEAF provides an all-electric driving range of up to 84 miles, albeit not at quite the same speeds as the ZEOD RC.)
In terms of size, well, Nissan gives a nod to the new measuring criteria first introduced by Ford's 3-cylinder EcoBoost and notes that: "While the engine is technically too heavy to take as carry-on luggage on a plane, it would easily fit inside the luggage guides seen at major airports around the world."
Added Darren Cox, director of Global Motorsports for Nissan:  "Our engine team has done a truly remarkable job with the internal combustion engine.
"We knew the electric component of the Nissan ZEOD RC was certainly going to turn heads at Le Mans, but our combined zero emission on demand electric/petrol powerplant is quite a stunning piece of engineering. Nissan will become the first major manufacturer to use a three-cylinder engine in major international motorsport. We're aiming to maintain our position as industry leaders in focusing on downsizing. Lessons learned from the development of the engine will be seen in Nissan road cars of the future."
The 24 Hours of Le Mans is scheduled to start June 14, 2014.