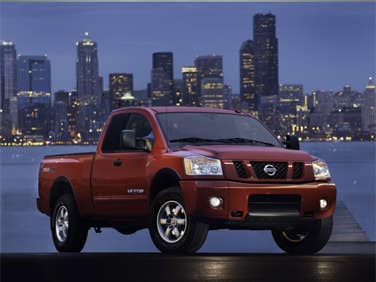 Time was, you wanted a full-size pickup truck, you were limited to pretty much three choices; Chevrolet Silverado (AKA GMC Sierra), Dodge Ram (now known as Ram Trucks), or Ford F-150. In fact, so thoroughly had import manufacturers invaded the American automotive marketplace at one point, the full-size pickup truck was all the domestic automakers had left to profit from.
With that in mind, you can imagine how the average American pickup truck buyer (you know, the ones who think Bruce Springsteen's "Born In The U.S.A." is a patriotic song) felt in 2004 when he (most are male) looked up and there was a full-size Japanese pickup truck on the scene. And while most people think of the all but unstoppable Toyota juggernaut when they envision invading Japanese autos, the first full-size Japanese pickup truck on the American market came from Nissan.
Yes, we know Toyota introduced Tundra in 2000 as its iteration of the full-size pickup, however the Tundra Toyota brought to market during the last year of the 20th century was in fact a slightly-larger-than-mid-size pickup. It wasn't a genuine full-size pickup truck. The first Tundra to go truly full-size was introduced in 2007 — three years after the Titan had come to market.
And while ultimately Tundra went on to become more popular than Titan, here's an interesting bit of trivia; approximately 25 percent of all Nissan Titans sold are registered in the south central part of the country, including that long held bastion of pickup truck domination — Texas. But lest ye despair, the truly patriotic among us can take solace in the fact that Titan is in fact homegrown as Nissan builds it in Canton, Miss.
There has been only one generation of the Titan offered since the truck was introduced.
2004 - 2011 Nissan Titan
2004
Adhering firmly to the doctrines set forth for serious pickup truck design — seemingly since time immemorial — the 2004 Nissan Titan featured a separate body on a fully boxed, ladder frame. Further, it ran a solid rear axle with leaf springs, and was offered in two cab styles (King and Crew), with two bed sizes.
The half-ton extended (King) cab used reverse-opening rear access doors and a six-foot-six-inch bed. The Crew cab ran four full-size doors and a five-foot-six-inch bed. Unlike the domestics however, no regular cab version of the Titan was offered. Titan's spray-on bedliner was a unique feature, freeing buyers from the need to go out and purchase one on the aftermarket.
Titan's power came from a 305-horsepower, 5.6-liter V-8, capable of 379 ft-lbs of torque. A five-speed transmission routed the engine's progeny to either the rear wheels, or all four wheels for the 4x4 versions of Nissan's big pickup truck.
Titan was offered in three states of trim. The base version was Titan XE, the mid-level model was designated SE and the deluxe version of the Titan was the LE. XE models featured air conditioning, cruise control, a bench seat and a CD-based stereo audio system.
SE replaced the front bench seat with captain's chairs and a flow-through center console. Upgraded amenities justifying the additional price of an SE model were power windows, door locks and mirrors; keyless entry; an overhead console; and chrome trim for the exterior.
Leather captain's chairs populated LE models, along with an upgraded audio system, power-adjustable pedals, an auto-dimming rearview mirror with an integrated compass, heated and auto-dimming side mirrors, dual-zone automatic climate control, and a utility package for the bed.
A DVD-based navigation system, DVD-based rear entertainment system, a sunroof, and a factory-applied spray-in bedliner were key items on the options list. The optional off-road package bought heavy-duty shocks, more robust skid plates, a lower final-drive gear ratio, all-terrain tires, and a push-button rear-locking differential.
Titan's torque-rich V-8 made it a natural for towing. With its tow package's heavy-duty radiator, upgraded springs, extending tow mirrors, and a stability/traction control system, Titan would tow up to 9,500 pounds.
2005
With all the hard points firmly established, only detail changes were enacted for 2005. The rear window in Crew Cab models was endowed with power operation, the tailgate opening was dampened (and no, not dampened as in wet), LE buyers could get a leather bench seat — in place of the captain's chairs, and the spray in bedliner was offered as an option for the XE just like its more upmarket siblings. Satellite radio was offered as an option for all Titan trim levels as well.
2006
LE models got a bit more luxurious with the addition of a dual automatic climate control system. Also for the LE, the outside rearview mirrors got added functionality. Turn signals, heating elements and power-folding capability were added to their repertoire. Four-wheel drive models equipped with a locking differential could get stability control for the first time in '06, and the audio systems were made MP3 friendly.
2007
Titan's V-8 was re-rated to 317-horsepower and 385 ft-lbs of torque.
2008
For 2008, steps were taken to bring the Titan out of the basement in terms of sales. If you know pickup trucks and you've been reading this closely, you'll note Titan was a bit lacking in bed length. With the introduction of long wheelbase Titan models for 2008, that situation was reversed. With its newfound length, the 2008 Titan could offer a seven-foot bed in Crew Cab configuration and an eight-foot bed in King Cab guise.
The styling of the front end was refreshed a bit, so you could tell you were looking at a newer model, and the interior was updated as well. New features included Bluetooth, a larger rear-seat entertainment video monitor, and a new name for the offroad package: Pro-4X.
For 2008, the Titan's trim lines were designated as follows; XE, SE, Pro-4X and LE.
Rolling on eighteen-inch steel wheels, 2008 Nissan Titan XE models used a split front bench seat. Standard comfort and convenience features included air-conditioning, a CD-based stereo audio system and cruise control.
Titan SE swapped the steel in favor of eighteen-inch alloy wheels and its interior kit featured full power accessories. Captain's chairs upholstered in leather displaced the XE's bench and opened space for a center console. Tunes were delivered courtesy of an in-dash CD changer, or via the buyer's choice of portable audio devices connected to the audio system's auxiliary audio input jack. Power heated mirrors and an overhead console completed the SE package.
The four-wheel drive Titan Pro-4X was kitted out similar to the SE—in terms of interior features. To give it dirt credibility, it was also equipped with Rancho offroad shocks, heavy-duty skid plates to protect its undersides, a lower final-drive gear ratio to multiply its pulling power, all-terrain tires for more grip in mud and the like, and a push-button rear locking differential to manage the 5.6-liter V8's output more effectively.
Gentleman ranchers would find a set of twenty-inch wheels, a factory-applied spray-on bedliner, specialized cargo tie-down tracks, rear parking assist, power-adjustable front seats, Bluetooth connectivity, dual-zone automatic climate control, an upgraded Rockford Fosgate audio system, power-adjustable pedals, auto-dimming mirrors, and a power-folding feature for the side mirrors as standard equipment on their 2008 Nissan Titan LE.
Ever egalitarian when it came to increasing sales, Nissan's product planners also decreed many of the LE's nicest touches be offered as options on the lower trims. Additionally, a tow package, navigation, satellite radio, a DVD-based rear video entertainment system, and a sunroof could be had on Titan models as added cost extras. Titan's optional Utility Bed Package was comprised of the spray-on bedliner, movable tie-down cleats, tailgate illumination and a driver-side lockbox.
2009
For 2009, rather than make a lot of changes, Nissan's product planners engaged in a serious bout of bundling.
A number of the SE trim line's features were bundled into the "XE Popular Equipment Package" to enable XE buyers to get several optional features all in one kit. These included the SE's eighteen-inch alloys, cruise control, an overhead console, a chromed grille, and a sliding rear window for Titan XE King Cab.
Similarly, the SE's Popular Equipment Package brought some of the LE's features down one level. These included an eight-way power adjustable driver's seat, power-adjustable pedals, rear parking sensors, a leather-wrapped steering wheel with audio controls, and an auto-dimming rearview mirror with a compass.
Another 2009 SE package was the Driver's Convenience Package, which fitted front captain's chairs with eight-way power driver adjustment, a console-mounted shifter, Bluetooth, satellite radio capability and a premium Rockford Fosgate sound system to the Titan SE.
The "Max Utility Package" bundled the spray-in bedliner with trailer friendly kit including a receiver hitch and a seven-pin wiring harness. Completing the package were a heavy-duty battery, front tow hooks, and for Pro-4X and LE models, power heated extended tow mirrors.
2010
If you go out looking for a 2010 Nissan Titan King Cab LE, you'll be disappointed. From 2010 forward, the LE trim line was applied only to Crew Cab Titans. However, on the up side, stability control, side airbags and side-curtain airbags became standard on all Titan models.
2011
Only the names were changed for 2011. The model formerly known as XE was renamed S, SE became SV, and LE became SL.
2012 (Current Model) Nissan Titan
Few changes were made to the 2012 Nissan Titan, but those that were made mostly consisted of packaging or simple cosmetic updates. The biggest news was the addition of the SV Sport Appearance Package (as shown on this page) that includes, among many other features, dark-finish 20-inch wheels, black side step rails, dark-finish grille, standard lockable side bed storage compartment and "Titan" graphics on the bed sides. Inisde, cloth seats with embroidered Titan logo and white-faced instrument guage cluster give this package a unique cabin.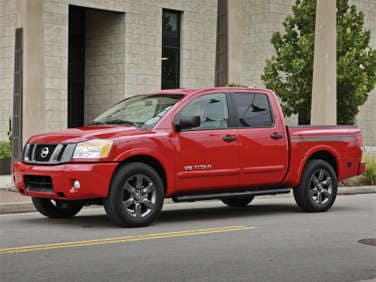 Summary
Some eight years in, Nissan has yet to make any wholesale changes to its big pickup truck. In a testament to just how right they got it in the first place, Titan, for all intents and purposes is still a quite competitive offering. However, just being good apparently hasn't been good enough, as Titan sales have languished near the bottom of the full-size pickup market since its introduction.
That said, when you find a used Titan for sale, you're going to get an exceptional value for your money. The Nissan's powerful V8 enables Titan to tow or haul pretty much anything one could reasonably ask of a pickup truck. The Nissan's 5.6-liter V-8 has also proven to be an exceptionally reliable piece, so failures are uncommon.
Nissan, while not changing the Titan's mechanicals significantly, did make a conscious effort to keep the big boy current on tech. You'll find all the gadgets and gizmos you expect from a modern vehicle in a Titan (depending of course, upon the model year you're looking at.
Still though, we're talking used cars here, so all our standard caveats apply. We strongly advocate running a vehicle history report, researching recalls and commissioning an inspection by a trusted professional mechanic knowledgeable of Nissan's Titan — as must haves before making any purchase decision.