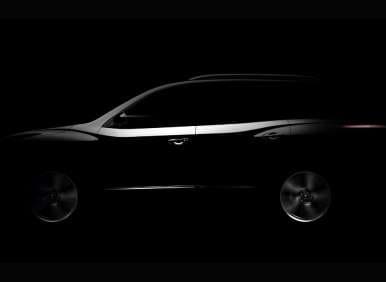 Nissan has revealed a teaser image of the Pathfinder Concept ahead of its debut at the North American International Auto Show. While this is being labeled as a "concept," there will likely be little differentiation from the vehicle being revealed in Detroit next month and the upcoming production 2013 Pathfinder. There are not a whole lot of details to glean from the picture Nissan released, but one element is clear: curves. All three previous generations of the SUV have been about offering a square ruggedness, and now the 2013 model will mark a clear design departure.
If the Pathfinder's mechanical platform was a political platform, we would all accuse the Nissan of being a flip-flopper. When the first Pathfinder showed up over a quarter century ago, it was a leader in the class by offering a permanent full passenger cab on top of the Hardbody pickup frame. When the SUV craze of the 1990s hit, Nissan responded by building the 2nd generation Pathfinder with elements of unibody construction. The current generation of the vehicle showed up in 2005 with a return to body-on-frame construction that shared more components with the redesigned Frontier truck. Now, the 2013 Pathfinder is expected to return to unibody construction so it can be the stablemate of the upcoming Infiniti JX35 crossover.
Those who like the 2011 Pathfinder because it is one of the lone holdouts as a true truck-like SUV, may still find the crossover Pathfinder acceptable. Nissan is trying to stress that it accounted for "Pathfinder's traditional SUV hallmarks," when creating the new crossover. For example, the current Pathfinder is one of the few vehicles still available as a 4x4 with a two-speed transfer case. This will likely continue on the new vehicle because according to Nissan's press release, the Pathfinder Concept is a genuine 4-wheel drive vehicle.
One element that can be lost in the switch from SUV to crossover is towing capacity. The once class-leading Ford Explorer is down to 5,000 lbs maximum now that is on a unibody chassis. The effect on the 2013 Pathfinder will be much clearer once we know more about the drivetrain, but the unibody is not necessarily a death sentence. The Dodge Durango went from a body-on-frame to a ladder/unibody hybrid chassis, and its V-8 version can still out tow the 2011 V-8 Pathfinder (7,000 lbs max vs. 7,000 lbs.)
Regardless of capabilities, the next Pathfinder will stress style and creature comforts. This midsize crossover concept will show off elements like a panoramic sunroof, which will likely become an optional extra when the production vehicle arrives at Nissan dealers in the fall.