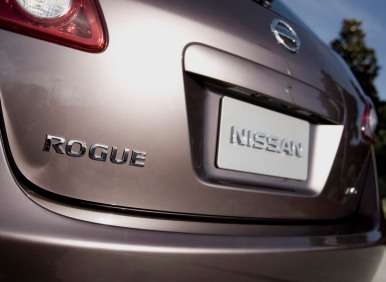 One of the most fiercely contested automotive segments of all is the compact crossover market. There, vehicles like Ford's Edge, Toyota's RAV4, Honda's CR-V and Nissan's Rogue struggle to "out-cute" one another in an effort to attract your attention.
On the face of it, the compact crossover segment would seem to be a contradiction. After all, if you really want a compact auto, why should it be so SUV-like when, in most cases, the car it's based on does everything it does with better fuel economy? The answer to that question is of course style, which brings us to the subject of this overview, Nissan's Rogue.
Based on the rather pedestrian Nissan Sentra, the Rogue has tons more personality than its sibling. With looks that mimic its Murano big sister, Rogue captures the eye in a way the Sentra never could. Further, its Sentra roots bequeathed Rogue a smooth ride, exceptional stability and impressive quietness — for the most part.
We'll get to that a bit later.
Remarkably, for all of its graceful styling and convivial road manners, Nissan chose a name for the vehicle that doesn't really fit its personality. "Rogue" implies a toughness, buttressed by a disdain for convention. Meanwhile, the Nissan compact crossover is far more graceful than its name represents and frankly, there's really nothing unconventional about the Nissan.
To date, Rogue is still in its first generation. Introduced in 2007 at the North American International Auto Show (AKA the Detroit Auto Show), Rogue is also one of the newest entries in the class, its competition being well into second and third generations.
Nissan Rogue 2008 – Present
The Nissan Rogue five-passenger compact crossover utility vehicle was introduced with two trim levels, S and SL. Each version was available with a choice of front- or all-wheel drive. If you chose the all-wheel drive variant of the crossover, its trim designation was followed with the suffix, AWD (i.e. Nissan Rogue S AWD, or SL AWD).
The 2008 Nissan Rogue S came equipped with sixteen-inch steel wheels, cruise control, a tilt steering wheel, air conditioning, a full complement of power accessories, keyless entry, and a four-speaker stereo audio system driven by a CD player and an auxiliary audio input jack. There were no factory options offered for the 2008 Nissan Rogue S.
Spreading the additional cash for a Rogue SL however, got buyers all of the above, plus seventeen-inch alloy wheels, roof rails, tinted windows and a height-adjustable driver seat. But that was just the beginning, as Nissan's bundled option packages could outfit a 2008 Rogue SL quite comprehensively.
Rogue SL's Premium package included a seven-speaker Bose stereo audio system featuring MP3 capability, an in-dash six-disc CD changer and satellite radio. There was also a set steering-wheel-mounted paddle shifters for the CVT, foglights, a trip computer, a cargo cover, and a fold-down front passenger seat.
Rogue SL AWD Premium package buyers could add even more kit to that list; Xenon headlights, keyless ignition and entry, steering-wheel-mounted audio controls, and Bluetooth.
There was also a Rogue SL AWD Leather package, which incorporated leather upholstery (of course), heated front seats and mirrors, a power-actuated driver's seat, and a one-touch power side window for the driver. The Leather package also contained an auto-dimming rearview mirror with an integrated compass and HomeLink for opening garage doors and security gates.
Power came from a 170-horsepower 2.5-liter inline four-cylinder engine producing 175 ft.-lbs. of torque. Its output was routed to the drive wheels by way of a continuously variable transmission (CVT).
For those unfamiliar with the concept, rather than shifting between four, five or six gears of different sizes, a CVT uses two pulleys of variable sizes connected to one another by a steel belt. As the vehicle accelerates—or decelerates—the pulleys get larger or smaller in relation to each other, effectively changing the gear ratios and maximizing the work accomplished by the torque output of the engine.
The advantages of a CVT are lighter weight, better fuel economy and relative lack of complexity. The disadvantage is noise. A CVT holds the engine at redline under acceleration until you reach your desired cruising speed. Which, of course detracts from the overall quietness of the Rogue we touted above.
The 2008 Rogue's safety equipment included ABS, brake assist, traction control, stability control, side airbags mounted in the seats, side curtain airbags for the front and back seats, and active head restraints to prevent whiplash in a crash from the rear.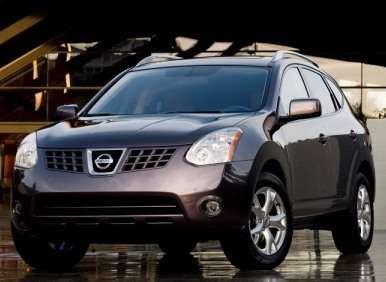 2009 Nissan Rogue
No significant changes were made to Nissan's compact crossover for its second year on the market.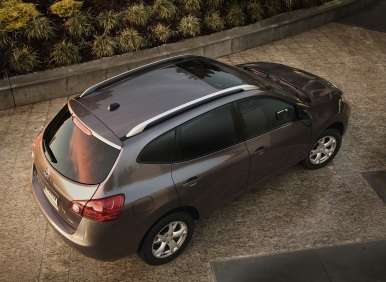 2010 Nissan Rogue
A "Value" package upped the content quotient of Rogue S, while the 2010 RogueR S Krom Edition (pronounced chrome) gussied up the appearance of the base model Rogue S.
The Value package swapped the standard sixteen-inch steel wheels for a set of alloy wheels of the same diameter. The Value package also garnered Rogue S a rear spoiler, a chrome grille, a set of tinted windows, and a back-up camera with a video display in the auto-dimming rearview mirror.
The 2010 S Krom Edition Rogue laced the standard Rogue S with steering wheel audio controls, tinted windows, a set of seventeen-inch alloy wheels with a dark-colored finish, a unique grille and front fascia treatment, a more sporty-looking center-mounted exhaust outlet at the rear, and a rear spoiler.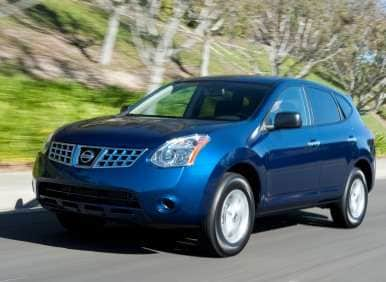 2011 Nissan Rogue
A light facelift refreshed the Rogue's outward appearance, while the product planners reworked the packages a bit in an effort to broaden the Rogue's value story. Other changes for 2011 included the availability of eighteen-inch wheels, full iPod integration, a navigation system, automatic headlights, and an automatic climate control system. Further, while the SL trim designation was dropped for 2011, a new nomenclature, "SV", was added.
So, for 2011 Rogue's lineup was configured as follows; Rogue S came standard with sixteen-inch steel wheels, keyless entry, full power accessories, air-conditioning, and a four-speaker stereo audio system with full iPod connectivity. The audio system also featured a CD player and an auxiliary input jack for personal portable audio devices. Further, the 2011 Rogue S harbored rear privacy glass, cruise control, a tilt steering wheel, and a trip computer.
To all of the above, the S Krom Edition added a set of eighteen-inch alloy wheels, as well as a specific grille and front fascia. Krom S also featured a center-mounted sport exhaust and audio controls on the steering wheel.
In a similar fashion to the defunct SL trim package, the SV added seventeen-inch alloy wheels, a set of roof rails, keyless entry and start, Bluetooth hands-free connectivity, a six-way electrically actuated power driver's seat complete with power lumbar adjustment, a fold-down front passenger seat, a nicer grade of upholstery, a rearview camera and a six-speaker stereo audio system with a color display. It also featured steering-wheel-mounted controls and satellite radio.
The SV's Premium package bundled together a sunroof, a navigation system with real-time traffic information, an automatic climate control system, and automatic headlights.
Interestingly, the former Leather package was renamed the SL package (things are getting a bit confusing now, aren't they?). This stacked on top of the elements of the SV Premium package a set of eighteen-inch alloy wheels, Xenon headlights, a pair of foglights, heated side mirrors, leather upholstery, and heated front seats. It also included an auto-dimming rearview mirror and a Bose stereo audio system with a subwoofer.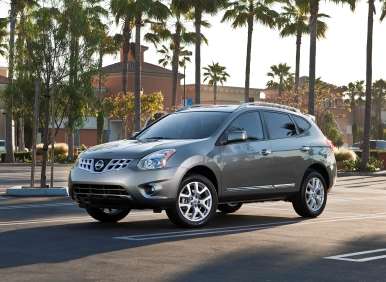 2012 Nissan Rogue (Current Model)
Going into 2012, the Krom Edition for Rogue S was dropped, so the model is once again running with only two trim lines. However, the 2012 Special Edition package laces Rogue S with sixteen-inch alloy wheels, a premium audio system, satellite radio, privacy glass, a rearview monitor, and fog lamps.
Rogue SV still has the SL package available, which now also includes Nissan's "Around View Monitor." This system uses four cameras strategically placed around the vehicle to create a composite view of the vehicle's surroundings—seemingly from above. The multiplexed image is displayed through the monitor in the Rogue's center stack.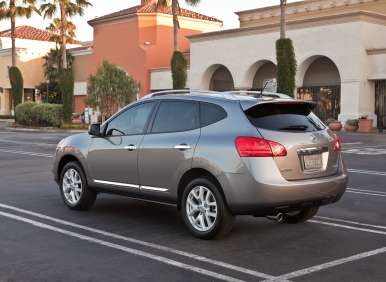 Nissan Rogue Summary
Good looking, enjoyable to drive and well equipped; coming late to the compact crossover game as the Nissan Rogue did placed it in a very competitive position versus its rivals. Nissan's reputation for reliability also serves Rogue well.
That said, we have no qualms with recommending the sporty little vehicle on the secondary market, though we have been made aware of a recall for some 7000+ units of Rogue due to an electric power steering issue. To get the full details on it, plus any other potential recalls, you'll want to run an Internet search for "Nissan Rogue recall" to make sure the model holding your interest is duly updated.
Further, a vehicle history report against its VIN is a good idea as well—just to make sure nothing unseemly is lurking in your vehicle's past. And, as always, a very thorough pre-purchase inspection by a trusted professional mechanic, one very familiar with the Nissan Rogue will always be the smartest thing you can do.