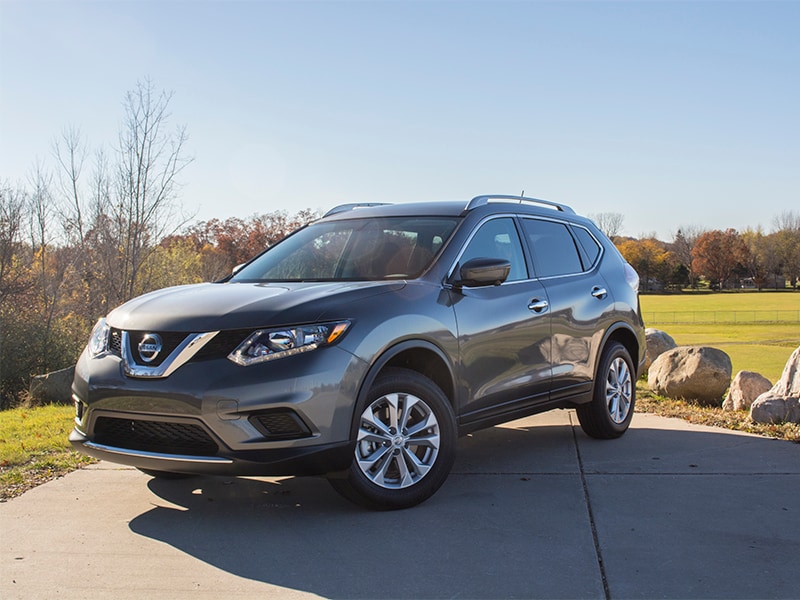 2016 Nissan Rogue SL AWD Front Angle
As Nissan's entry in the compact crossover segment of the SUV marketplace, the Rogue is up against some of the most popular nameplates in the business. Even so, the Nissan punches considerably above its weight class, thanks to a number of exceptional features the Nissan product planning team baked into the Rogue's package. In other words, while the Rogue may indeed be small in size, it is most assuredly big otherwise. From the unexpected spaciousness of its interior accommodations, to the broad range of electronic driver's aids offered by the scrappy little crossover, the Nissan Rogue delivers considerably more than its look might lead you to believe. New features for the 2016 model year include Forward Emergency Braking and NissanConnect telematics services. Rogue also becomes the first model in the Nissan lineup to offer Siri Eyes Free.
Awards and Recognition
The second best selling model in Nissan's American lineup, Rogue has been named one of the 10 Best All-Wheel Drive Vehicles Under $25,000 by Kelley Blue Book's KBB.com. What's more, the Insurance Institute of Highway Safety numbers Rogue among its Top Safety Picks. Here at Autobytel, we named the Nissan Rogue one of the most economical SUVs for 2016. A broad variety of "Best SUV," Best Family Car," and "Best Value" lists by a number of other leading consumer and automotive media organizations include the Rogue as well.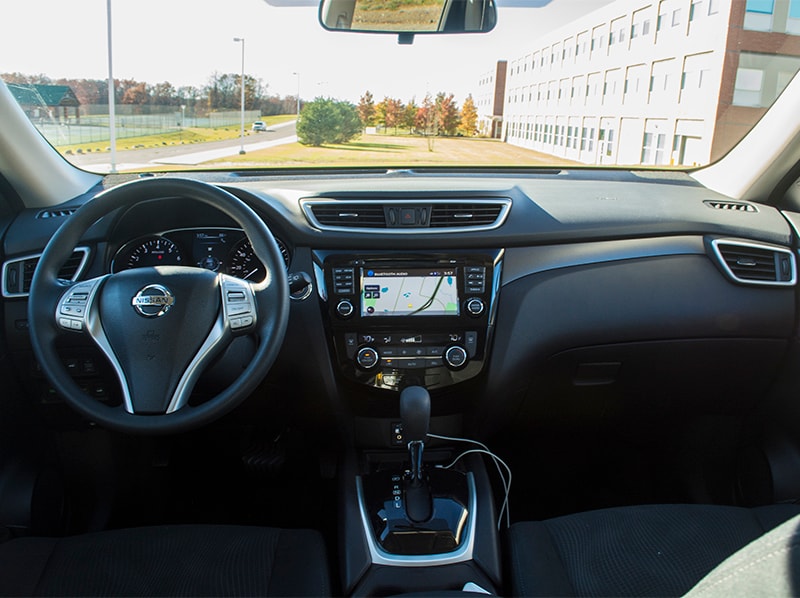 Clever Aerodynamics and Exterior Styling
Here's a case where form follows function to good effect. Each aspect of the 2016 Nissan Rogue's exterior appearance plays a role in the overall performance of the model. The quietness of the Nissan's interior is a direct reflection of the way the A-pillar, outside rearview mirrors, rear roof spoiler, and side spoilers reduce wind noise. This is also true for areas you don't see. Underneath the Rogue, its rear bumper closing panel, fuel tank deflector, rear suspension cover, engine undercover, and front tire deflectors minimize turbulence. In addition to reducing wind noise, these measures help improve fuel economy. The result is an arguably sporty design, without being overly aggressive. Contributing to this effect, the Rogue's standard 18-inch tires give it a solidly planted look, while extremely short front and rear overhangs are a testament to the efficiency of the design.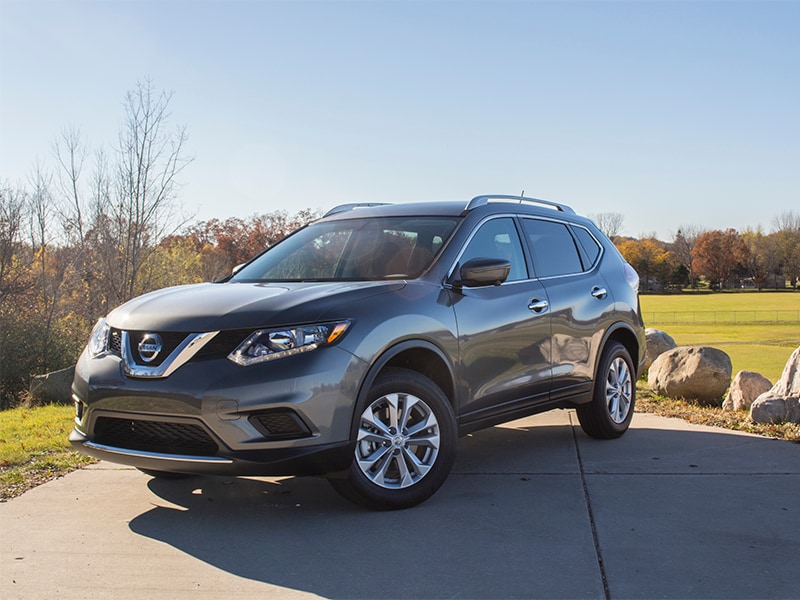 Remarkably Reasonable Pricing
The 2016 Nissan Rogue comes to market in three well equipped trim levels: S, SV, and SL. Rogue S starts at $23,240 and offers LED daytime running lights, remote keyless entry, A/C, cruise control, a tilt and telescoping steering wheel, air conditioning vents for rear seat passengers, a rearview camera, a five-inch monitor in the center stack, Bluetooth audio streaming and phone connectivity, and satellite radio. The 2016 Nissan Rogue SV adds roof rails, rear privacy glass, turn signal repeaters in the rearview mirror housings, alloy wheels, automatic headlights, keyless entry and ignition, dual-zone automatic climate control, and NissanConnect for smartphone integration—all for $24,690. The top-of-the-line Rogue SL trim package adds 18-inch alloy wheels, fog lights, heated mirrors, a power liftgate, a leather-wrapped steering wheel, leather upholstery, heated front seats, a 360-degree camera system, a seven-inch touchscreen, navigation, voice controls, Siri Eyes Free, and a Bose audio system. Base price is $28,640.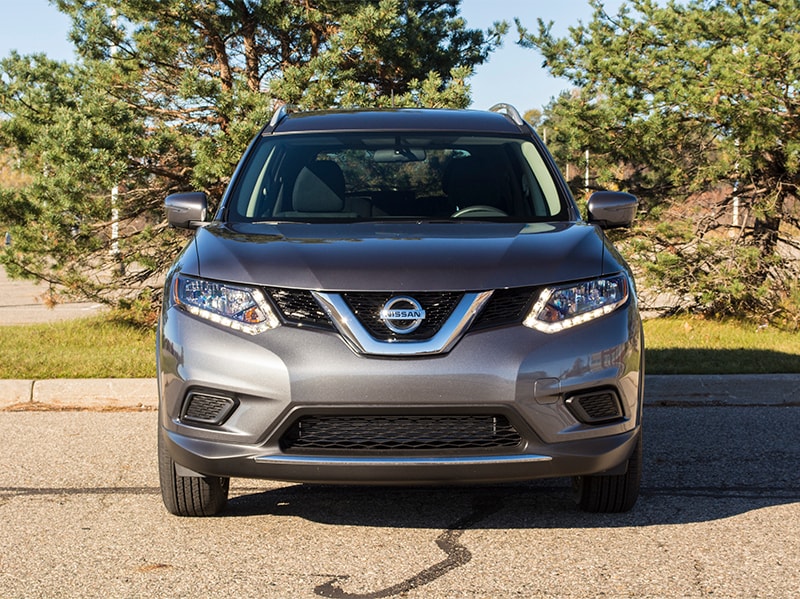 Unexpected Optional Features
Yet another reason the Nissan Rogue is small in size but big otherwise, becomes evident when perusing the compact crossover's optional equipment list. For example, the Rogue's Family Package adds the third row seat, run-flat tires, and privacy glass to the features of the base S model. Beefing the content of the mid-level SV and the top line SL trims are a pair of Premium Packages. The Rogue SV Premium Package adds heated mirrors and the power liftgate from the SL to the SV, along with navigation, the larger touchscreen monitor, and the 360-degree camera system. To up the safety equipment of Rogue SV, the package also adds blind spot monitoring, lane departure warning, forward collision warning, and Siri Eyes Free. While Rogue SL is already kitted out completely in most respects, its optional Premium Package adds a panoramic sunroof, as well as the electronic driver's aids from the SV Premium Package. It then goes a couple of steps farther with automatic emergency braking for the forward collision warning system, and LED headlights.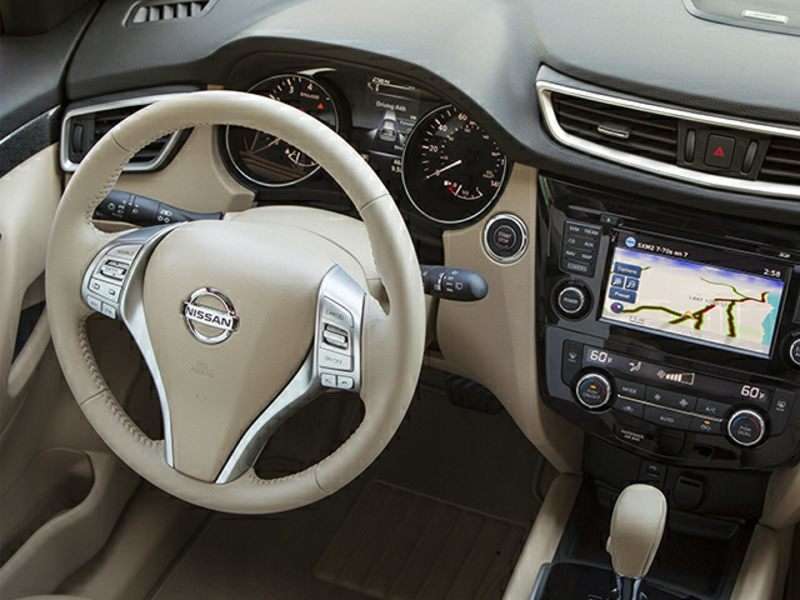 Outstanding Interior Comfort
Along with all of those outstanding features, interior comfort is another area in which the 2016 Nissan Rogue goes big. Front seat passengers benefit from a technology Nissan's marketing team has dubbed Zero Gravity. Borrowed from NASA (no, seriously, it really was), Zero Gravity seats are designed to provide upper body support from the pelvis all the way up through the chest. This is said to ensure outstanding comfort over long distances. Further, Nissan has made every effort to guarantee Rogue's passengers are treated to a premium experience. Soft touch materials are employed everywhere your body might come into contact with the Nissan crossover suv. An abundance of padded surfaces further drive home the impression of quality. The Rogue's second row seats recline in addition to sliding fore and aft. This increases their potential comfort. Here again, the optional third row seat is a rarity in this class—as most of Rogue competitors don't offer a third row at all.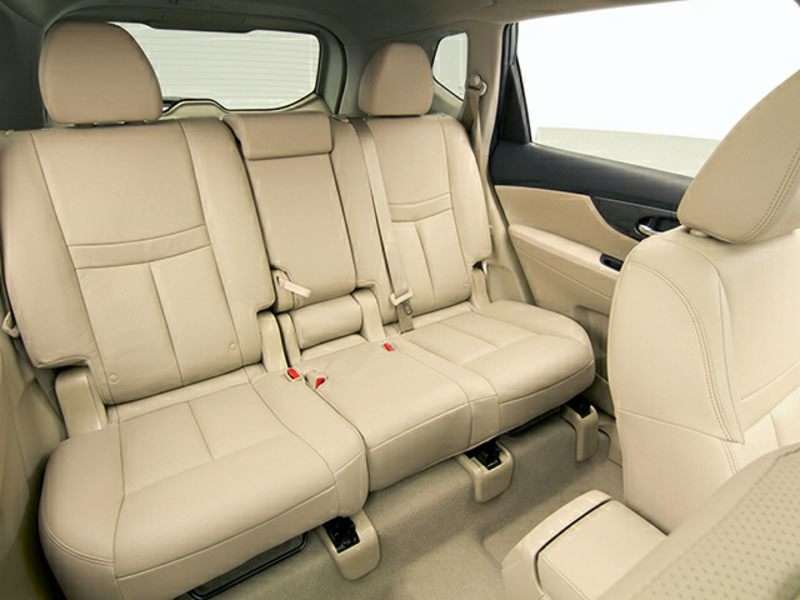 Fuel Efficient Powertrains
Nissan's 2.5-liter inline four-cylinder engine is the sole offering for Rogue. The powerplant produces 170 horsepower and 175 ft-lbs of torque, fed to a continuously variable transmission. Front-wheel drive is standard, and all-wheel drive is offered as an option. Fuel economy is rated at 26 miles per gallon in the city, 33 on the highway, and 28 mpg in combined city/highway operation. According to the EPA, you'll also average 28 mpg with the all-wheel drive powertrain. However, city and highway numbers fall to 25 and 32. While the Rogue's transmission is set up to default to the Eco mode, it also features a Sport mode to make it behave in a more aggressive fashion. Yes, this does reduce fuel economy, but it also makes the Nissan feel more energetic when the throttle is booted with serious intent.
Cutting Edge Ride and Handling Technologies
Yet another way in which the Nissan Rogue is small in size but big otherwise is a suite of performance-oriented technologies calculated specifically to improve the Rogue's dynamics on the road. These include Active Trace Control, Active Engine Braking, and Active Ride Control. Endowing Rogue with enhanced cornering capabilities, they also serve to improve the quality of the Nissan's ride. Active Trace Control helps improve cornering by managing the Rogue's traction control and braking systems to help the Nissan hold a line while cornering. Active Engine Braking basically "downshifts" the transmission when the driver is braking in anticipation of a corner. This helps slow the Rogue and places the engine is in the sweet spot of its torque range for exiting the turn. Active Ride Control uses braking and torque management to ensure a smoother ride when the Nissan encounters rough pavement.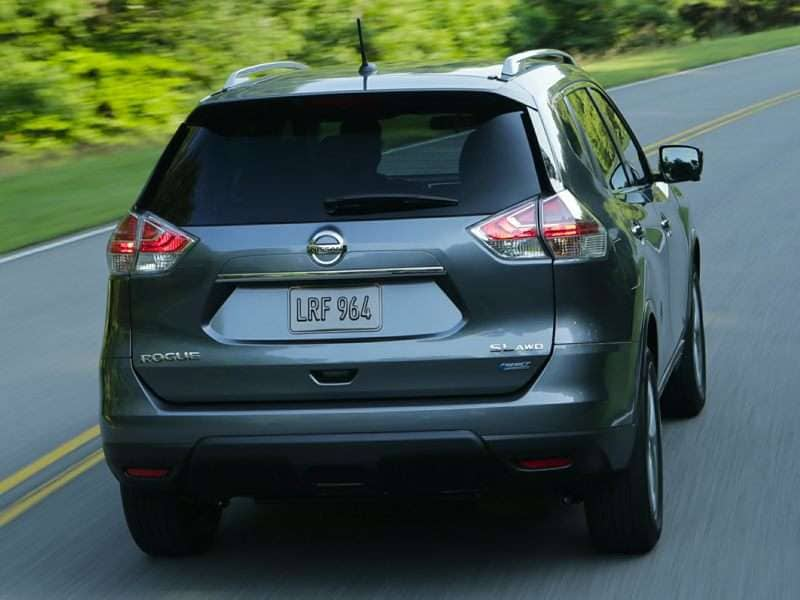 Dynamic Safety Features
All of those "Best Family Car" awards take into consideration the Nissan Rogue's outstanding safety features. To this end, Nissan has prescribed ABS, stability control, traction control, and a full complement of airbags—including side curtain airbags for the third row seats when fitted—all as standard equipment. A rearview camera and hill-start assist are numbered among Rogue's standard features, as well. Plus, when it's equipped with all-wheel drive, the Nissan comes with hill descent control. If your kids are old enough to drive, NissanConnect lets you impose speed, curfew, and boundary limits to keep their exploits form venturing too far afield. NissanConnect also provides automatic collision notification, stolen vehicle location, and emergency assistance when needed. Other electronic driver's aids include blind spot monitoring, lane departure warning, forward collision warning (with automatic emergency braking on SL-trimmed Rogue models), and Nissan's Around View camera system. By the way, the Around View system can also be configured to issue an alert when a moving object is detected by one of the cameras.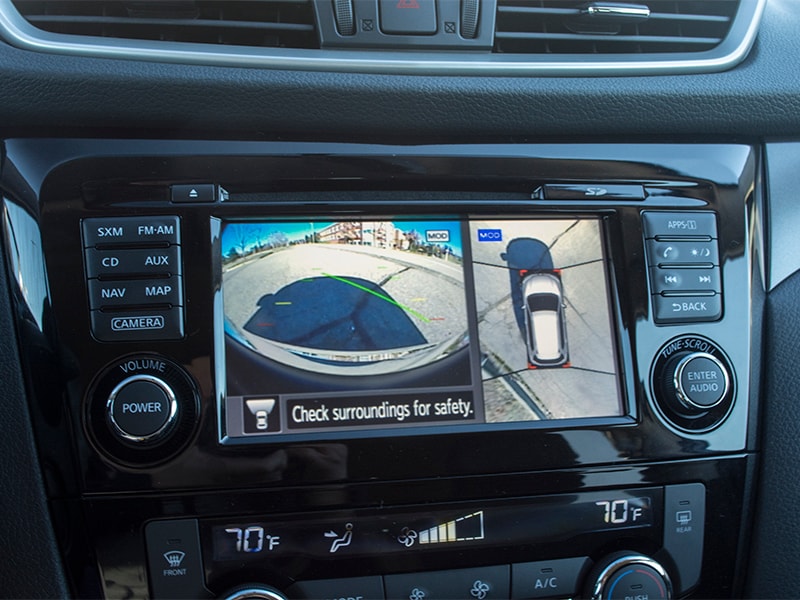 Commendable Crash Test Ratings
Last but certainly far from least, as we mentioned at the top of this article, the Insurance Institute of Highway Safety rates the 2016 Nissan Rogue as a Top Safety Pick. The model earned this by achieving top scores in all of the organization's testing procedures. This includes small overlap front, moderate overlap front, and side crashes. NHTSA awarded Rogue five stars in side crashes, four in frontal crashes, and four in rollover incidents for an overall four-star rating. However, the Administration also commended Rogue for offering forward collision warning, and noted the Nissan has experienced no recalls for safety issues.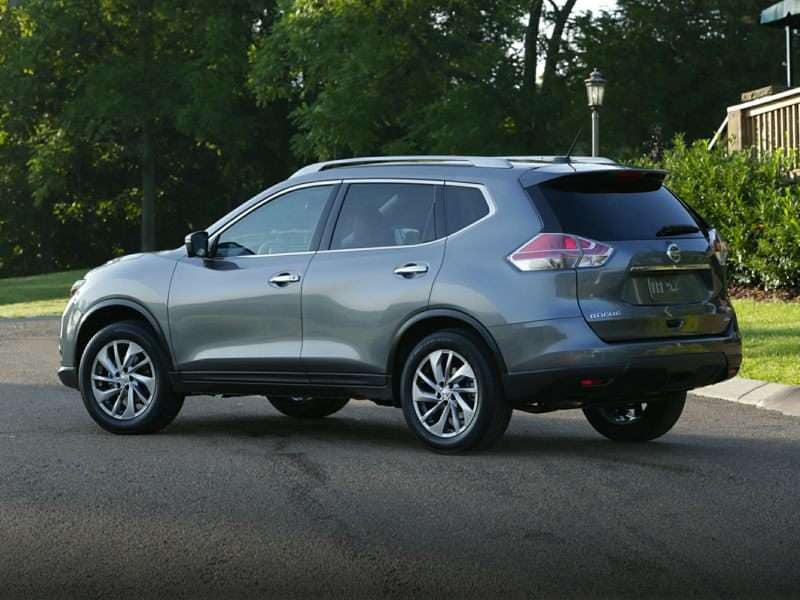 Conclusion
As you can see, when we say the 2016 Nissan Rogue is small in size, but big otherwise, there are a host of attributes solidly supporting this statement. Whether you're talking value for the money, interior space and comfort, safety equipment, or the wealth of cutting edge electronic technologies Nissan has applied to its compact crossover, the Nissan Rogue absolutely ranks as an overachiever.