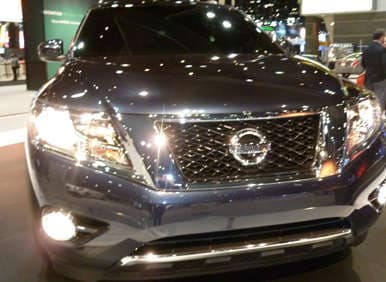 Nissan brought a concept Pathfinder to the 2012 Chicago Auto Show, as the automaker prepares to unveil its all-new 2013 Nissan Pathfinder model at the upcoming New York Auto Show. One of the longest-running nameplates in SUV segment, the fourth-generation Pathfinder goes back to unibody construction.  During its 27 year-reign, Pathfinder was first built on a truck frame, then switched to unibody and, for its third-gen edition, switched back to body-on-frame. Now, seven years later, the market has changed and Nissan has responded. Five-to-six years ago Nissan sold nearly 100,000 Pathfinders in the U.S.; in 2011, sales dipped to 25,000.
"The biggest change to the 2013 Pathfinder is its unibody construction," said Ken Kcomt, Nissan's Director of Product Planning for trucks and SUVs. "This allows for greater roominess, increased performance and better fuel economy."  The new model weighs less, has seven seats and is powered by a new V6 engine and CVT transmission that Nissan says will bring a 25-percent gain to fuel economy. An intuitive four-wheel drive system will bring enhanced traction and all-weather capabilities; Pathfinder will have a towing capacity comparable to the leaders in this segment.
Both exterior and interior styling have been refreshed, with more room in the cabin for passenger comfort and cargo-carrying and a new innovative "Tilt and Slide" second-seat feature, that allows easier access to the third; seats tilt forward even with a car seat installed and second- and third-row seats have a recline angle that allows restful riding.
Outside, the more upscale-looking Pathfinder has a wide chrome grille, with large aerodynamic headlamps, front and rear spoilers, and rear suspension fairings for aerodynamic benefits. Also retained are some of Pathfinder's truck-tough cues like muscular wheel openings. A panoramic dual-panel moonroof has a slide/open front panel and a fixed rear glass panel; the top glass and large windows to create an open, airy interior that also has new entertainment and convenience features. The new Pathfinder is scheduled to go on sale this fall.