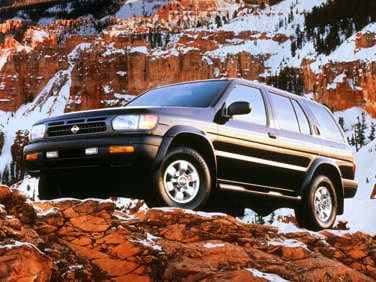 These days, with the Sport Utility Vehicle market so crowded, one can get a SUV that caters specifically to their lifestyle, whatever it is.
If you're looking for something hardy to go offroad in, you'll find any number of body on frame based vehicles exhibiting outstanding robustness and more than adequate power. If you're the sort who prefers to stay on the street, but needs space to haul kids and or their gear, and like the idea of a tall vehicle, but prefer it drive as much like a car as possible, then a unibody crossover will probably hold more appeal for you.
Interestingly, over the course of its lifetime, the Nissan Pathfinder has been both.
Starting life as a body-on frame SUV derived from Nissan's Hardbody pickup, the Pathfinder eventually switched to unibody construction to make room for Nissan's more robust Xterra model. Interestingly though, with the last redesign, Nissan returned the Pathfinder to its body on frame construction.
There have been three generations of the Pathfinder offered since the model was introduced back 1986. This article will cover the last two generations of the SUV, built between 1996 and 2010.
Used Nissan Pathfinder: 1996 – 2004
The 1996 Nissan Pathfinder represented a revolution of sorts for Nissan's SUV. The most significant change — in a model year in which pretty much everything changed — was the platform switch from body on frame to unibody construction. This made the vehicle more spacious, yet about 200 pounds lighter. Additionally, the GEN2 pathfinder was better handling than the first generation vehicle and boasted improved fuel economy, even while its engine got more powerful.
Speaking of the engine, it was a 168-horsepower, 3.3-liter V6, producing 196 ft-lbs of torque. Transmission choices were a five-speed manual or a four-speed automatic. Available in three states of trim, XE, SE and LE, manual transmissions were standard for the XE and the SE, though they could be equipped with automatic gearboxes as options. The only transmission offered with the LE was the automatic. Buyers had a choice of rear- or four-wheel drive.
Along with its shift to a more pavement-oriented body structure, came some toning down of its look as well. While the look of the first generation Pathfinder was still in there, it was a bit more city than out back. Equipment-wise, as you might expect, the higher in the range you went, the better the equipment set became. The XE package included cloth bucket seats, a rear window wiper, skid plates and chrome wheels as standard. Moving up to the SE bought keyless entry, power-operated heated mirrors, cruise control, and power door locks. The top of the line LE featured leather seats, automatic climate control, chrome bumpers, and running boards. The only options available for the LE were power driver's and front passenger's seats and a power moonroof.
For 1997, Nissan added storage pockets in the doors and made a Bose audio system available for the Pathfinder. In '98, chrome bumpers were mounted on XE Pathfinders and A/C was made standard equipment for both XE and SE models.
In mid '99, traction control was made standard across the board and the look of the Pathfinder was updated a bit toward the more masculine end of the appearance spectrum. The suspension was reworked to improve ride and handling on the street, the interior was reupholstered, CD audio replaced the cassette decks of the previous Pathfinder models, and side airbags were offered as an option. These changes carried the Pathfinder through 2000.
For 2001, a new engine was installed, a 250-horsepower, 3.5-liter V6, which produced 240 ft-lbs of torque—if you opted for the manual transmission. If you went automatic, you got 240 horsepower and 265 ft-lbs of torque; all in all, it was a somewhat fair tradeoff.
LE models came equipped with the same all-wheel drive system Nissan applied to the more upmarket Infiniti QX4, which was based on the Pathfinder. The "All-Mode" four-wheel drive system permitted switching between two-wheel drive, automatic four-wheel drive, four-wheel drive-Hi and four-wheel drive-Lo, by operating a dial on the Pathfinder's dash. A mobile entertainment system with external video input capability was also offered as an option for the LE.
In 2002, Nissan dropped the XE, leaving the SE as the entry-level model. Despite its "downgraded" status, the 2002 SE came with bumpers painted the same color as the rest of the vehicle, as well as fender flares, 16-inch wheels, and new upholstery for the seat surfaces. The LE got 17-inch wheels.
For 2003, satellite radio made the options list for both SE and LE, as did stability control, traction control and a DVD player. Leather became standard for LE Pathfinders, manual transmissions were dropped, and so was the optional nav system. A new, sportier, four-spoke steering wheel was installed in both SE and XE, and the rear hatch was converted to electric operation. Also, in 2003 for model year 2004, Nissan introduced its first full-sized SUV, the Pathfinder Armada. And while it shared the Pathfinder's name, it had very little in common with the Pathfinders that are the subject of this story.
The LE went "Platinum" in 2004. The Platinum Pathfinder came loaded with many of the items previously available only on the options list. Gracing the Platinum Pathfinder's interior were leather seats, a moonroof, power front seats, an in-dash six-disc CD changer, steering wheel-mounted audio controls, an automatic climate control system, electroluminescent gauges, aluminum door sill plates and special dark wood trim. Despite its new platinum status however, the video entertainment system and satellite radio were still options.
Used Nissan Pathfinder: 2005 – 2011
With the 2005 redesign of the Nissan Pathfinder, the model name became global. For the first time, the SUV was called Pathfinder in every market in which was sold around the world. Another significant development was the first ever inclusion of a third row of seats in the Pathfinder.
The new look aligned the appearance of the Pathfinder more closely with its much larger Armada sibling (originally known as the Pathfinder Armada). The muscular, brawny look was supported by a return to the body on frame configuration as well. In addition, displacement of the V6 was increased to 4.0-liters, enabling it to produce 270 horsepower and 291 ft-lbs of torque. The 2005 Pathfinder was available with both rear- and four-wheel drive, but the only available transmission was a five-speed automatic.
Available in four states of trim, (with the XE designation returning for the first time since 2002) the 2005 Pathfinder was offered in XE, SE, SE Off Road, and LE versions. XE, SE and SE Off-Road models had part-time 4WD, while the LE was equipped with a full-time system with an all-wheel-drive mode. SE Off-Road models (four-wheel drive only) came with Hill Descent Control (HDC), Hill Start Assist (HSA) and electronic limited-slip control, in addition to heavy-duty shocks, skid plates and larger, more dirt-oriented tires.
The 2005 Pathfinder was also better equipped from a comfort and convenience perspective than at any time in its previous history. Standard XE (base model) features included remote-operated power door locks, power mirrors, and one-touch power windows. Steering wheel mounted controls for the cruise control system; air conditioning, dual vanity mirrors and a six-speaker AM/FM/CD system were included as well.
Meanwhile, the full-boat LE models incorporated all of the plush. Power adjustable heated leather seating, Bose audio, heated mirrors, adjustable pedals, universal remote transmitter, audio and cruise controls on the steering wheel, three-zone automatic climate control, yadah, yadah, yadah. Optional equipment for SE models and above included satellite radio, side /curtain airbags and a DVD player.
For 2006, after completely revamping the Pathfinder for 2005, changes were minimal, the SE got a six-disc CD changer added to its comfort package, leather was offered as an option for SE models and the entry model XE designation was dropped in favor of the "S" designation. 2007 brought an input port for portable audio devices, and anti-pinch protection for the power windows. If they encountered an obstruction on their way up, the windows would automatically reverse, preventing kids from crushing their younger sibling's hands with the power windows. Additionally, engine output was restated for the V6 to 266 horsepower and 280 ft-lbs of torque because the SAE had previously recalibrated its power and torque ratings. Perceivable output from the driver's seat did not change however.
Model year 2008 was pretty significant for 3rd generation Pathfinders. The Armada's 5.6-liter V8 was offered, making the 2008 Nissan Pathfinder the first in the model's history to offer V8 power. For this application the engine was calibrated to produce 310 horsepower and 380 ft-lbs of torque, endowing the Pathfinder with a 7,000-pound maximum towing capacity.
In addition to the new engine offering, the interiors were reworked across the board, a large display screen sprouted from the center stack belying a hard drive based navigation/music storage system. The front and rear fascias were tweaked as well. Bluetooth was offered as an option (only on LE models) for the first time. With all of those changes for 2008, 2009 models received no significant updates.
For 2010, the SE Off Road package was discontinued.
Used Nissan Pathfinder: Current Model
Currently offered in five trim levels, S, SV, 25th Anniversary Silver Edition, LE V6 and LE V8, the Pathfinder runs the gamut from what passes for utilitarian these days to full on luxury suv. Go for the fully loaded Silver Edition model (available with either rear- or for-wheel drive) and you'll roll with keyless ignition and door locks, heated mirrors, heated leather power adjustable driver and front passenger seats, Bluetooth, and a 10-speaker Bose audio system with a six-disc CD changer and satellite radio.
But wait, there's more; power-adjustable pedals, a leather-wrapped wheel and shifter, dual-zone automatic climate control, rear air-conditioning, a color multi-information display, a rearview camera, an auxiliary audio jack, fog lights, automatic headlights, and more…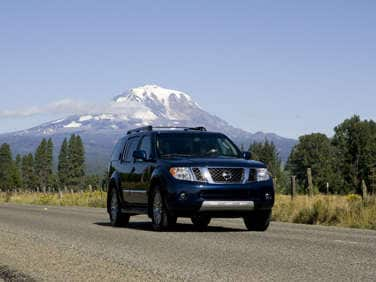 Used Nissan Pathfinder: Summary
Going from body on frame, pickup truck based, family hauler to sophisticated unibody street machine and back to body on frame ruggedness — but with heaping mounds of luxury — tracing the development of the Nissan Pathfinder is like taking an archaeological excursion through the entire SUV era.
Over the years, Nissan reworked its mid-size SUV repeatedly in an attempt to carve out a niche for it in the ultra competitive, overcrowded SUV marketplace. By the accounts of most reviewers, the company failed at the task and instead created a vehicle so middle-of-the-road it didn't stand out in any category.
However, in true Nissan fashion, what the Pathfinder does excel at is reliability and ergonomic correctness. So, while there are many more compelling vehicles out there in the Pathfinder's category, the Nissan remains a good solid choice nonetheless.
There have been a number of recalls throughout the model's history. To find the notices relating to your vehicle of interest, run an Internet search for "Nissan Pathfinder recall", listing your model year of interest. Also, make sure you subject your chosen vehicle to a rigorous pre-purchase inspection by a trusted professional mechanic — one well versed in Nissan's products.