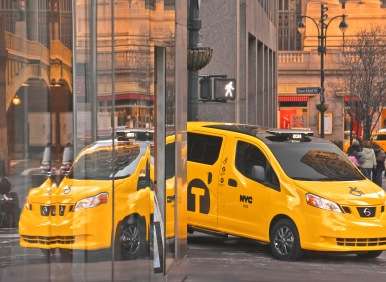 Currently basking in the glow of Nissan LEAF sales that jumped 319 percent in May, Nissan has begun further recharging its electrification efforts by announcing two all-new all-electric vehicles as well as a much-anticipated new service for the LEAF itself.
Now, the high-profile news has to do with the Nissan ZEOD RC all-electric racecar, which was just introduced at Le Mans, and certainly some folks will want to know about the battery-leasing program that Nissan will be importing from Europe for LEAF owners, but let's first note that Billy Hayes, Nissan vice president for global sales of the LEAF, has confirmed that the next EV to hit the market from the company will be an electrified version of the Nissan NV200 small commercial van.
Said Hayes: "We are launching the e-NV200 100 percent electric van next year and that opens up a whole new zero-emissions market.
"We have had prototype versions of the van running with partners like Coca-Cola and FedEx across the globe to test it in real-world conditions, and the feedback has been fantastic."
The automaker has yet to mention whether the electric Nissan NV200 would work its way into the U.S. market, but with that traditionally powered version providing the platform for NYC's "Taxi of Tomorrow," all-electric cabs could be prowling the streets of the Big Apple in the not-so-distant future.
Nissan ZEOD RC: The Next-gen DeltaWing
The Nissan Zero Emissions On Demand Racing Car (ZEOD RC) made its debut as part of the opening festivities for the 2013 24 Hours of Le Mans endurance race, and it's actually expected to run in next year's event as part of the "Garage 56" initiative for racers relying on new technologies. Of course, at this stage, battery development hasn't advanced to where racers will be able to drive for 24 straight hours on electricity alone. The Nissan ZEOD RC is more about gradually bringing more electric technology to motorsports with an eye on continuous improvements. Well, that and fine-tuning the "zero emissions on demand" system from which it gets its name.
Basically, the system allows a driver to seamlessly switch a vehicle's power source from internal combustion engine to all-electric drivetrain and back again, to best match driving conditions.
As explained by Andy Palmer, executive vice president and executive committee member at Nissan Motor Company, "That gives the user, and in our case the race-car driver, the opportunity to run, not only in electric-only [mode], but to recuperate energy from braking events and re-use that energy for acceleration purposes and also to run a [longer] range with an internal-combustion engine and liquid fuel."
Then there's the matter of the ZEOD RC's on-track performance. Nissan is boasting that the vehicle is the world's fastest electric racing car, with a top speed beyond 186 mph, and capable of more than holding its own at Le Mans.
"The Nissan ZEOD, under electric power alone, could actually run laps around Le Mans faster than a Ferrari GT car," according to Ben Bowlby, the car's designer and Nissan's director of Motorsport Innovation. And if that name sounds familiar, and the car's unique proportions also ring a bell, it's because Bowlby was the creator of the breakthrough 2012 Nissan DeltaWing racer that thrilled motorsports fans last season.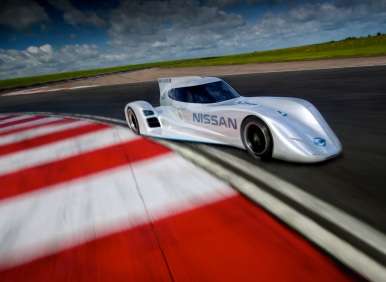 Nissan LEAF Launches Battery-Swap Program
In other notable EV news from Nissan, the automaker also announced that it would launch a new battery-replacement program next year for the Nissan LEAF. Don't worry, though; there's nothing wrong the current battery packs.
"Nissan anticipates that the great majority of our current LEAF drivers will never need this battery-replacement option," said Erik Gottfried, director of Electric Vehicle Sales and Marketing for Nissan. "However, this program is yet another example of Nissan's comitment to deliver peace of mind for our continually growing community of LEAF drivers."
A further benefit according to Gottfried: "[T]his new battery program today affords more flexibility for the future so that customers can both upgrade to the latest available technology for their LEAF and enjoy more predictable vehicle-operating costs."
On the topic of costs, Nissan is expected to set initial terms at approximately $100 per month for a replacement battery, which is right in line with pricing for Nissan's program for Europe, where most EV owners lease battery packs separately from the vehicle itself. The automaker reported that a monthly-payments approach was the clear preference of current LEAF owners, and Nissan also designed the program to meet another explicit demand from customers: Protection against capacity loss in the replacement batteries.
Thus, the automaker covers the replacement batteries against capacity loss of more than 30 percent, as well as from defects in materials and workmanship, for as long as drivers own their vehicles and remain in the battery program.
"The battery-replacement option will provide the peace of mind that customers have an economical option should they choose to replace the battery for whatever reason," finish Gottfried.