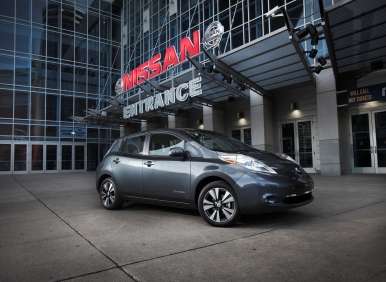 Okay, truth be told, getting into a 2013 Nissan LEAF for less than $19K does happen to require residency in a state like California, which offers its own $2,500 tax break on top of the federal government's $7,500 incentive, but the new LEAF will be the least-expensive five-seat EV in America even without that Golden State discount. Here's the math:
The sticker price of the new 2013 Nissan LEAF S will be $28,800, representing a decrease of $6,000 as compared to the least expensive LEAF of 2012. The federal tax incentive then reduces the net cost to $21,300, while the California bonus brings the bottom line down to the already mentioned $18,800. Furthermore, even though the new LEAF entry model won't have quite the roster of standard content offered on the up-level LEAF SV and LEAF SL, those two variants also are thousands less than their 2012 precursors.
Even better, thanks to a host of incremental adjustments for the new model year, Nissan is expecting the 2013 models to offer a noticeable improvement in their all-electric, zero-emissions driving range—details of which have not yet been released.
"With nearly 50,000 LEAFs on the road globally, we are the leaders in zero emissions vehicles and our class-leading product just got better," said Billy Hayes, Global vice president of LEAF sales for Nissan. "From the very outset, Nissan has continuously advanced and refined the affordable zero emissions vehicle ownership experience. Now customers won't have to pay a premium for owning a green car that's really fun to drive, and that's exciting."
2013 Nissan LEAF: Pricing Details
The new lineup for the 2013 Nissan LEAF will include:
2013 Nissan LEAF S—With a nationally available net price of $21,300, the LEAF S comes standard with automatic temperature control, Nissan's Intelligent Key with Push Button Start, Bluetooth technology for hands-free calling, an in-cabin 12-volt power outlet, and an AM/FM/CD/MP3 sound system.
2013 Nissan LEAF SV—Moving up to the SV trim adds a 6.6-kW onboard charger that drastically cuts charging times (when connected to a 220-volt charging source), as well as navigation, Nissan's CARWINGS telematics platform, a seven-inch LCD display, a six-speaker premium sound system with an iPhone-compatible link for Pandora audio streaming, the B-mode drive setting that delivers more aggressive regenerative-braking capabilities, a revised climate system with energy-saving hybrid heating mode, cruise control and an auto-dimming rearview mirror. Yet even with all this, the LEAF SV can be had for as little as $23,780 after a federal tax credit—a price point $3,380 lower than last year.
2013 Nissan LEAF SL—The range-topper of the family piles on further premium amenities, such as leather-appointed seating, a photovoltaic solar-panel rear spoiler, automatic LED headlights, fog lights, a DC 480V fast-charge port that can charge the LEAF's batteries to 80 percent full in about 30 minutes, 17-inch alloy wheels, and a HomeLink Universal Transceiver. But once again, the package provides big-time savings for customers, as its post-discount pricing showcases a bottom line of $26,980 that is more than $2,400 below the cost of a 2012 Nissan LEAF SL.
And remember, the 2013 Nissan LEAF—including its batteries and electric motor—is now being built here in America at Nissan's manufacturing facilities in Tennessee.