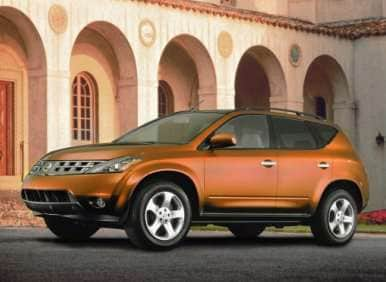 With the SUV boom approaching peak flow in the latter part of the 20th century, Nissan's product planners saw an opening in the market for a smaller and lighter version of the vehicle type. It was becoming evident that while many buyers liked the high seating position and "go anywhere" cachet afforded them by sport utility vehicles, most of those drivers were not "going anywhere", nor were they particularly enamored with the truck-ish ride and handling characteristics traditional SUV ownership imposed.
With this in mind, Nissan, a company well known for building sporty, fun to drive cars, introduced the Murano, one of the first midsize crossovers offered in the U.S. Based on the platform underpinning the company's popular Altima sedan, at the time of its introduction there was very little competition in its segment of the SUV marketplace. As soon as buyers realized there was a sport utility-like vehicle available that rode and handled like a car, but still offered the spacious interior and "command" seating position they'd come to associate with SUVs, the sleek Murano's sales took off.
Helped considerably by its distinctive styling, the Murano quickly ascended into the ranks of America's best selling automobiles. Designed in southern California at Nissan America's La Jolla styling studio (La Jolla is a suburb of San Diego), the Nissan Murano's vaguely French appearance is said by some to be a nod to the company's ties with Renault.
Whether that is true or not, it is remarkable a French-owned company's Japanese subsidiary designed the Murano in the U.S., built it in Japan, and named it after a region in Italy known for fine hand-blown glass. Introduced in 2002, as a 2003 model, there have been two generations of the Nissan Murano offered for sale to date.
2003 – 2007
Still on the comeback trail when the Murano was designed, Nissan's strategy of the day was to install its universally praised V6 engine into any vehicle in which it would fit. Lauded for its excellent smoothness, the V6 was also powerful, free winding, and among the most delicious sounding engines to ever exhale through a pair of tailpipes.
Installed in the 2003 Murano, the 3.5-liter powerplant produced 245 horsepower and 246 ft-lbs of torque. Its output flowed to the drive wheels via a continuously variable automatic transmission (CVT), one of the first applications of that transmission type to a vehicle of the Nissan Murano's size and weight. To afford an added measure of control, the Nissan's CVT was programmed with seven pre-selected ratios drivers could use to "manually" control the transmission.
Available in both front- and all-wheel drive configurations, the 2003 Nissan Murano employed an all-independent suspension system, stability control and traction control — all of which endowed it with outstanding handling attributes for a vehicle of its size. Vented disc brakes at all four wheels, fortified with ABS and one of the earliest applications of electronic brake force distribution technology furthered reinforced the engaging driving experience afforded by the Murano.
A premium automobile, that first Murano came quite comprehensively equipped. Offered in two states of trim, "SE" and "SL", all-wheel drive was offered as an option with either. While they were equipped similarly overall, the SL was more luxury oriented; the SE was more of a driver's version of the Nissan crossover with a sport-tuned suspension system and Xenon headlights.
The Murano's then Avant-garde interior design featured a "floating" center stack. Aluminum trim added a technical touch to the appearance of the Nissan's instrument panel, which also boasted a touch-screen monitor displaying the controls for the automatic dual-zone HVAC and audio system, as well as the output of the optional navigation system.
For entertainment, Bose configured and tuned an optional seven-speaker audio system specifically for the Murano's interior. A DVD-based video system was also available. The electrically powered driver's seat was adjustable eight ways and the Nissan's pedals were adjustable too. The rear seat folded for additional cargo capacity, and reclined as well, to enhance the rear-seat occupant's comfort.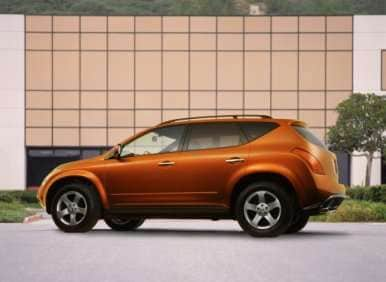 2004
For its second year on the market, changes were minimal; satellite radio pre-wiring was added and the driver's seat was given two more ways to adjust for a grand total of ten.
2005
Model year 2005 marked the introduction of the lower-priced Murano "S" model, which was equipped without some of the features of the SE and SL in order to make the overall Murano lineup more affordable. The 2005 Nissan Murano, in "S" trim; delivered 18-inch wheels, cloth upholstery, a dual-zone climate control system, a CD player, and audio controls mounted on the steering wheel.
With Murano SL, buyers got a 10-way power actuated driver's seat, a cargo cover with a retaining net, and the touchscreen monitor displayed the output of the backup camera.
Choosing the SE added a sport-tuned suspension system and HID Xenon headlamps.
The Premium Package option garnered buyers a roof rack, adjustable pedals, and a six-disc CD changer to accompany the Bose stereo system. The Murano's Dynamic Control Package appended a tire-pressure monitoring system and stability control. Stand-alone options included a sunroof and DVD-based navigation.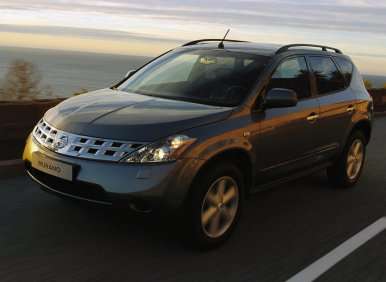 2006
For 2006, Nissan freshened the Murano's appearance with new LED tail lamps and turn signals. Additionally, the front end was restyled mildly by incorporating some minor trim updates. Inside the crossover, the color information monitor was made standard regardless of the trim level,
2007
The introduction of the Touring Package bundled the sunroof with heated outside mirrors, keyless entry and start, leather upholstery, heated front seats, a 225-watt Bose stereo system with an in-dash CD changer, and a choice of XM or Sirius satellite radio.
2008
There was no 2008 Nissan Murano. Instead, the second generation Murano was introduced at the 2007 Los Angeles Auto Show as a 2009 model.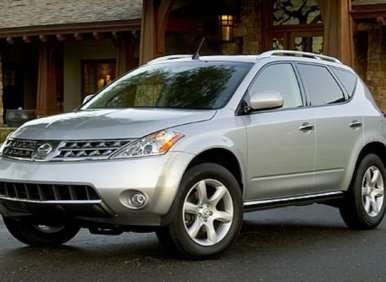 2009 - 2010
While at first glance one might take the GEN2 Murano as merely an update of the GEN1 model, there were considerable improvements under the skin and inside the vehicle. Still sharing its platform with Nissan's Altima sedan, it too was on an all-new platform. Inside, the Murano's interior design was resculpted for more of a mainstream appearance than that of the original Murano. Also left behind in the 2009 redesign was the performance-oriented SE trim package.
Still displacing 3.5-liters, the 2009 Murano's V6 produced 265 horsepower and 248 ft-lbs of torque. The CVT was recalibrated for more lively performance and the suspension system was re-engineered to incorporate more aluminum pieces. Additionally, the steering system was reworked to provide more handling precision.
For 2009, Murano debuted in three trim levels; the base level was S, the mid-grade was SL, and the top of the line was LE. The S and SL trim packages were offered with front-drive as standard. Nissan's Intelligent All Wheel Drive system (iAWD) was optional. The Murano LE was an iAWD offering only.
New features, some of them optional, or available only on the LE grade, included rain-sensing wipers, double-stitched leather seats, a power rear lift gate, power folding for the rear seats, iPod integration, and a hard-drive based, touchscreen navigation system.
The S and SL featured aluminum interior accents adorning the cabin, while the LE boasted wood-tone trim. Like the first-generation model, the 2009 Nissan Murano offered no third-row seat.
Specifically, the S came with 18-inch alloy wheels, full power accessories, dual-zone automatic climate control, a tilt and telescoping steering wheel, a split/folding rear seat, a trip computer, and a six-speaker sound system featuring a six-disc CD changer with an auxiliary audio input jack.
In SL trim, the 2009 Nissan Murano added dark-tinted privacy glass, a power-operated driver's seat, and a power return feature for the rear seats. This functionality enabled the rear seatbacks to return to their upright position at the touch of a button if they had been lowered. The 2009 SL Murano's leather-wrapped steering wheel featured auxiliary audio controls.
Ordering an LE got buyers a Murano laced with 20-inch alloy wheels, a power liftgate, rain-sensing wipers, heated side mirrors, roof rails, automatic xenon headlights, leather upholstery, heated seats (front and rear), a power passenger seat and a pop-up cargo area organizer. Being the full-boat trim level, an upgraded Bose audio system with iPod integration and satellite radio was included. Standard kit for the LE also comprised keyless ignition and entry, an auto-dimming rearview mirror, a rearview backup camera and Bluetooth connectivity.
2010
For 2010, the AWD-only strategy for the LE trim was rethought—and discarded. While keyless entry and start were made standard across the board on all trim levels, a dual-pane sunroof was specified exclusively for the LE as standard equipment. The SL got roof rails for additional cargo capacity included as standard fare.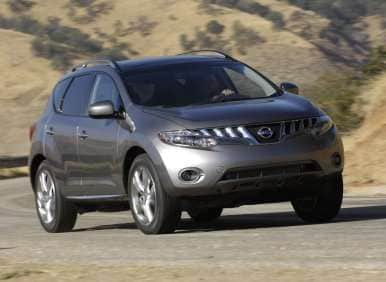 2011 (Current Model)
For 2011, Nissan debuted a refreshed appearance for the Murano's exterior, along with a new SV trim level. Bluetooth streaming audio was incorporated, along with real-time traffic and weather, and a Zagat restaurant guide for the optional navigation system.
The SV package is essentially one notch above the S. Its feature-set includes a panoramic sunroof, roof rails, automatic headlights, foglights, a 7-inch color display screen, a rearview camera, power front seats (eight-way driver and four-way passenger), satellite radio, iPod integration, a leather-wrapped steering wheel with audio controls and Bluetooth.
As intriguing as all of that is, the biggest news for 2011 was the introduction of the Nissan Murano CrossCabriolet. The world's first factory produced convertible crossover SUV, the Murano CrossCabriolet is one of those polarizing vehicles you either fall in love with immediately, or hate passionately at first glance.(Yes, folks, a convertible SUV—you absolutely read that correctly the first time.)
Rather than the standard Murano's four doors however, the Cross Cabriolet employs a two-door design.
Like most manufacturers do with its convertibles, Nissan issued the CrossCabriolet fully loaded. Standard CrossCabriolet fare includes all-wheel drive, 20-inch alloy wheels, automatic xenon headlights, foglights, and heated mirrors. The power operated soft top is also accompanied by keyless ignition and entry. Automatic dual-zone climate control, cruise control, a rearview camera, an eight-way power driver seat with power lumbar adjustment, driver seat memory functions, heated front seats, leather upholstery, a heated and power-operated tilt-and-telescoping steering wheel, and an auto-dimming mirror comprise the remainder of the interior's accoutrements.
On the tech front, the CrossCabriolet's navigation system with real-time traffic updates, Bluetooth phone and audio streaming, seven-speaker Bose sound system with an iPod interface,auxiliary audio input jack, 9.3GB of digital music storage, CD player, and satellite radio rival the electronics you'll find in many a pricier luxury car.
Over the years, the Murano has changed very little mechanically, using the same powertrain configurations for all of its first generation. Similarly, the revised powertrains for the second generation of the Murano are, to date, the only offerings as well.
As we stated at the beginning of this retrospective, the Nissan Murano's combination of uncommon good looks, along with its excellent utility and engaging driving experience made it a formidable competitor when it was launched back in 2003. Since then, a number of other entries have come along to rival it, although none have really duplicated the Nissan's style.
Over the years, there have been some quality issues with the Murano, transmission problems being chief among them. There have also been a number of recalls for Nissan's mid-sized crossover. While doing your preliminary research, you'll want to pay attention to the recalls noted and make sure the vehicle you're interested in has been inspected and updated if needed.
Similarly, you'll want to have a trusted, professional mechanic give any Murano you're seriously considering buying a thorough going over to make sure it isn't a time bomb just waiting to explode your bank account with a flurry of unexpected failures.
Summary
Nissan's Murano mid-sized crossover has proven to be a very popular vehicle. Incorporating all of the favored attributes of SUVs, while shedding many of their liabilities made for a compelling package.