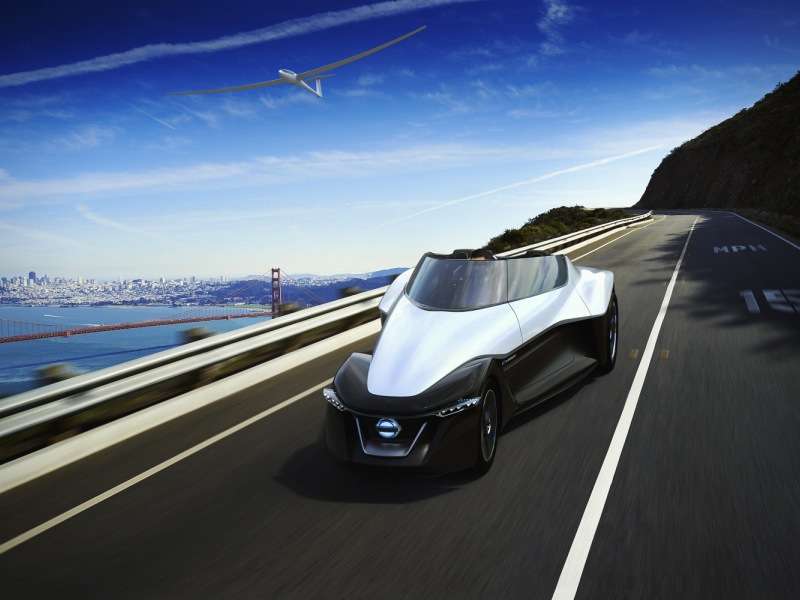 About its new concept that will be launched at the upcoming Tokyo Motor Show, Nissan reports that: "Disruptive and challenging to the status quo, BladeGlider shares sustainable engineering values with both Nissan LEAF—the best-selling EV in history—and the Nissan ZEOD RC (Zero Emission On Demand Racing Car), which will make its debut at next year's Le Mans 24 Hour race."
And while that's all well and good, what's perhaps more interesting is that the BladeGlider and the ZEOD RC also share the same dramatic proportions as the original Nissan DeltaWing racecar. That is, both rely on a "streamlined deltoid" body with an extremely narrow front track (the distance between the centers of the front wheels). In the BladeGlider, for example, that distance is just over 40 inches; in the LEAF, it's 60.6 inches, and in the Nissan Pathfinder, the front track is 65.7 inches.
Now, the automaker didn't provide a figure for the BladeGlider's rear track, and just noted that it was "wide" and "stable," but the vehicle has a clearly triangular stance that looks to rival the DeltaWing's nearly 68-inch rear track. As to whether the avant-garde appearance of the Nissan BladeGlider would help the car take off in the real world, well, it does seem like we're going to find out: In (vaguely) discussing the vehicle's powertrain, the automaker notes that the BladeGlider's in-wheel, rear-wheel electric motors just might be part of the package "when the BladeGlider matures into a production car."
Needless to say, it will be interesting to see how much the BladeGlider outgrows its radical exterior design—and 1+2 seating—as it ripens into a retail product.
Said Shiro Nakamura, Nissan's senior vice president and chief creative officer: "BladeGlider was conceived around delivering a glider-like exhilaration that echoes its lightweight, downsized hyper-efficient aerodynamic form. This design is more than revolutionary; it's transformational, applying our most advanced electric drivetrain technology and racetrack-inspired styling in the service of a new dimension of shared driving pleasure."