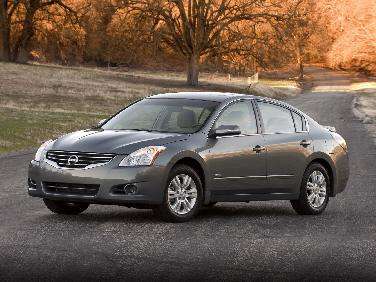 If the Nissan Altima wants to continue in its current (and somewhat surprising) role as one of the best-selling vehicles in the country for the next model year, it will have to do so with one less arrow in its quiver: According to recent reports, Nissan has decided to discontinue the Altima "hybrid."
And yes, the word "hybrid" has to get the dreaded quote marks here, because while the car does use a sort of mild electrification system, and it does get a sort of noteworthy 33 mpg in city driving, its highway and overall fuel-economy numbers (also 33 mpg in both cases) make it a tough sell against today's growing number of full hybrid, diesel and electric alternatives, as well as some of the improved gas-only vehicles in the segment.
Because there is still a lot of anxiety about automakers' ability to meet CAFE regs and raise their fleet fuel economy numbers and what have you, it can be easy to forget how far efficiency has come in recent years—until you look at the Altima hybrid. In 2007, when the car was introduced, it was able to achieve an EPA line of 35 mpg city/33 mpg highway/34 mpg combined, which compared quite favorably to the marks of 25/36/29 put up by that year's Honda Civic. So at that point, the mid-size Altima was turning up better fuel efficiency than a compact car.
But the current Civic is now capable of 28/39/32, which can be squeezed up to 29/41/33 in the Civic HF or 44/44/44 in its own hybrid configuration. Of course, the Civic isn't the only 40-mpg vehicle on the road, either. Just looking at the compacts, the Ford Focus, Chevrolet Cruze and Hyundai Elantra all can reach at least 40 mpg highway, and they do it with a fair amount of premium-ish flair. You also have to remember that many of the new-generation compacts—all of these except for the Focus—deliver passenger volumes that come within five or so feet of what the Altima offers.
When you also factor in the Altima hybrid's MSRP of $26,800, there just isn't much of a reason for someone to buy it ahead of the current crop of compacts.
Moving up to the mid-size segment itself, you'll notice that the Altima hybrid's price tag is about $1,800 less than that of a Ford Fusion hybrid, which seems like a nice benefit, but the Blue Oval product delivers significantly better EPA ratings of 41/36/39, with the 2012 model expected to see a further jump to 47-48 mpg city thanks to a transmission upgrade. And the Fusion hybrid is a very well-contented vehicle, with standard SYNC, ambient interior lighting, a reverse sensing system and Ford's capless fuel-refilling system—a not insignificant bit of gadgetry.
The South Koreans now boast mid-size hybrids, too, in the form of the Hyundai Sonata and Kia Optima, and both of these cars (slightly) undercut the Nissan in price while outdoing it notably in terms of EPA ratings. The Sonata hybrid is EPA-cerftied at 35/40/37, and the Optima version will no doubt show an identical line.
Again, the Altima doesn't showcase much in the way of advantages compared to these similarly positioned vehicles, which leverage newer technologies that have simply surpassed what's beneath the Nissan's sheet metal. Perhaps the best illustration of this can be found at GM, which took the same basic type of system used in the Altima hybrid, added a few tweaks, and is calling it "eAssist" in the upcoming 2012 Buick LaCrosse and 2013 Chevrolet Malibu. Those cars will deliver city mileage numbers in the high 20's and highway marks in the high 30's, but won't have to be compared to "real" hybrids because of the change in nomenclature.
But there's a reason Nissan hasn't tried that kind of fix with the Altima.
It turns out that the Altima hybrid relies on Toyota-sourced technology, so there wasn't much impetus for Nissan to try to improve that, and the company has been working on its own hybrid tech, designed completely in-house and debuting in the Infiniti M hybrid. And the Nissan Leaf happens to use lithium-ion batteries as well, so many of the automaker's R&D resources found their way into that program.
Does this mean much of that new Nissan technology is likely to find its way back into the Altima hybrid—or Altima EV—in the semi-near future?
Well, it certainly wouldn't shock me.