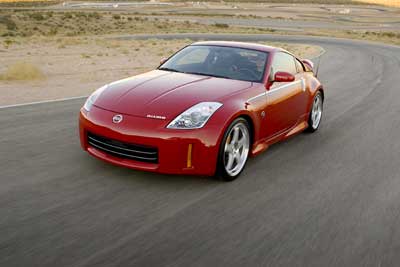 Promoted as a stylish, affordable sports car from the very beginning 35 years ago, when the 1970 Datsun 240Z debuted to critical acclaim, Nissan's Z has been popular among buyers for its high style and affordable performance. Today, the Nissan 350Z offers cutting edge sheet metal, impressive performance, and true sports car credentials. For 2006, the 350Z gets a minor face-lift, with new lights front and rear, a modified front fascia, and slight interior revisions. New lightweight forged alloy wheels, 18-inch up front and 19-inch at the rear, debut as well. A new Grand Touring Coupe is also added to the lineup for 2006. The Grand Touring model gets the same wheel setup but adds Brembo brakes, front and rear spoilers, Vehicle Dynamic Control (VDC) and all versions equipped with a six-speed manual transmission make 300 horsepower. Here is a first look at the 2006 Nissan 350Z, dressed in aftermarket NISMO livery. This photo shows a few of the changes made to the 350Z for the new model year.
Coupe and Roadster
The 2005 Nissan 350Z is available as both a coupe and a roadster. With the roadster, a touch of a button produces top-down motoring in under 20 seconds.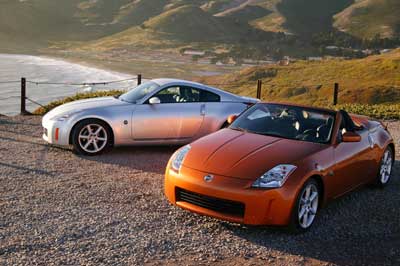 Styling
From the original 240Z to the current 350Z, the styling of Nissan's sports car has always been ahead of its time. Today that legacy continues with the 35th Anniversary version of the Nissan 350Z. More horsepower, 18-inch alloy wheels, Brembo brakes, and a DVD navigation system are just a few exclusive attributes of the 35th anniversary model.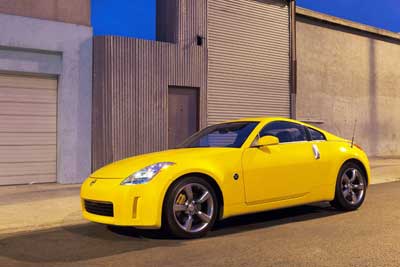 Enhancements
The latest 2005 Nissan 350Z receives a number of upgrades over previous models. A standard tire pressure monitoring system, improved driver's seat adjustment, and a lighter clutch feel for the manual transmission debuted for 2005. Automatic transmission models receive downshift rev-matching and all 2005 Nissan 350Z's are fitted with heated outside mirrors.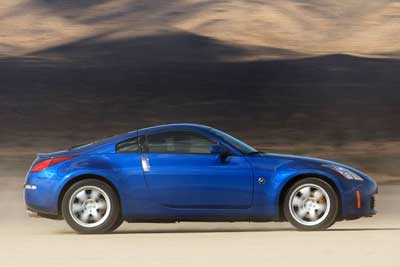 Engine
The 35th anniversary model of the 2005 Nissan 350Z is equipped a 300 horsepower, 3.5-liter V6 engine delivering 260 lb.-ft. of torque. Though this is not a staggering amount of power, the 2005 Nissan 350Z is light enough that the V6 makes the Nissan 350Z a respectable driver's car.
Suspension
All 2005 Nissan 350Zs come with an independent multi-link aluminum suspension with front and rear stabilizer bars. Also included on all models are a front strut tower bar and a rear integrated strut brace.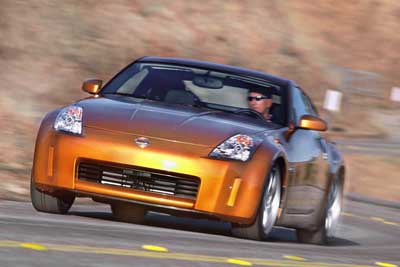 Wheels
The 2005 Nissan 350Z 35th Anniversary model sports six-spoke, super lightweight, forged aluminum alloy wheels. Fronts are 18 x 8 inches and the rears are 18 x 8.5 inches.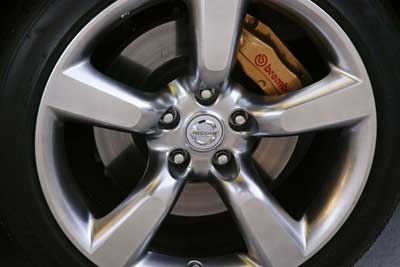 Transmission
Two optional transmissions are available on the 2005 Nissan 350Z 35th Anniversary model. A six-speed manual is standard and a five-speed automatic with manual shift mode and rev matching on downshifts is optional.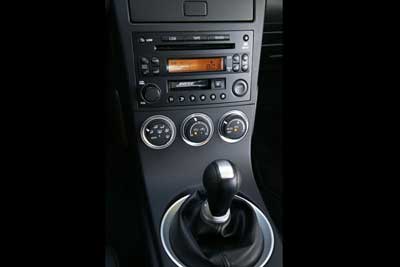 Cargo area
At first glance, the cargo area of the 2005 Nissan 350Z looks small due to the integrated strut brace. The reality is there is plenty of room if you are using soft bags – a total of 6.8 cubic feet. That sounds small, but as shown here, there is enough room for two golf bags plus additional storage immediately under the brace.
Paint
New for the 2005 Nissan 350Z is Ultra Yellow paint. This paint incorporates a high-chroma pearl pigment and three layers of topcoat with separate color pigment and pearl pigment layers.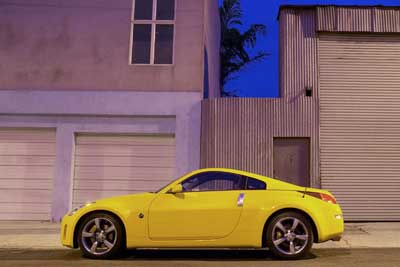 Gauge pod
The 2005 Nissan 350Z contains a three-gauge dash pod, similar to the one found in the original 240Z. The pod gauges display oil pressure, voltage and multiple displays such as miles-per-hour. This is just one of several design cues retained from the original model Z to carry over the heritage of the original design.