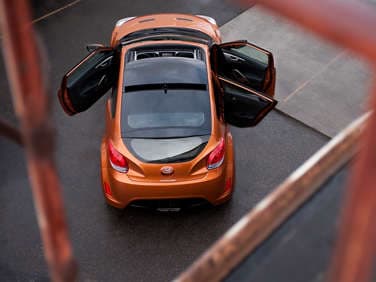 The Hyundai Veloster offers a wide range of nifty design cues for attracting customers, from its hidden third door to its distinctive front grille, but one feature in particular recently has caught the attention of the National Highway Traffic Safety Administration—and not in a good way: NHTSA is now investigating whether the available panoramic sunroof on the 2012 Hyundai Veloster is prone to unexpected breakage.
According to NHTSA:  "The Office of Defects Investigation (ODI) has received eleven (11) consumer complaints alleging the panoramic sunroof has shattered or exploded on model year 2012 Hyundai Veloster vehicles. Of those complaints, seven (7) occurred while the vehicle was in motion, typically at highway speeds. ODI has also received EWR field report data from the manufacturer regarding the alleged problem. Shattering glass could distract the driver, and the glass particles produced could injure occupants. ODI has opened this investigation to further analyze the scope, frequency, and consequence of the alleged incidents."
At this stage, no significant injuries have been reported, and Hyundai and NHTSA are working together to determine if an actual recall will be required.
Please stay tuned to Autobytel for further updates.