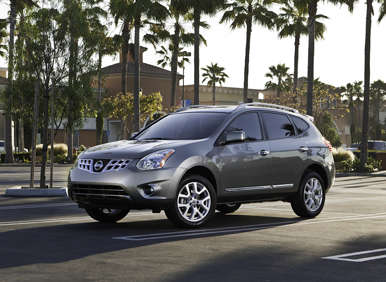 The all-new 2013 Nissan Rogue crossover will be manufactured at the automaker's production facility in Smyrna, Tenn., joining a long list of other vehicles from the brand that are made in America. The news means a significant expansion of the company's manufacturing footprint in this country, which also includes plants in Canton, Miss., and Decherd, Tenn.
All told, the three facilities provide a significant boost to the U.S. economy, while also producing a variety of Nissan powertrains and vehicles like the Nissan Altima midsize sedan, Altima Coupe and Altima Hybrid; Nissan Frontier and Nissan Titan pickups; Nissan Maxima sport sedan; Nissan Xterra, Nissan Pathfinder and Nissan Armada SUVS; and the new line of Nissan NV commercial vehicles. There's more to come, too, as the company also confirmed that the Nissan LEAF—and its innovative electric propulsion system—also will be built in the U.S., starting later this year.
Moving to America is another impressive milestone for the Rogue, a vehicle that has certainly passed a lot of them in recent months.
2012 Nissan Rogue: More Efficient Than You Think
Nissan's compact crossover has been enjoying consistent success in this country for a while now, setting an annual volume benchmark in 2011 and currently riding a streak of 11 consecutive record-breaking months. However, that papers over the fact that it remains firmly entrenched among the second-tier of entries in its class, trailing rivals like the Chevy Equinox and Honda CR-V by thousands of units every month. Looking just at April, the Rogue found 8,563 new customers—a record number—yet the Equinox and CR-V more than doubled that total.
So, what's holding back the Rogue? One of its challenges is probably its fuel-economy, since the Chevy and Honda are both able to break the magical 30-mpg barrier on the highway, creating a significant psychological advantage against the Rogue's 28 mpg mark. On the other hand, a glance at the vehicles' overall ratings is informative:
Rogue—23 mpg city/28 mpg highway/25 mpg combined
Equinox—22 mpg city/32 mpg highway/26 mpg combined
CR-V—23 mpg city/31 mpg highway/26 mpg combined
As those numbers make clear, the Rogue is essentially just as efficient as the other two. Plus, it offers some notable advantages of its own.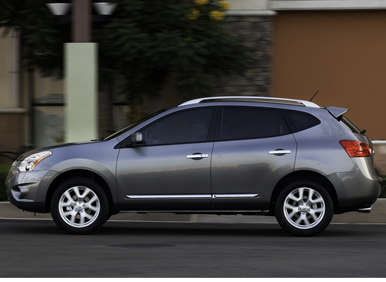 2012 Nissan Rogue: (Affordable) Innovation for All
Along with a $22,070 MSRP that's lower than that of the Equinox and CR-V—and Toyota RAV4, Hyundai Santa Fe and Kia Sorrento—the Rogue also showcases a very distinctive exterior design and Nissan's signature approach to innovation. Thus, it's the first non-luxury vehicle in the country to offer a 360-degree camera system to help with parking. The setup relies on four small cameras that create a virtual bird's-eye view of the Rogue and also can display customizable split-screen views from the individual cameras.
"Unlike complex systems that take complete control of the parking function, Rogue's Around View Monitor allows the driver to remain in charge—with a heightened view of the vehicle's surroundings," said Al Castignetti, vice president and general manager of the Nissan division in North America. "It's amazing technology, an amazing innovation, and we're proud that Rogue is the first vehicle in its segment to offer it."
The Nissan Around View Monitor is part of the Rogue SL package, which also boasts features like HID headlights with a manual leveling control, an eight-speaker Digital Bose sound system with an Nd Richbass woofer, a navigation system with 5-inch touchscreen, power moonroof, heated front seats and more.