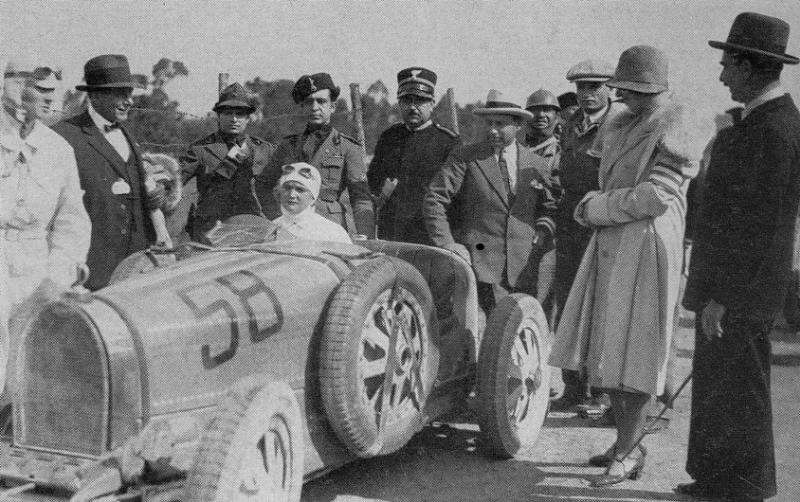 Already well known as the world's fastest roadster, thanks to a top speed of 255 mph, the Bugatti Veyron 16.4 Grand Sport Vitesse may be about to mark another breakthrough: Per an exclusive report from GTspirit.com, the next ultra-ultra-exclusive "Legends" edition of the car will debut at the Geneva Motor Show and honor Elisabeth Junek, a female driver who enjoyed some notable success racing Bugattis in Europe in the late 1920s.
Now, I'm not sure if that would be the very first time an automaker has created a limited-edition vehicle designed to honor a woman for her efforts behind the wheel, but in a life-time of seeing everyone from Dale Earnhardt to Sebastien Vettel get the treatment, I can't recall another.
According to "Fast Ladies: Female Racing Drivers 1888 to 1970," written by Jean François Bouzanquet, Junek was born in 1900, and her father was the village blacksmith of Oloumuc, now part of the Czech Republic. Despite her rural start, she was able to begin working in the banking industry, which is where she met her eventual husband and the person who was the key to starting her racing career, Vincenc "Cenek" Junek. He is described by the brand as "the archetypal Bugatti owner," and the two created their own racing team in 1922, featuring a yellow livery based on the color of the buttercups from outside the French chateau at which they had their cars delivered.
But while her husband's position within the Austro-Hungarian empire, as well as his bank account, no doubted helped her get started, Bouzanquet reports Elisabeth Junek won her first race in 1925, then began a career that saw her become "a national hero." Her racing career peaked in 1928, when she entered the Targa Florio endurance race in a new Bugatti Type 35B bought specifically for the event. Junek ran in the lead for a significant chunk of the race, but mechanical issues saw her drop back to fifth by the time the event was over. Still, she finished ahead of male drivers like Ernesto Maserati and Tazio Nuvolari, among many others.
Unfortunately, her husband was killed during the German Grand Prix at the Nürburgring just a few months later, and Junek retired from the motorsports scene soon after that.
Junek died in 1994, at the age of 93.
As for a Bugatti Veyron named in her honor, folks can keep their fingers crossed for the start of the Geneva auto show, scheduled to open March 6.