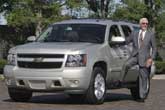 While most of their automaker brethren are introducing vehicles that offer buyers a respite from the rising price of gasoline, General Motors is blazing their own trail with a slew of newly improved full-size SUVs, including the 2007 Chevy Tahoe.
Not that they think the likes of the Chevy Tahoe and the GMC Yukon Denali are part of a growing market. In fact, GM scrambled to launch the new 2007 models precisely because of the sudden increase in gasoline, and reportedly have 14 new crossover vehicles ready to roll over the next two years. According to Bob Lutz, General Motors vice chairman, there's actually not much room for growth in the large SUV market. By improving their offerings, however, GM hopes to grab a bigger slice of existing sales.
Even if the pie itself is shrinking. Based on General Motors reports, the 2007 lineup of SUVs will do just that, with improvements to overall fit and finish (we'll wait to see the actual production models), interior features, and – believe it or not – fuel economy, thanks to a new lineup of powertrains ranging from a 290-horespower, 4.2-liter V-8 to a 6.2-liter V-8 delivering 400 horsepower. Most of the engines employ an engine cylinder technology termed Displacement on Demand, which uses only the amount of cylinder power necessary. According to GM, this technology will boost fuel economy to 20.5 mpg for two-wheel drive versions and 20.1 mpg for four-wheel drive variants. Note that your real-world mileage will vary, and may do so greatly. Additional improvements include a more refined interior and better aerodynamics (to improve gas mileage and performance). Improved safety equipment offerings include optional roof-mounted side airbags for all rows.
Make feature standard on all models and there may be a few families out there willing to spend a little more on gas – if the payoff is a more secure vehicle.