Forget hybrids, cool compacts are coming...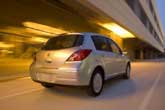 Forget big SUVs. Never mind about hybrids. The next hot market for cars is shaping up to be compacts, with several key automakers announcing plans to launch new models high on design and long on fuel economy. Already in the game is the upcoming Toyota Yaris, a replacement for the Echo, the Honda Fit, and now the 2007 Nissan Versa, all due to arrive at US dealerships by next summer.
For Nissan, the new Versa aims to compete with a low price of around $12,000, plenty of style and great fuel economy – or so Nissan executives claim. Offered as a hatch and a sedan, the hatchback model is scheduled to go on sale in early summer 2006, with the sedan following in late 2006.
Built in Mexico on the Nissan Sentra platform, the Versa will be called Tiida in Mexico, Japan, China and other markets where the car is sold. According to Nissan, designers placed an emphasis on design and interior space when penning Versa. Early reports indicate that the Versa will have a length of 168 inches stretched across a 102.4-inch wheelbase. Nissan expects to equip the Versa with a standard 1.8-liter inline four-cylinder engine, rated at an estimated 120-horsepower and 125-plus lb.-ft. of torque. Fuel economy is expected to come in at around a combined 38 miles per gallon when mated to an available continuously variable transmission.