Newport Beach Concours D'Elegance – Photo Gallery: More than 200 cars were scattered across the fairways of the Strawberry Farms golf club in Orange County, California, including entries as early as an 1886 Benz Patent Wagon, displayed by the Mercedes Benz Classic Center USA. Also on display were current Bentleys and Land Rovers. Though Mercedes was the featured Marque' for the day, the show featured fine examples of other makes as well. The fairways were filled with enough eye candy to keep the most discriminating connoisseur wandering aimlessly for hours.
Mercedes 300SL Gullwing
Perched, ready for flight, a Mercedes Gullwing sits on the fairway at the Newport Beach Concours.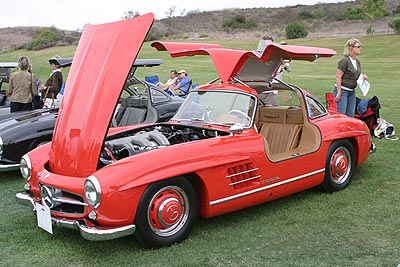 Classic Ferraris
A 1954 Ferrari 375mm racecar interior neatly frames a line of classic Ferraris starting with a yellow 246GT Dino.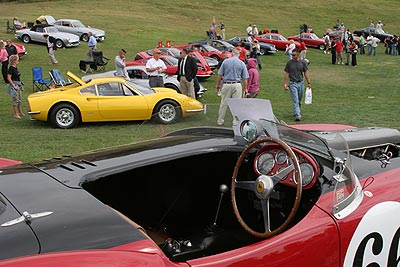 1948 Packard Station Wagon
They don't make them like this anymore, and probably never will. This 1948 Packard station wagon brings the days of wood siding back with a classic flair.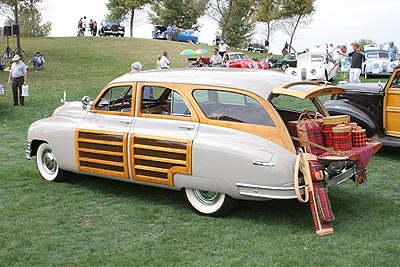 1936 Delahaye 135 Competition
This 1935 Delahaye Competition Convertible, with its sweeping lines and art deco design, stood out among the field of eye-popping classics.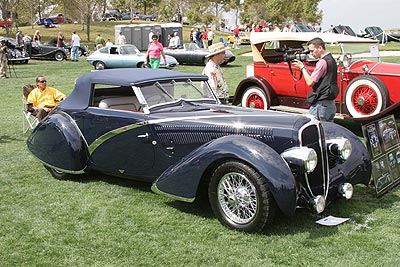 Jaguar XJ220
Possibly the most controversial Jaguar ever made, the XJ220 made an appearance at the 2006 Newport Beach Concours D'Elegance. Shown in concept form at the 1988 Birmingham Motor Show with a 12-cylinder engine, buyers dropped huge deposits at their Jag dealers in hopes of getting their hands on what was sure to be a historic Jaguar. To their dismay, the production model housed a twin-turbo six-cylinder that many felt didn't carry the heritage they desired. Orders were cancelled and years of legal battles ensued.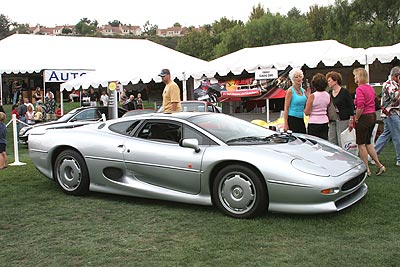 1931 Lincoln
Classic cars carry classic hood ornamentation and the 1931 Lincoln is no exception. The greyhound at speed is a thing of beauty and the ornaments are highly collectible pieces.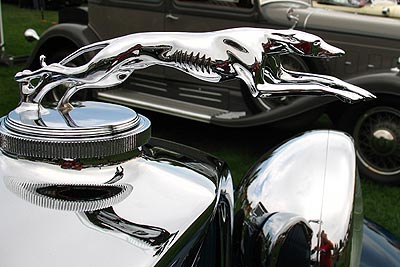 Vectors
Final production numbers vary depending on who you talk to, but having two in one show is an amazing feat. Displayed were the prototype WX-3 coupe and roadster. Vectors were intended to be American super cars and ran twin-turbo V-8s.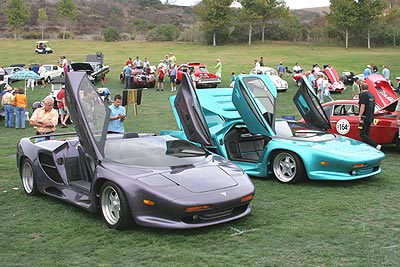 1886 Benz Patent Wagon
This three-wheel chassis designed by Karl Benz is powered by a 58 cubic inch, 0.8 horsepower engine. As the story goes, his wife drove the motorwagen sixty miles using just over five gallons of fuel and 40 gallons of water.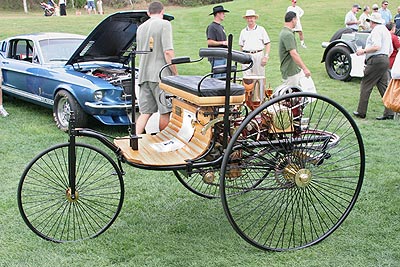 1929 Ford 120A
Reflecting in the chrome of a Packard wheel center and surrounded by a landscape of whitewall is a 1929 Ford model 120A.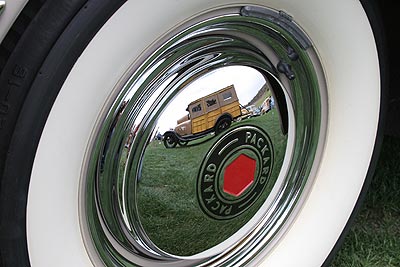 1967 Bizzarrini 5300 Strada
After experiencing and loving the immediate throttle response of the Corvette 327 V8, Bizzarrini decided to use the engine in his latest endeavor, the 5300 Strada. The Strada muscled 365 horsepower and could run 0-60 in 6.4 seconds, but what it was most known for was its classic Italian design.