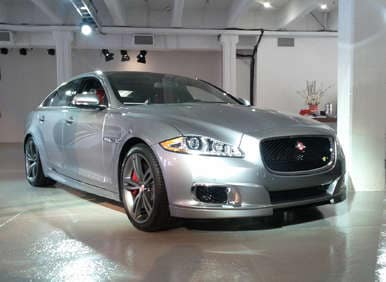 The 2014 Jaguar XJR has been unveiled at the New York International Auto Show, and it does an excellent job of adding a whole new level of aggression to the luxury automaker's lineup.  The full-size Jaguar XJR sedan doesn't just look the part, either - it also brings a significant amount of performance to the table in the form of a new-to-the-model supercharged V-8. As usual, the Jaguar XJR will be offered in both standard and L long-wheelbase editions, and it comes with a black mesh grille, a sculpted front fascia with larger air intakes, and the same all-aluminum body that has helped the regular version of the XJ sedan keep its curb weight down when compared to the competition.
Excessive Power Is Standard
The 2014 Jaguar XJR - which will start at an MSRP of $116,000 - is motivated by a 5.0-liter V-8 engine that has been supercharged to produce 550 horsepower and 502 lb-ft of torque.  This matches the output of the current Jaguar XKR-S and XKR-S GT coupes, and makes the new XJR the most powerful model to ever wear the badge.  An eight-speed automatic transmission is charged with corralling that output and channeling it to the rear wheels, where it provides enough motivation to launch the flagship sedan to 60-mph in a scant 4.4 seconds.  In addition to its extra power the Jaguar XJR also comes with a revised suspension system, sport seats, an electronic active rear differential, and a special aero package.