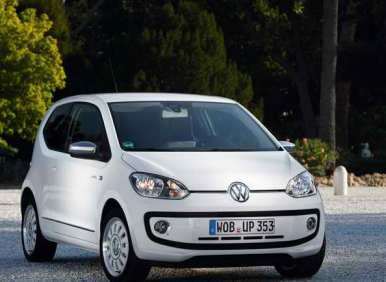 Technically speaking, the New York Auto Show is actually the New York International Auto Show, and that helps explain why the VW Up! was named World Car of the Year during the event.
The 64 jurors from 25 countries selected VW's new city car for the title because "The little Volkswagen Up! has altered what we have come to expect from the city-car segment. Of note are the responsive steering, sophisticated suspension setup, new efficient engines and the quality of materials and finish."
Where in the World is the VW Up!?
Of course, those expectations remain unchanged here in the U.S., for the simple reason that the car isn't available here—yet. Although it's been both popular and successful since it launched last year in Europe and other global markets, Volkswagen has remained leery about offering a car this small to American buyers. Remember: The new Volkswagen Passat and Volkswagen Jetta were both upsized as part of an effort to make them more appealing to U.S. shoppers, and going in the other direction probably looks like a bit of a gamble for the automaker.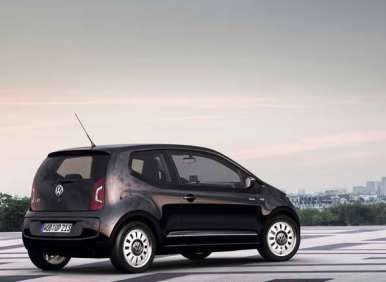 Sizing up the Up!
On the other hand, some companies already have begun trying their luck with city cars in this country, with growing levels of success. The Up! is about 139.4 inches long, which is more than seven inches shorter than a MINI (146.6 inches), but it's also almost the exact same size as the Fiat 500 (139.6 inches), and notably larger than a Scion iQ (120 inches). The Up! also is now offered in a five-door hatch configuration, giving it an extra pair of doors as compared to those cars. Another potential competitor for the Up!, the coming Chevy Spark five-door, is 144.7 inches.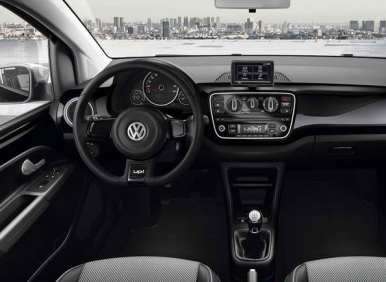 Rising Sales Are Raising Expectations
And looking back at March sales, MINI managed 5,866 of them, the 500 just had its best month ever, with more than 3,700 deliveries, while the iQ, in just its second month on the market, posted 1,285 sales. That may not seem to be much in the way of volume, but once you get passed the Passat and Jetta, no other individual VW product sold more than 2,700 units in March—although the Volkswagen Golf and Volkswagen GTI combined for 3,633 sales.
Also, while it went unsaid at the New York Auto Show, the Up! appears to provide a not-insignificant efficiency advantage, even compared its similarly sized competition. None of those cars can reach 40 mpg highway, but the Up! is rated at up to approximately 56 mpg in the European driving cycle.
Given these kinds of benefits, along with the country's historically high fuel prices, the prospects of VW's award-winning city car coming to America are certainly looking Up!.