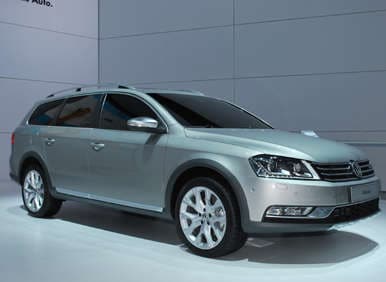 As Volkswagen ponders its next move in the U.S. market, the brand has run the VW Alltrack Concept Vehicle up the ol' flagpole at the New York Auto Show. It's essentially a European VW Passat Estate—"Estate" is Euro-speak for "station wagon"—kitted out with a high-tech AWD system. True, it's not likely to reach our shores in its current configuration, but Volkswagen says the goal of bringing the Alltrack Concept to the New York Auto Show was "to gauge market reaction to a potential future model that is similarly sized and combines offroad ability with wagon versatility."
New York Auto Show: VW Alltrack Concept Vehicle—Design
Thus, the looks of the vehicle are somewhat besides the point, although its stronger, flared wheel arches and side skirts, along with an extra 1.2 inches of ground clearance (as compared to the standard Passat Estate), do show how VW's current design language works fairly well in an offroad-ish setting. The bodywork at the front and the rear of the vehicle has been given a more aggressive shape, too, allowing for an approach angle of 16 degrees, a departure angle of 13.6 degrees and a ramp breakover angle of 12.8 degrees. Those marks aren't going to scare away too many Jeep Wranglers, but the very fact VW takes the time to list them is a sign of how serious the company is about the Alltrack Concept's offroad cred.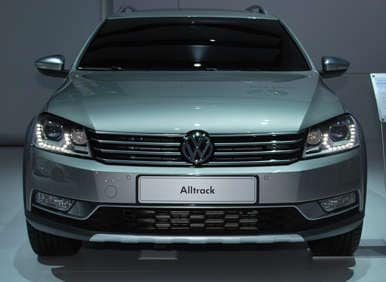 New York Auto Show: VW Alltrack Conept Vehicle—Capabilities
Speaking of which, the Alltrack Concept Vehicle also boasts extensive steel-plate underbody shielding to prevent its internal organs from trail damage, as well as Volkswagen's 4Motion all-wheel-drive setup with a special offroad-driving program. All told, the system includes:
An anti-locking braking system tuned for better vehicle control on gravel, sand and other "loose" surfaces
A fast-reacting electronic differential that helps reduce wheel-spin at each individual wheel
Hill Descent Assist, which automatically kicks in when the Alltrack is on a grade of more than 10 percent
A specific offroad driving mode in which the throttle map and gearshift points are changed to deliver improved capabilities off the beaten track
The Alltrack powertrain shown at the New York Auto Show combined one of VW's torque-happy 2.0-liter TDI Clean Diesel engines, delivering 140 hp and 236 lb.-ft. of torque, with the automaker's equally acclaimed DSG dual-clutch six-speed automatic transmission.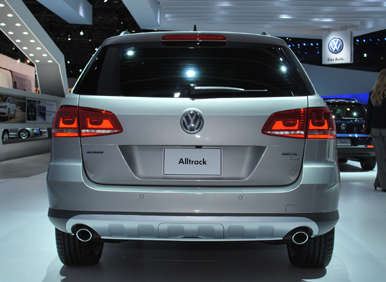 New York Auto Show: VW Alltrack Concept Vehicle—A Look Ahead
The bottom line: Despite the fact that the VW Tiguan crossover is seeing some nice sales growth—with deliveries up by 27.6 percent through the first quarter of 2012—it remains a distinctly upscale proposition that even recommends premium fuel.  The brand could certainly use some kind of more affordable crossover-type entry to goose sales, and VW just may be on the right track with the Alltrack.
Original photos by Jeffrey N. Ross