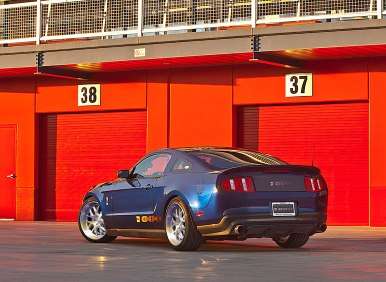 One of the last vehicles to come out of Shelby American before its founder, Carroll Shelby, passed away was the Shelby 1000. Built to mark the 50th anniversary of the original Shelby Cobra, Shelby American took a Ford Mustang Shelby GT500 and made a number of changes and improvements to create a Mustang with either 950 horsepower or 1100 horsepower.
But that wasn't enough for Shelby American and they have announced a new Shelby 1000 S/C that will be shown at the New York Auto Show. The biggest change for the Shelby 1000 S/C is the engine. The old 1000 used the outgoing 5.4L supercharged V8 engine from the Shelby GT500. The new 1000 S/C uses the 5.8L supercharged V8 engine that is currently used in the GT500. From there, Shelby American upgrades most of the engine components to produce 1200 horsepower. That power is sent to an upgraded six-speed manual transmission. Other changes include launch control, an adjustable suspension setup, and appearance modifications. Pricing for the Shelby 1000 S/C starts at $154,995, and that's on top of the price of a 2013 Shelby GT500 $54,995, bringing it to a grand total of $209,645.
We'll have more details on the Shelby 1000 S/C when it makes its debut at the New York Auto Show next week.