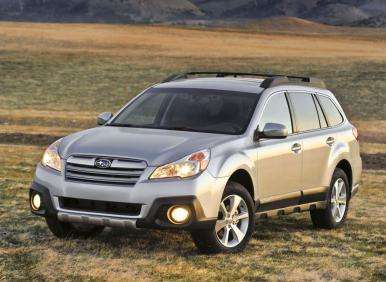 Although it won't be fully revealed to the public until the New York Auto Show opens in a few days' time, the 2013 Subaru Outback already has made its digital debut, showcasing a more efficient new powertrain wrapped in a more stylish new package. And while most of the changes are relatively subtle, their potential impact is quite important, since the Outback is Subaru's most popular vehicle.
That's likely why the automaker is putting a strong emphasis on the Outback's new powertrain, highlighted by a new 2.5-liter four-cylinder engine in the Subaru's traditional "boxer" configuration. It delivers modest increases across the board by moving the Outback from 170 hp/170 lb.-ft. of torque up to 173/174, while raising full economy ratings to an expected 24 mpg city/30 mpg highway/26 mpg combined from the previous model's 22/29/24. To put that into context, the Honda CR-V with AWD can achieve an EPA line of 22/30/25, and the similarly configured Chevy Equinox goes 20/29/23. However, shoppers should note that the Honda is about 10 inches smaller than the Outback, and although the Chevrolet is similar in size, the difference in EPA ratings gives the Subaru a noticeable 13 percent advantage in combined driving. Also, that extra torque does come on earlier and stays in play longer, for more responsive driving dynamics that are further enhanced by a mild makeover of the Outback's suspension.
Two transmissions are available with the Outback 2.5 models, including a standard six-speed manual gearbox and the latest version of Subaru's Lineatronic continuously variable transmission (CVT). For those who prefer some extra oomph under the hood, the upper-level Outback 3.6R will continue to bring 256 hp to the table with a 3.6-liter boxer-style six-cylinder engine, mated to a five-speed automatic.
The Outback's wagon-esque appearance remains intact as well, but the front end has been reshaped a bit with the addition of a redesigned grille, front bumper, and headlights and fog lamps. The changes can be hard to notice unless the 2013 model is right next to the previous version, but particular features, like the sharper lines up front and the bolder fog lights, do provide a more aggressive, serious demeanor to the Outback. Subaru also redesigned the Outback's factory-installed and foldable roof crossbars to help owners carry longer items like kayaks.
The car's cabin is more sophisticated, too, courtesy of new matte wood-grain trim and improved seating fabrics, and there are a variety of new comfort/convenience features, especially noticeable in the Limited models. Here, there's a new Special Appearance Package on tap with advantages like Subaru's Keyless Access & Start system and a memory feature for the 10-way power-adjustable driver's seat. Rear-seat climate vents and a new electro-luminescent gauge cluster are among the new standard content on the Outback Limited, which also offers a 440-watt, nine-speaker Harman Kardon sound system with 4.3-inch color display and four-month XM Satellite Radio subscription, along with voice-activated GPS-enabled navigation with a 7-inch LCD screen and the proverbial much, much more.
But even the entry models get a nicely upgraded sound system, now with Bluetooth hands-free phone functionality, audio streaming, iPod control and a USB port.
Significantly, the Outback also will herald the introduction of the automaker's innovative EyeSight driver-assist feature. The system relies on not one, but two high-tech CCD cameras that use stereo imaging to detect vehicles, pedestrians and other potential dangers to Outback drivers, enabling safety measures like pre-collision braking, collision mitigation, lane-departure and sway warnings, and an adaptive cruise control system.
The 2013 Subaru Outback is scheduled to debut in the U.S. later this year as part of a thoroughly overhauled new lineup for the automaker, which will soon also include the redesigned 2013 Subaru Legacy and the completely made-over Subaru Impreza, as well as all-new models like the Subaru XV Crosstrek crossover and Subaru BRZ sports car.