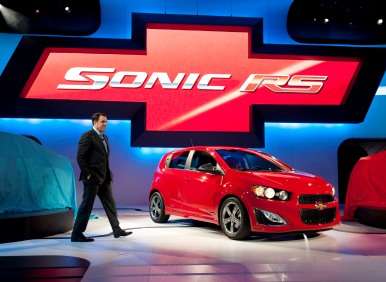 Chevrolet is showing off an affordable new solution for small-car navigation systems at the 2012 New York Auto Show—GogoLink, which will launch on the 2013 Chevy Sonic and 2013 Chevy Spark. It's one of those simple yet satisfying advantages that illustrates how today's automakers can get the most out of their pre-existing technologies for new uses.
That's because GogoLink is essentially just another smartphone app that can be leveraged through the Chevrolet MyLink setup. As a refresher, the MyLink interface has been introduced across the GM product portfolio to provide Bluetooth capabilities, access to music-streaming apps like Pandora and Stitcher, and—on some vehicles—voice-activated control of certain vehicle systems. And while voice control is not part of the package with the Sonic and Spark, GogoLink goes a long way toward making up for that lack.
GogoLink will provide a fairly robust range of functionalities, too, including the ability to store native maps on drivers' smartphones. This important benefit allows drivers to still have access to locations and turn-by-turn directions even in areas with poor cellphone service—something many GPS-enabled apps can't do. In addition, GogoLink provides:
Three-dimensional maps displays on MyLink's 7-inch color screen
Live traffic updates with alternative routes in case of traffic and/or lane closures
Thousands of points of interest
Google-based Local Search functionality
Emergency information to help contact police and fire departments, as well as to find the nearest hospital
A helpful "Where am I?" locator
Obviously, GogoLink does require both a smartphone and MyLink, but Chevy research indicates 90 percent of Sonic and Spark drivers will have the former, while availability of the latter will be fairly extensive. The MyLink system will be standard on the Chevy Spark 1LT and 2LT trims, as well as the Chevy Sonic LTZ and Sonic RS, and it also will be an option on the Sonic LS and LT. Pricing will be announced closer to the GogoLink launch date this fall, but the cost will certainly be well under that of a traditional nav setup, which can add more than $1,000 to the MSRP of some vehicles. (Note: GogoLink will be available after the 2013 Spark first goes on sale, but can be added to the vehicle later with a simple dealer update.)
Visitors to the 2012 New York Auto Show can check out the new system for themselves by visiting the GogoLink kiosk at the Chevrolet exhibit from April 6-15, 2012.