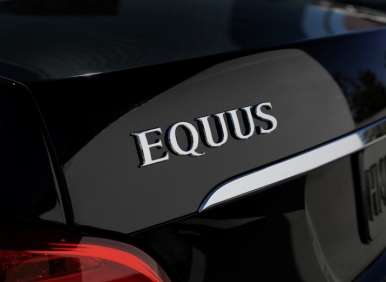 Consider this line from Hyundai's press release for the new 2014 Equus: "Equus has been an impressive success story for Hyundai; so far this year, Equus is the number-one shopped premium luxury sedan, well ahead of Mercedes-Benz S-Class, BMW 7-Series, Audi A8, Lexus LS, and Jaguar XJ according to industry shopping analysis by Compete." We're not quite sure what Hyundai means by 'number-one shopped premium luxury sedan', but in a group that includes the A8, 7-Series, and S-Class, the Equus is definitely in some special company. Hyundai hopes with the new 2014 Equus, it can keep drawing buyers from the German, British, and Japanese stalwarts.
What's New For The 2014 Hyundai Equus?
Refreshed Exterior Design Redesigned instrument cluster and center stack
Revised Steering Wheel and Controls
Dual 9.2-inch Screens For Backseat Passengers
Improved Ride and Handling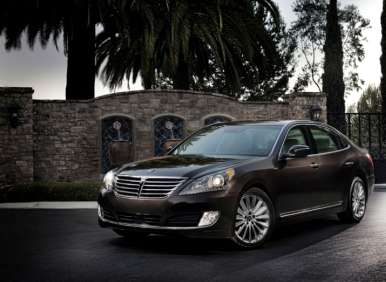 New 2014 Hyundai Equus: Styling and Design
At first glance, you might think Hyundai left the Equus' exterior unchanged, aside from a new set of nineteen-inch alloy wheels. But give it a second look, especially at the front and you realize some changes have been made. Hyundai designers changed the front fascia with a new grille that features smaller bars and standard LED headlights. Moving inside, the changes are more noticeable. Hyundai has redesigned the instrument cluster and center stack to make it easier read at a quick glance and provide better ergonomics. There is also new wood trim and ivory leather appointment to make it feel that much more special.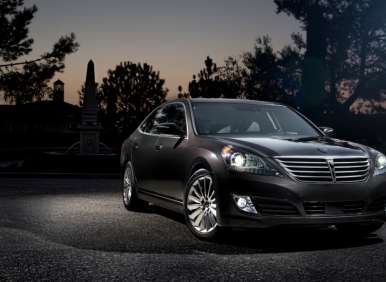 New 2014 Hyundai Equus: Features and Technology
The Equus is once again filled to brim with number of technologies. For starters, you have either a 7- or 12.3-inch LCD screen in the instrument cluster. In the center stack is a larger 9.2-inch screen that provides your infotainment needs. For backseat passengers, you can order two 9.2-inch screens that are mounted in the backs of the front seats to provide infotainment features. Rear passengers are also treated to redesigned center console controls and power lumbar support. Also coming to the the 2014 Equus is Hyundai's Blue Link telematics system which offers owners safety, service and infotainment features to make ownership of their new vehicle that much less stressful. Standard for three-years at no charge is the Assurance Connected Care package which offers automatic collision notification and assistance, emergency assistance, roadside assistance, and a number of other features.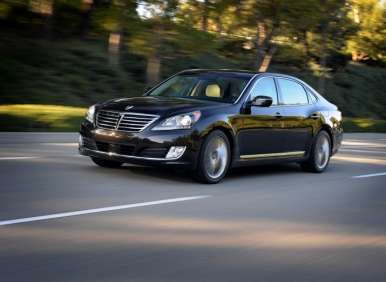 New 2014 Hyundai Equus: Under the Hood
The 2014 Equus is sticking with the 5.0L Tau V8 that was introduced for the 2012 model. The 5.0L makes 429 horsepower and 376 pound-feet of torque. All of the power is fed through an eight-speed automatic to the rear wheels. What has changed is the Equus' suspension. Hyundai says they have revised the suspension tuning and the front bushings to improve the ride and handling. There are also new modes for the Equus, including Sport and Snow.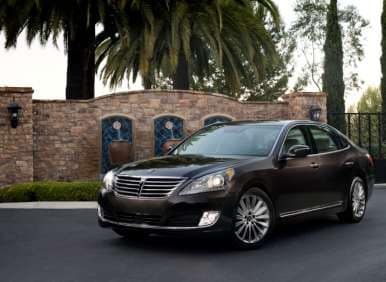 New 2014 Hyundai Equus: What Autobytel Thinks
Hyundai has improved the value proposition on the 2014 Equus by making changes where they were needed and leaving other parts well alone. It wouldn't surprise us if the Hyundai says the new Equus is the 'number-one shopped premium luxury sedan' once again.