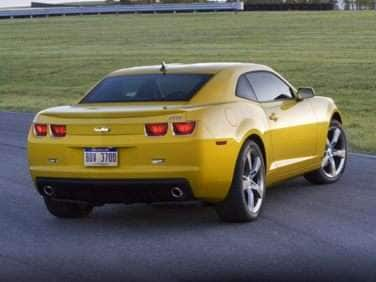 Although the current-generation has been the most popular sports car in the country for three years running—and leads its Ford arch-rival through the first two months of 2013—the 2014 Chevrolet Camaro SS will debut at the upcoming New York Auto Show with what the brand is calling "the most significant change" yet for the car. Now, we won't really know what that is until the new Camaro SS is actually revealed, on Wednesday, Mar. 27, at 12: 45 p.m. (Eastern Daylight Time). But here's a totally unsubstantiated possibility sourced straight from my imagination: Could Chevy engineers have found a way to replace the current car's 6.2-liter V8 with the same 3.6-liter Twin-Turbo V6 that was just announced for the 2014 Cadillac CTS?
After all, the engine bay of the fifth-gen Camaro already is configured for a naturally aspirated V6 of the same displacement—in the form of the car's standard engine—and that new Twin-Turbo offers a bit more power than the V8 that now resides in the Camaro SS. As tuned for the CTS, the turbocharged V6 delivers 420 hp and 430 lb.-ft. of torque, while the automatically transmissioned 2013 Camaro SS now pulls 400 hp and 410 lb.-ft. of torque from its V8. (FYI: That output rises to 426 and 420 when the 2013 Camaro SS is configured with a six-speed manual.)
The big difference, though, could be a notable increase in fuel efficiency with the Twin-Turbo V6, and it would be further enhanced if the 2014 Camaro SS also received the same eight-speed autobox that the all-new CTS will feature.
Needless to say, we'll have full coverage of the 2014 Chevrolet Camaro SS once the wrapper comes off next week in New York, where it will join the brand's newly assembled performance trio with the 2014 Chevrolet Corvette Stingray and 2014 Chevrolet SS full-size performance sedan.