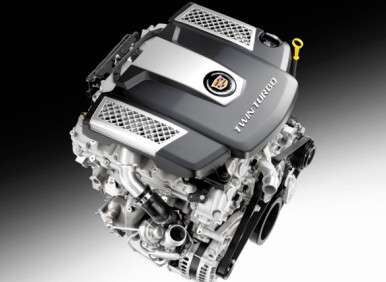 Following the path carved out by the original, the redesigned 2014 Cadillac CTS will introduce advanced new technologies to the brand while also serving up a massive increase in premium performance. Of course, the two are closely related, since it's the technologies—like twin turbocharging and an eight-speed automatic transmission—that will deliver 420 hp and 430 lb.-ft. of torque for enhanced performance.
Those numbers represent increases of more than 100 hp and 125 lb.-ft. of twisting power as compared to the most potent V6 in the current CTS lineup, yet the new powertrain still delivers competitive fuel-economy ratings of 17 mpg city/25 mpg highway. For comparison's sake, those marks are an exact match for the 2013 BMW 550i and just slightly below the EPA line of today's CTS with a similarly sized, naturally aspirated V6.
Speaking of which, while the current 3.6-liter V6 was the foundation for the new one, the 2014 powerplant features its own cylinder block and head castings, strengthened connecting rod, an all-new direct-injection fuel system, and, of course, two turbochargers that serve up 12 lbs. of boost and are complemented by vacuum-actuated wastegates with electronic control valves. Also notable: The turbo tech includes an integrated charge air-cooling system for nearly immediate response.
"It is a very short path from the turbos to the throttle body," explained Richard Bartlett, assistant chief engineer for the powerplant. "The compressors draw their air directly from the inlet box and send their pressurized air through the intercooler basically immediately, giving the new CTS a tremendous feeling of power on demand."
The 2014 Cadillac CTS will make its public debut at the upcoming New York Auto Show, then go into production later this year with the new twin-turbo V6, an upgraded version of the non-turbo 3.6-liter V6 and another fresh choice—a turbocharged 2.0-liter I4 that will offer 272 hp.
2014 Cadillac CTS: Quick Comparo
Cadillac has long been targeting the German entries in the sport-sedan segments, but it's been hampered somewhat by vehicles that don't quite match up, dimensionally speaking. For example, the Cadillac CTS is priced against the BMW 3 Series even though it's about the same size as the bigger BMW 5 Series. But with the introduction of the award-winning 2013 Cadillac ATS as a direct 3 Series rival among premium compact sedans, the 2014 Cadillac CTS will be able to concentrate on battling the midsizers this time around.
And here's how the Cadillac's arsenal of power (and efficiency) stacks up against the best of what its rivals will offer:
2014 Cadillac CTS—420 hp, 430 lb.-ft. of torque, 17 mpg city/25 mpg highway
2013 BMW 5 Series—400 hp, 450 lb.-ft. of torque, 17 mpg city/25 mpg highway
2013 Audi A6—310 hp, 325 lb.-ft. of torque, 18 mpg city/27 mpg highway
2013 Mercedes-Benz E550 4Matic—402 hp, 443 lb.-ft. of torque, 16 mpg city/26 mpg highway
Just keep in mind that the German trio also comes with some disclaimers. Thus, the 5 Series can be had with an actual six-speed manual transmission, something that's missing from the Cadillac—which does offer paddle-shifting for its eight-speed automatic. Similarly, the E550 comes with a standard all-wheel-drive system, a feature that will likely be an option on the new CTS. Also, while the A6 seems fairly well underpowered against the other three rivals, Audi does offer a hi-po S6 model with 420 hp/406 lb.-ft. of torque; it's just that Cadillac, BMW and M-B all offer their own uptuned high performers—with V Series, M and AMG designations—and the latter threesome up the ante even farther.
A case in point: The 2013 Cadillac CTS-V brandishes 556 hp and 551 lb.-ft. of torque, output the 2014 Cadillac CTS-V will almost surely surpass.
Be sure to keep reading Autobytel for more about the 2014 Cadillac CTS as we get closer to its March 29 reveal in New York.