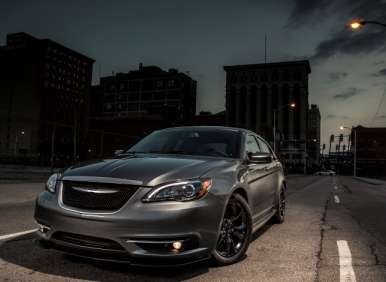 Chrysler has been successfully mining its "Imported from Detroit" campaign for a number of years now, and the brand is hoping to strike gold once again with the 2013.5 Chrysler 200 S Special Edition. But this time around, instead of teaming up with Eminem, Berry Gordy or Iggy Pop, the brand is taking the blue-collar route and working with Carhartt, the long-time work-apparel manufacturer that makes all of its gear here in the U.S.—including Chrysler's "Imported from Detroit" wear—and is headquartered in Motown as well.
(Note: Since the car is being launched sort of half-way between the 2013 and 2014 model years, Chrysler is designating it a "2013.5" vehicle.)
"The 2013.5 Chrysler 200 S Special Edition celebrates a never-say-die attitude and the value of hard work with a car unlike any other in the marketplace," said Saad Chehab, president and CEO of the Chrysler division. "The 200 S Special Edition makes the statement that world-class quality and craftsmanship can be designed and developed in the Motor City, and embraced by consumers everywhere."
With an MSRP of $28,870, the car will begin production in the third quarter of the year and reach dealerships soon after.
"Our design teams were able to work collaboratively to reflect the heritage of both brands, first with the 'Imported From Detroit' line of apparel and now with the Chrysler 200 S Special Edition," added Mark Valade, CEO of Carhartt. "The vehicle is understated in its levels of sophistication which authentically mirrors our brand."
None of which, however, is stopping Chrysler from introducing the car at the upcoming New York Auto Show.
2013.5 Chrysler 200 S Special Edition: Style and Substance
The starting point for the Carhartt car is the "S" edition Chrysler 200, originally created to offer new owners a winning mix of aggressive design and premium content. For example, the up-scale 200 rides on 18-inch aluminum wheels with polished faces and dark-painted pockets to deliver a menacing stance, and boasts a cabin with premium leather seating, a leather-wrapped steering wheel and a premium sound system from Boston Acoustics. The 2013.5 Chrysler 200 S Special Edition then fine-tunes that package both inside and out to truly earn the Carhartt name.
That's particularly noticeable in the cabin, where Carhartt designers worked in tandem with their Chrysler counterparts to develop a premium yet rugged environment, backed by a unique, water-resistant black fabric and accented by Carhartt's traditional triple stitching in diesel gray. Select interior switchgear, along with the vehicle's HVAC vents and cup holders, rely on a black-painted finish as a sophisticated final touch.
The exterior of the car is distinguished by highlights like body-color door-sill cladding, platinum-chrome belt moldings and exclusive badging, with added attention paid to the face of the 2013.5 Chrysler 200 S Special Edition. As a result, the car greets you with a new gloss-black grille, set off by a platinum-chrome grille collar, platinum-black lower fascia and platinum-chrome fog-light "spears." Designers further distinguished the car with:
Body-color sill cladding
A platinum-chrome light bar
Platinum-chrome belt molding
A body-color rear spoiler
Polished, fascia-mounted exhaust tips
Assorted "S" and "200" badges
The 2013.5 Chrysler 200 S Special Edition will be propelled by the award-winning 283-hp Pentastar V6 engine and also boasts improved driving dynamics, courtesy of a new sport suspension.
And although it won't quite live up to its "Imported from Detroit" tagline, it does come very close: The Chrysler 200 S is manufactured in Sterling Heights, Mich., and upfitted to its "Special Edition" specs in nearby Warren, Mich.