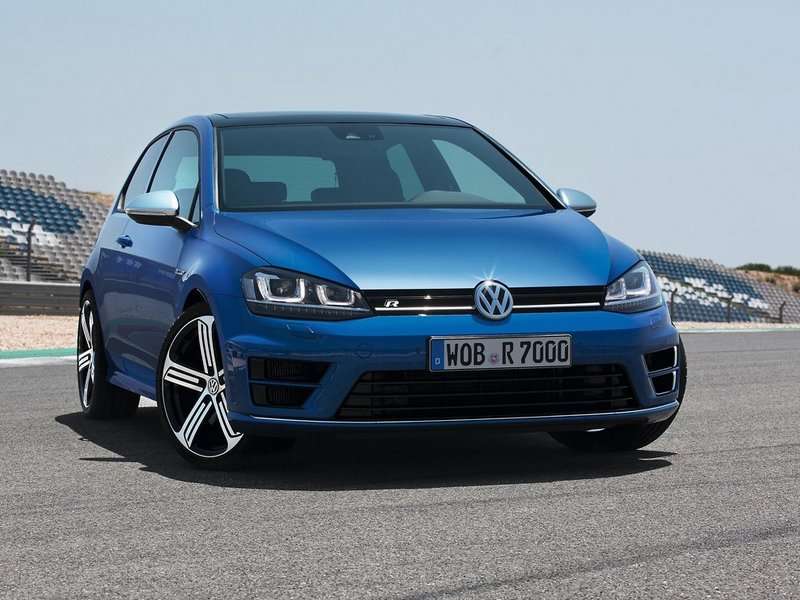 The hot-hatch performance bar will be raised by about 30 horsepower when/if the next-generation VW Golf R reaches U.S. dealerships—something that has yet to be confirmed by Volkswagen but has to be considered highly likely. As the range-topping performer of the all-new Golf team, the next R model will, in its Euro spec, brandish a new 2.0-liter, turbocharged 4-cylinder engine with VW's TSI technology and outputs of 296 hp and 280 lb.-ft. of torque.
That's an extra 40 horses and 37 lb.-ft. of torque over the U.S.-spec 2013 VW Golf R, as well as an additional 69 hp and 22 lb.-ft. of torque as compared to the next-gen VW GTI. Naturally, the power boost delivers improved acceleration, with the manually transmissioned Golf R able to drop its 0-62 time by 0.4 seconds, to 5.3 seconds, and the model equipped with the available dual-clutch automatic lowering that mark to 4.9 seconds.
But as mentioned, the real bonus is that that performance will be complemented by an even bigger improvement in fuel economy. In European testing, for example, the redesigned Volkswagen Golf R was able to achieve up to 33 mpg in combined travel with its DIY transmission and 34 mpg with the DSG unit (and a stop/start system and battery-regeneration technology). Now, it's a bit tricky to compare Euro and U.S. fuel-economy grades, but Volkswagen's claimed 18 percent improvement in efficiency would translate to an EPA line of roughly 22 mpg city/32 mpg highway/26 mpg combined.
And that's with the latest iteration of VW's 4MOTION all-wheel-drive technology, also standard on the new Volkswagen Golf R. Needless to say, it's a package that's unmatched by the car's most likely rivals, none of which offer AWD or more than the 252 hp and 270 lb.-ft. of the Ford Focus ST.
Also in the mix with the upcoming VW Golf R are an exclusively tuned sport suspension, progressive steering, and a three-mode Dynamic Chassis Control. The latter feature is enhanced by five different driving profiles for Eco, Normal, Race and Comfort modes, as well as an "Individual" mode in which drivers can fine-tune settings further.
On the other hand, pricing for the ultimate VW Golf R starts at 38,325 euros in Germany, and that translates into a cool $51,309.51.