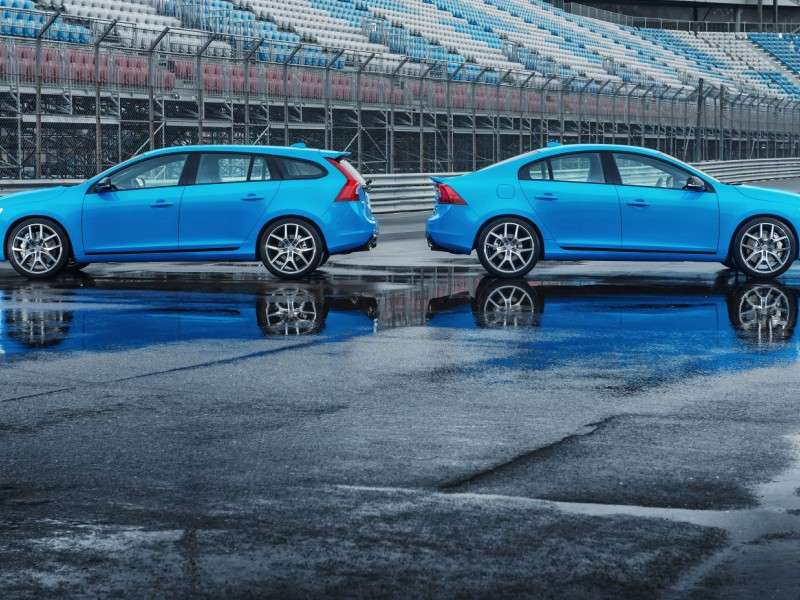 Finally answering the call of a small but vocal band of enthusiasts—and no doubt hoping to attract a few more—Volvo has announced that Polestar editions of the 2014 Volvo S60 and V60 have been approved for sale in the United States. (For those who need a Polestar primer, Volvo's longtime performance partners have been handling the company's motorsports efforts since 1996 and more recently have begun dabbling in concept and production vehicles, like the Volvo C30 Polestar.)
Now, it's not so much that folks have been clamoring for a heated-up version of the Volvo S60, although the new sport sedan will be a welcome entry; the bigger deal is for those drivers who prefer to combine driving excitement with the unique style offered only by a station wagon. At this stage, those folks are limited to either a six-figure Mercedes-Benz S-Model wagon tuned by AMG or a VW Jetta SportWagen that may leave some drivers wanting in the "Sport" department.
On the other hand, Volvo's uptuned V60—as well as the Polestarred 2014 Volvo S60—should be able to occupy the "just right" niche with more moderate pricing than the Benz and a massive power boost over the VW. As regards the former, MSRPs are likely to start in the mid to upper $30s, while the latter is handled by an uprated twin-turbo T6 engine. That powerplant makes 350 hp and 369 lb.-ft. of torque, with its output routed through a paddle-shifting six-speed automatic transmission and into an exclusive Haldex four-wheel-drive system (developed by Polestar).
The tale of the tape includes an electronically limited top speed of 155 mph and the ability to run from 0-60 in under 4.9 seconds.
Of course, there's more going on with the Volvo S60 and V60 Polestar Editions than just their power-ups. Also in the mix:
Brembo braking components for big-time stopping power
Chassis/suspensions mods, complemented by retuned Öhlins shocks and 20-inch Polestar wheels
Retuned aerodynamics, with modifications to the cars' front splitters and the addition of a new rear spoiler and rear air diffuser
An interior that's been re-engineered "with the sole purpose of increasing driver support and control"
More details about the 2014 Volvo S60 and V60 Polestar Editions will be provided closer to their on-sale dates in June of 2014.