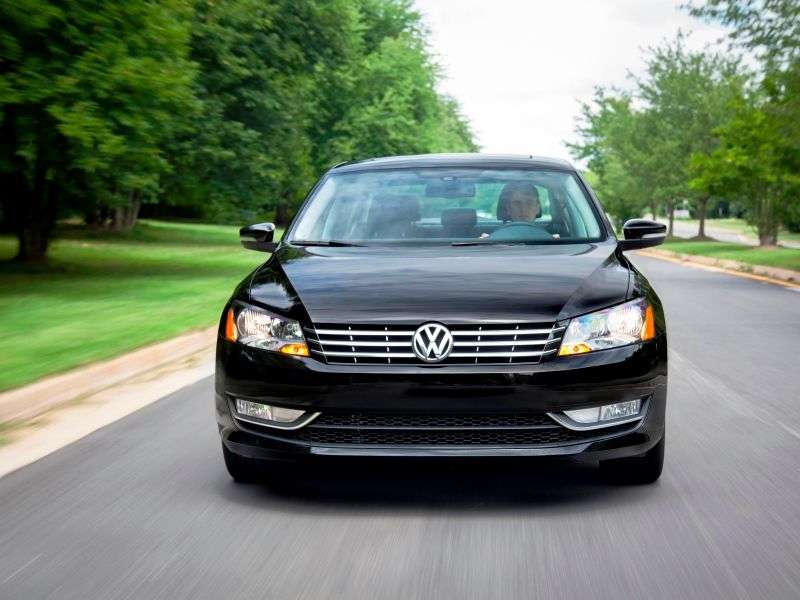 The hyper-competitive midsize sedan segment has gotten another upgrade, thanks to the launch of the 2014 VW Passat. Volkswagen's Americanized midsizer launched to much fanfare just a few years back, of course, but in that short time, it already had drifted to the bottom of the segment's fuel-economy leaderboard (for standard models). So, to address the situation—and improve efficiency across its roster—Volkswagen has rolled out a freshly designed 1.8-liter 4-cylinder turbo engine that will be the new starting point in the 2014 VW Passat, Jetta and Beetle.
With that cutting-edge powerplant under its hood, the 2014 VW Passat can now post an EPA line of 24 mpg city/35 mpg highway/28 mpg combined with a five-speed manual transmission, representing jumps of 2 mpg/2 mpg/3 mpg versus the comparable 2013 Passat, while the automatically transmissioned model jumps up to 24/34/28, representing advantages of 2 mpg/3 mpg/3 mpg over last year's version. Of course, the beauty of turbocharging is that it can provide that kind of efficiency enhancement while also providing a noticeable boost in over-the-road performance.
Compared to the outgoing 2.5-liter I5 engine, for example, the new turbo delivers the same 170 hp, but that output is available some 700 rpm lower in the power band; in terms of torque, the 2014 VW Passat gets an additional 7 lb.-ft., and now the car's peak torque of 184 lb.-ft. is reached at just 1,500 rpm—2,750 fewer than in the 2013 car. As a result, the 2014 VW Passat is more than half a second quicker from 0-60 regardless of transmission: It can run that sprint in 7.5 seconds with its DIY shifter (0.7 seconds faster than previously) or 7.9 seconds with the automatic (a reduction of 0.8 seconds).
Even better, Volkswagen managed to hold the line on the starting price of the 2014 VW Passat lineup, which remains unchanged at $20,895 even with that engine swap.
Said Joerg Sommer, vice president of Product Marketing and Strategy for Volkswagen of America: "We are delighted that the majority of our Passat customers are now able to benefit from the performance and fuel-efficiency of our turbocharged and direct-injection engines, whether they choose TDI or TSI technology. Volkswagen leads the volume market with these engines in North America and we are excited that we are furthering our leadership with them."