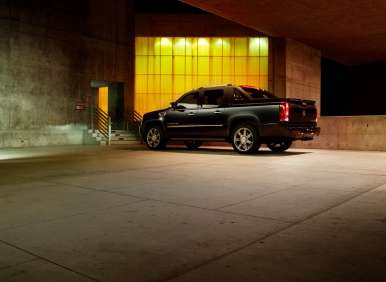 What do you do when one of your flagship vehicles is also a regular entry on the list of the most stolen automobiles in any given year? If you are General Motors, and the truck in question is the Cadillac Escalade, you face the challenge head-on by installing a number of new security features in an attempt to stop thieves cold in their tracks.
The 2012 Cadillac Escalade's enhanced theft-prevention system is built around PASS Key 3+ technology, which is a digital encryption scheme used to protect the ignition system from being activated by anything other than the key found in the driver's pocket. PASS Key 3+ combines with a new steering column lock system that GM claims will dramatically reduce the number of "push" and "drive-away" thefts associated with the full-size luxury sport-utility vehicle, as it will be almost impossible to steer or start in the absence of the original key.
Vehicles such as the Cadillac Escalade are often targeted by more sophisticated thieves for export to countries where the large premium trucks are highly sought after, which is why General Motors is also including several optional security features on the Escalade's list of available equipment. In order to reduce the likelihood that the truck would be victimized by tow truck or flatbed-equipped criminals, the Cadillac can be outfitted with a tilt sensor that will detect any unexpected change in the angle of the SUV such as could be caused by a lift-and-steal or even a jack being used to swipe the truck's rims. Rim thefts are also now more difficult with the 2012 Cadillac Escalade thanks to a redesigned wheel lock system that can also be added as an option to the truck.
The final entry in the trio of available anti-theft gear that can be added to the 2012 Escalade is a "shock sensor" that detects when the vehicle's glass has been broken, or when someone attempts to use force in order to gain access to the automobile. General Motors states that this particular technology is most useful for preventing theft of personal property that has been left inside of the vehicle, although the company also recommends that no driver or passenger leave belongings visible inside any automobile while it is parked.
As always, the 2012 Cadillac Escalade is also protected by the OnStar telematics system, which can track a stolen example of the SUV as well as remotely power it down if police are in pursuit.