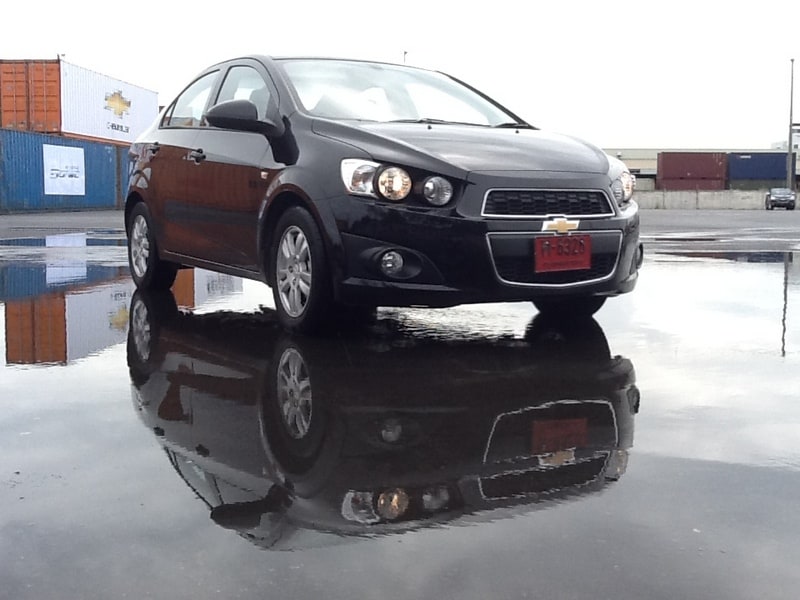 The 2014 Chevrolet Sonic will bring some increasingly popular safety measures to the subcompact segment later this year, thanks to an option package that integrates Lane Departure Warning, Forward Collision Alert, and a rear-vision camera system. It makes for an additional advantage for a car that already showcased 10 standard airbags as well as some fairly impressive safety scores from the usual suspects: The Insurance Institute for Highway Safety named the 2013 Chevy Sonic a Top Safety Pick, while the National Highway Traffic Safety Administration awarded that model a 5-Star Overall Vehicle Score for safety—something no other car in the segment can claim.
The 2014 Chevrolet Sonic also will offer three new exterior colors—Ashen Gray Metallic, Red Hot, and Cool Blue—and, for a limited time only, a promotional package for the Sonic LT that combines a Chevrolet MyLink radio, a power sunroof, and front fog lamps.
Interestingly, although the brand is boasting that the new crash-avoidance technologies for the 2014 Chevrolet Sonic are more typically found a few segments up the pricing ladder, the car actually has made a habit out of offering unexpectedly up-scale features. For example, on the tech front, the 2014 Chevy Sonic can be kitted out with the Apple-friendly "Siri Eyes Free" voice-recognition system for voice control of certain iPhone functions (in certain iPhones), along with BringGo nav functionality that leverages the owner's smartphone for a low-cost, in-dash navigation experience.
This premium approach to the segment has been effective, too, at least up until now …
2014 Chevrolet Sonic: Sales Snapshot
By just about any definition, the Chevrolet Sonic has been an impressive success for GM, proving that the company could finally build a quality subcompact that pleased owners and the critics alike. In fact, even coming off a July in which sales of the Sonic dipped by 3.6 percent, it remained the No. 3 vehicle in the segment in terms of volume, and it's still No. 2 on a year-to-date basis. However, that being said, the refreshed 2014 Ford Fiesta has been throwing a serious sales party in recent months, while the 2014 Nissan Versa Note hatchback has helped the Versa family return to its usual position at the acme of the subcompact best-sellers list in July.
And as you can see by that list, most other rivals for the 2014 Chevy Sonic seemed to have found their marketplace mojo last month as well:
Nissan Versa—9,007 sales, up 20.9 percent
Ford Fiesta—7,667 sales, up 88.9 percent
Chevy Sonic—6,055 sales, down 3.6 percent
Honda Fit—5,047 sales, up 9.5 percent
Hyundai Accent—5,537 sales, up 5.3 percent
Kia Rio—3,021 sales, down 17.1 percent
Toyota Yaris—1,759 sales, up 38.4 percent
What makes the situation a bit odder is that the Bowtie products that bracket the 2014 Chevy Sonic did very well in July. The smaller Chevy Spark enjoyed a 163.5 percent spike in sales (on 3,847), and the bigger Chevy Cruze advanced deliveries by 70.2 percent (with 25,447) in July.