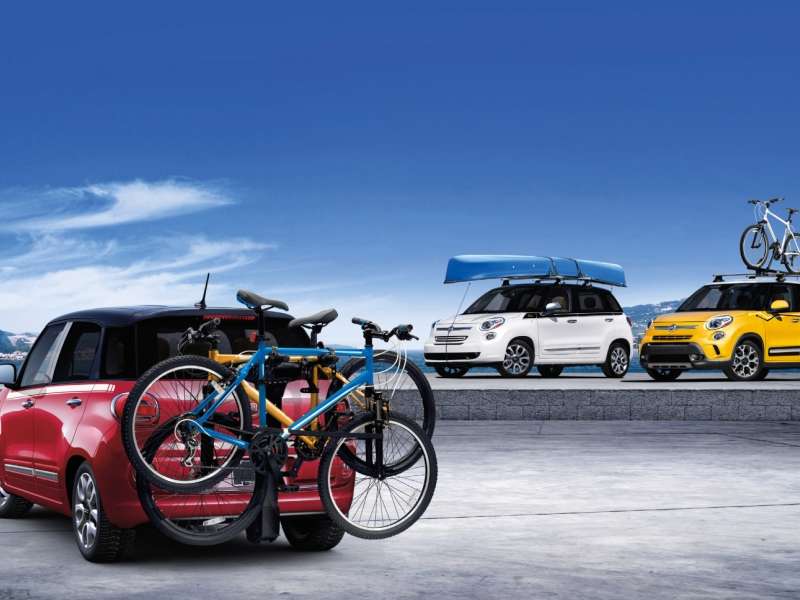 Even a vehicle as stylish as the 2014 Fiat 500L can use some accessorizing, and Mopar actually offers a lot for the little Italian import. Of course, the 500L really isn't that tiny, either. At 167.1 inches in length, it's more than six inches longer than the subcompact Ford Fiesta hatch, and it also offers a major upgrade in terms of interior room over the Fiat 500 proper. More specifically, with 99.7 cubic feet of passenger volume, the 2014 Fiat 500L offers 42 percent more than its little brother—and a foot and half more than the Ford Escape.
But getting back to the point here, the car also will offer more than 100 accessories from Mopar—the Chrysler Group's accessories and aftercare division—with top choices including image upgrades like body-side graphics, fender badges, and a retro-style chrome "hood spear" that was inspired by the look of the original Fiat Cinquecento. Mopar will offer a quartet of upsized 17-inch wheel designs as well, all in cast aluminum.
Then, on the odd chance drivers do need a little extra carrying capability in the 2014 Fiat 500L, Mopar provides a removable roof-rack kit that's compatible with an assortment of carriers for cargo, bikes and canoes; and note, the special design of the bike carrier allows owners to open the car's liftgate without removing the bicycle(s).
And yes, the Mopar WEB service, with an integrated WiFi router, also is available to help passengers in the 2014 Fiat 500L access the Internet while on the go.
"Mopar accessories are made of high-quality materials with seamless fit and function," added Pietro Gorlier, president and CEO of Mopar. "And they are designed and engineered by the same teams who created this vehicle."