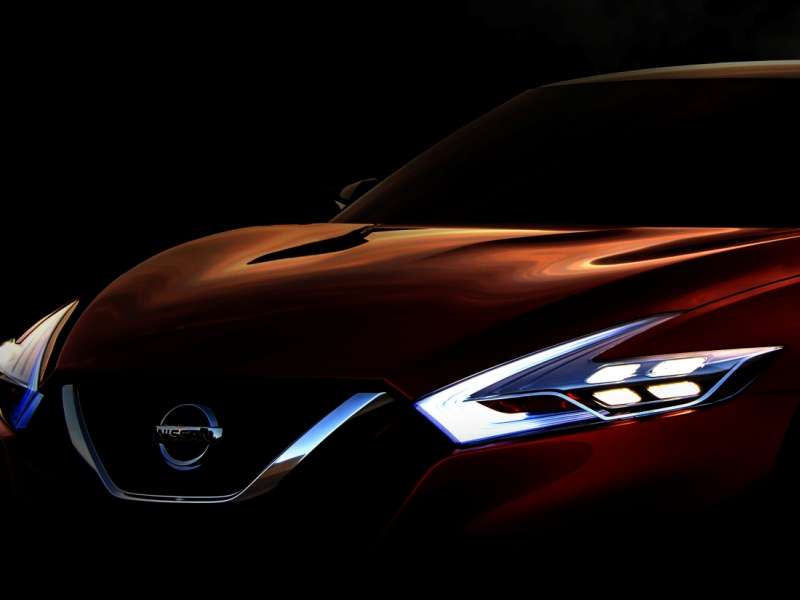 It looks like Nissan will be staying in the mainstream halo-sedan segment with a potential replacement for the 2014 Nissan Maxima. Per the automaker, the new vehicle will debut at the upcoming North American International Auto Show in Detroit and, while technically a concept, it will provide "an advanced look at a future production sports sedan." And if the aptly named Nissan Sport Sedan Concept lives up to that boast, it certainly would make for a refreshing change of pace from other rivals in this category.
Speaking of which, the segment here loosely gathers the new wave of mainstream sedans that don't fit within the traditional subcompact/compact/midsize/full-size spectrum in terms of either size or premium content; that is, the Hyundai Azera, Toyota Avalon and Kia Cadenza, and perhaps the Buick LaCrosse. Now, those entries all put more of an emphasis on luxury than on pure driving dynamics, allowing a new Nissan Maxima to once again stakeout its place as a "four-door sports car."
Also joining a possible Nissan Maxima successor in Detroit will be the automaker's IDx concept vehicles, fresh from their world premiere at the 2013 Tokyo Motor Show. Truly a duo for the digital age, the IDx cars were created primarily as examples of Nissan's new product-development strategy, called "co-creation." As explained by Nissan, the approach "requires input from consumers. It was designed to appeal to 'digital natives,' the generation born after 1990, and integrates their feedback into the creation process. Nissan thinks this approach could have real applications in the near future.
"Engaging with members of the digital native generation created an opportunity to learn a slew of new insights and creative possibilities. The co-creation dialogue reached far and wide, from the basic framework of cars to the last details and finishing touches."
As a result, both the IDx Freeflow and IDx NISMO may share their basic underpinnings, but the vehicles themselves are as radically different as the digital tribes that Nissan worked with to develop them.
The North American International Auto Show is scheduled to open to the public on Jan. 18, 2014.