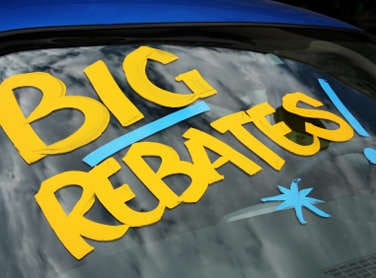 September is here and with it comes the annual ritual of Labor Day new car rebates and incentives. Not only will many car and truck sales be happening this weekend across the country, but most automakers have extended their current rebates and incentives until just after Labor Day itself. This means that there are plenty of bargains waiting out there for new car and new truck buyers interested in getting an amazing deal. We have rounded up some of the best incentives available to help make your shopping experience that much easier this weekend.
Starting off this week's list is the 2010 Ford Taurus, a fully-redesigned full-size sedan that has been garnering accolades since it first hit the market. Ford has attached a cash back plus zero percent financing incentive to the car, in addition to a cash back rebate for those arranging their own financing. Next up are a trio of sport-utility vehicles and crossovers, with the full-size 2010 Chevrolet Tahoe leading the way with both a 0.0% financing incentive and a factory cash rebate available. Following the Tahoe is the 2010 Toyota RAV4, a mid-size crossover competitor that features a low finance rate and available cash back, as well as the 2010 Lincoln MKT, an all-new luxury crossover that is big on style and big on savings, thanks to its 0% financing plus cash back offer as well as a standalone cash rebate from the manufacturer. The final vehicle on our list this week is the 2010 GMC Sierra 1500 full-size pickup truck, in Extended and Crew Cab models, which has been bundled with as much as $5,000 cash back or the option of zero percent financing.
With the 2011 model year around the corner, car companies are ratcheting up the rebates in order to get older 2010 inventory out the door so that dealerships can make room for the newest vehicles. Keep watching this space as we bring you weekly updates on the best incentives and rebates currently available on brand new cars and trucks.
2010 Ford Taurus Deals - The 2010 Ford Taurus is Ford's full-size sedan flagship. Completely redesigned for the 2010 model year, the Ford Taurus is larger and features bolder styling than older editions of the car.
The 2010 Chevrolet Tahoe is a full-size SUV that offers the strength of a truck-based platform that helps it claim solid credentials as both a tow rig and an off-roader (when ordered with optional four-wheel drive).
The 2010 Toyota RAV4 is a popular and reliable choice in the mid-size crossover SUV segment, with an expansive interior that can accommodate as many as seven passengers when equipped with the option of third row seating.
The 2010 Lincoln MKT is a full-size luxury crossover that looks like nothing else on the road. With a wide, toothy grille and an almost organic body shape, the Lincoln MKT dares to be different.
The 2010 GMC Sierra 1500 is a full-size pickup truck that is aimed at buyers interested in a work rig that can double as a comfortable daily driver. The GMC Sierra Crew Cab and Extended Cab models each offer additional seating for as many as three rear passengers.