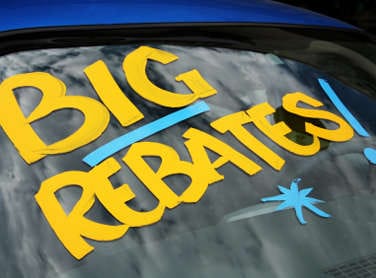 A week before Thanksgiving and new incentives programs are still being unveiled by automakers anxious to maximize the rebates available on their 2010 models before the end of the year. 2011 vehicles are also starting to garner more attention in the form of rebates and incentives as the winter sales slowdown looms just around the corner.
Our most recent list of the best rebates and incentives starts out with a surprise entry by a car company not known for offering nationally advertised deals on its brand new models. The 2011 BMW X5 mid-size crossover can be had with either 0.9 percent financing or $2,500 cash back as part of a 'holiday' sales program. Following the BMW X5 is the 2010 Suzuki Equator mid-size pickup, which ups the cash back to $2,000 and provides the option of instead selecting 0.0% financing. The biggest cash rebate on our list comes from Saab, which is offering $5,000 factory cash back on the 2010 Saab 9-3 Convertible. Rounding out this week's deals is zero percent financing or the choice of $1,500 cash back on non-SR editions of the 2010 Nissan Sentra compact sedan, as well as a 0.0% financing plus $500 cash back offer on the 2010 Kia Soul compact crossover wagon.
Next week's long weekend is traditionally America's shopping frenzy, which means the next few days mark the chance to visit your local dealerships under more peaceful circumstances to scope out these latest deals on 2010 and 2011 cars, trucks and crossovers before they expire.
- The 2010 Kia Soul is an entry-level compact car that walks the line between traditional wagon and modern crossover in terms of appearance and functionality. The squared-off Kia Soul can seat up to five passengers and offers a maximum of 53 cubic feet of cargo capacity with the rear row of seats stowed.
The 2010 Nissan Sentra is a compact sedan that focuses on providing value to first time car buyers or commuters looking for a reliable daily driver. Like most compact economy cars, the Nissan Sentra is available in a low feature 2.0 base edition, but items such as air conditioning, power windows and door locks and a CD player are included free of charge.
The 2010 Saab 9-3 convertible is a premium drop top that aims to satisfy European car shoppers interested in something other than the usual Teutonic suspects. The Saab 9-3 convertible is available in two specific trim levels, the 2.0T and the Aero. The 2.0T is loaded with standard features.
The 2010 Suzuki Equator is an affordable mid-size pickup truck that can be had in both Extended and Crew cab body styles. This means that each Suzuki Equator can handle as many as five passengers, and can be equipped with either a five-foot or a six-foot box, depending upon which body style is ordered.
The 2011 BMW X5 is a mid-size luxury crossover SUV that aims to balance a hefty cargo capacity with the driving dynamics and acceleration that BMW is known for. The BMW X5 has been restyled for the 2011 model year, and it seats up to seven passengers and can handle a maximum of 75 cubic feet of cargo with the rear accommodations folded down.