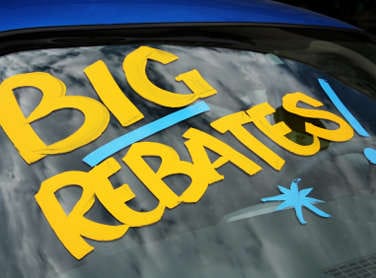 Halfway through the summer car sales high season there are a number of interesting rebates and incentives lurking out there for new car buyers looking to save some money on a brand new vehicle. While finding the best rebates and incentives requires a little bit of detective work, we've put together this feature to help round up some of the most appealing bargains that are available this week on new cars, new trucks and new crossovers and SUVs.
Mid-size truck buyers will be happy to learn about the zero percent financing and cash back available on the Extended Cab version of the 2010 Chevrolet Colorado pickup. Compact SUV and crossover buyers also have a lot to like about this week's rebates and incentives thanks to Mitsubishi's substantial factory cash back offering on the 2010 Mitsubishi Outlander and Suzuki's combined incentives on the off-road ready 2010 Suzuki Grand Vitara. If a larger vehicle is more to you liking, then the substantial cash back provided by Ford on the 2010 Ford F-150 Regular Cab model is tough to resist - as is the option of selecting both zero percent financing and cash back on the same model. Finally, mid-size sedan buyers on the prowl for great value will seriously benefit from Kia's generous rebates and incentives associated with the 2010 Kia Optima.
The rebates and incentives picture changes on a regular basis, with car companies rolling out new deals and canceling prior offers in an attempt to stay competitive in a very tight automotive market. Keep in mind that the deals listed this week are time sensitive, which means that you might have to act fast in order to make sure that you can take advantage of any one of these rebate or incentive offers before they expire.
2010 Suzuki Grand Vitara Deals - The 2010 Suzuki Grand Vitara is a compact sport-utility vehicle that remains true to its off-road roots thanks to the continued use of a short wheelbase and the availability of a true four-wheel drive system.
The 2010 Mitsubishi Outlander is a compact crossover vehicle that provides a unique look when compared against many of its more conservatively-styled competitors.
The 2010 Chevrolet Colorado is a mid-size pickup aimed at buyers who need the practicality of a truck but who want to avoid the fuel mileage and parking penalties associated with a much larger vehicle.
Regular cab editions of the Ford F-150 start out in the popular XL trim, which offers easy to clean vinyl seats, air conditioning and 17-inch wheels. The STX grafts a CD player to the XL's workman-like features list, while the XLT provides power windows and door locks, cruise control and replaces the seat coverings with cloth.
The 2010 Kia Optima is one of the least expensive options for anyone searching for a well-equipped mid-size commuter car. Even the entry-level edition of this five-passenger sedan - the LX trim - comes with items such as air conditioning