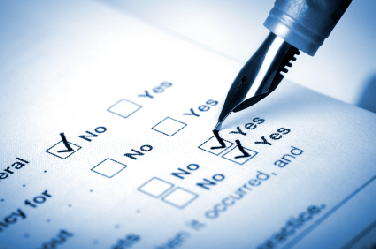 For most of us, buying a new car will be one of the biggest expenditures in our lives.  That's why it pays to be prepared with a new car buying checklist.
Before you can start thinking of price or brand, you need to decide what kind of car should be on your new car checklist.  Do you live in an urban area, where a small car not only delivers good gas mileage, but easier parking?  Do you need a family hauler, with room for car seats and strollers?  Or are you an outdoors type, planning to hit the beaches, campgrounds and bikeways?  A small SUV might be just the ticket.  All of these questions should be on your own personal new car buying checklist.
Research the cars that best fit your new car checklist on Autobytel.com.  When you calculate price, don't forget options, destination charge and tax and registration.  In California, for example, tax can add a lot of tax to the cost of a $20,000 car.
Knowing how much you can spend is the first step in your new car buying checklist. A simple way to think of your budget is as income minus expenses. Take your annual salary and divide it (after taxes) by 12 to determine your monthly income.  Then calculate monthly expenses, such as rent, food, insurance, credit cards, etc, and subtract it from your income.
For example, let's say you earn $45,000 a year, or $36,000 ($3000 per month) after taxes.  Say your rent and utilities are $800 a month and food spending $500 a month. Entertainment, travel, credit card bills, insurance and medical add another $500, and miscellaneous spending and savings comes to $400, for a total of about $2200 per month.  Let's say you'll need $400 a month for the upkeep of the car, such as insurance, gas and registration, bringing your monthly expense total to $2600.  That leaves about $400 a month for car payments.
Based on these numbers, you could probably afford a $15,000 car, if you put down $3000 (cash or trade-in) and financed $12,000 at 5% per year for 48 months.  Your monthly payment at that interest rate? $276.  If you have more income, a larger down payment or are comfortable with more risk, you could consider a more expensive vehicle on your new car buying checklist.
It's important to know these numbers, because a salesman will often ask 'How much can you afford to pay a month?"  A key part of your new car checklist will be to understand the total cost of the car, not just the monthly payment.  You don't want to be shoehorned into a 72-month loan or one with a higher interest rate just to get to the 'right' monthly payment.
Know what kind of car you're looking for (SUV, small car, minivan) etc.
Check Autobytel.com for car reviews and pricing information, including options, warranties, rebates and promotional financing offers.
Check with your insurance company (or search online) to determine how much your insurance cost will rise with your new vehicle. 
Use online calculators to determine whether you're better off taking a rebate or special promotional financing or lease deals. (Hint: if you qualify and the loan term is long enough, it's often the special financing.)
Know your new car buying budget.
Know how much money you have to put down.  The larger your down payment, the lower the monthly payments (or, the more expensive a car you can buy).
Try to sell your existing car privately.  At least get some idea of its trade-in value.
Know your credit score to see if you qualify for lower-interest financing. You're allowed one free credit report per year from each of the three providers (TransUnion, Experian, Equifax) from AnnualCreditReport.com
Get a loan pre-approved from your bank or credit union.  You can always go through your dealer if they offer a better deal.
Use Autobytel.com to get dealers to compete for your business by requesting free Internet Price Quotes.
Is the car you want with the right equipment, color, etc. available at a local dealership, or will you have to order it?
Go for a test drive to see if the cars you've picked out are right for you.
Or, rent the model car you're considering buying.  A weekend rental gives you a chance to 'live with' the car to find out if it really works for you.
Ask for a demonstration of the car's features (sunroof, folding seats, navigation system, cup holders, etc) before your test drive.
When you do test drive, try to drive the exact car (color, options, model) you want to buy.
Is there enough headroom, legroom and comfort for you, the driver?  Enough cargo space?
Is it easy to get in and out? Enough rear seat room?
How easy is it to adjust the steering wheel and seat for you? For other drivers in your family?
How is the visibility? Can you see clearly with the mirrors?
Don't start negotiating with the salesman during the test drive.  Pay attention to the car, not to his comments.
Drive the car on the streets, freeways and some hills and rough pavements. How is the ride?
Is the car powerful enough for everyday use?  Test it merging onto a highway, passing and in city driving.  Does running the air conditioner result in unacceptable power loss?  
Is shifting smooth?
Is the steering responsive? Does the vehicle track straight when you take your hands off the steering wheel?
Does the car feel stable when cornering or coming off a tight exit ramp?
Turn the stereo off and really listen to the car.  When you accelerate and shift gears, is it noisy?
Do the brakes feel firm?  Do they stop the car cleanly in a 'panic stop' from 40 to zero?
Take your time. Your test drive should be at least 30 minutes. If the salesman tries to rush you, take a walk.
If you're not certain or want to think about the car, get your keys, license and leave.  Get the salesman's card if you liked him; you can always come back.
When you do start negotiating, make sure the car will have only the equipment you want; don't let the dealer or salesperson talk you into unnecessary options or 'add-ons'.